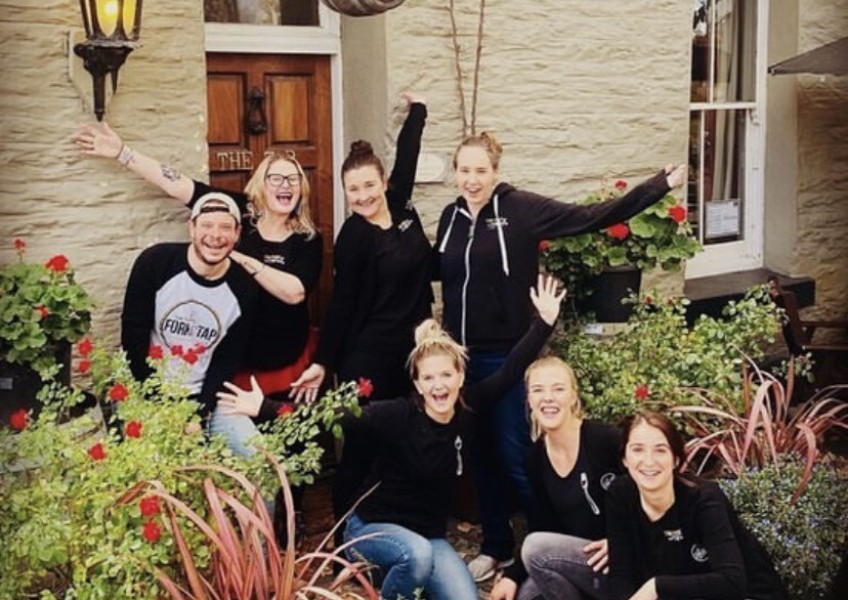 Hospitality's local staff crisis - '90s mentality'
---
It's not news to locals that hospitality businesses are in desperate need of more employees in order to support the volumes of visitors in town.
And for every story about a boss screaming out for more staff, questions are raised about work conditions and pay rates for workers and how much they've got to do with the industry's labour problems.
Crux popped in to Arrowtown pub The Fork and Tap to talk with owner Jeannie Hamilton and operations manager Helena Smith about how they're trying to change the narrative of what's happening in hospo right now.
Meeting mates for a good meal, heading out for an after-work drink - the industry's one that's meant to be be fun, for the customers and, generally, for the people that work in it to.
Publican Jeannie Hamilton believes that, and she's keen to cultivate that vibe.
"It's about sending a positive message."
Mrs Hamilton speaks of the imbalance present for the hospitality industry in the area being between the ratio of staff to support our visitors.
"This imbalance is causing stress on an industry that is really good fun," she says.
However they aren't seeing this as a negative situation. Since the first lockdown they believe the town's done really well and everyone has been successful at holding onto their staff.
Mrs Hamilton says it's about "looking after who you've got and treating your staff really well".
They noticed a change as soon as the borders opened - more people came to visit the area and in turn more people left to offshore places.
Since then, they now close Mondays and Tuesdays, following suit with many other businesses in the area, in order to give staff the relief they need.
Without doing this, they run the risk of their existing workers becoming fatigued.
"We imagined by the first school holidays we would go back to seven days a week. It's now been four months and it's not looking like we will be able to anytime soon," says Mrs Hamilton.
Pub operations manager Helena Smith says there's plenty of uncertainty right now, and they're having to take things week by week with little clarity on what the future will hold.
"We just can't plan ahead. We can only hope it will get better and remain hopeful," she says.
She describes the view many hold of the hospitality industry as being a "'90s mentality", saying the industry's come far in terms of the conditions, pay rates and shift lengths.
She thinks the current severe shortages are a reflection of a wider context - a general lack of people looking for employment - and not the state of the industry itself.
"Hospo businesses are a fun environment to be a part of, 99 percent of hospo workers love what we do," she says.
Prior to the pandemic, there was no shortage of interest in jobs available at the pub, says Mrs Hamilton.
"We had stacks of CVs before Covid, but that just hasn't happened since."
At her business, workers from overseas - people on working holiday visas, for example - help them keep on top of things and give core members of the team decent breaks.
"In order for us to relieve the pressure of our current staff we need to employ people from overseas," she says.
Recently, local high school students have filled the gap of offshore workers, because hiring offshore workers takes time.
"We could not have gotten through this time without the support of the local school kids. They're like gold" Mrs Smith says.
Another shift - it's often all hands on deck.
There's been a significant increase in all staff working within businesses as opposed to outside of them - having everyone on board no matter their role.
"Most places in Arrowtown will have the owners in the business helping out where they can," Mrs Hamilton says.
Managing to adapt is what's getting them through, and most businesses understand this well, but it's not always easy, she says.
"It is a matter of how businesses manage their operations at this time which is the challenge."
Despite the pressure and the changes, the pair are thankful for the level of business that has returned as the pandemic has slowed.
"Above all we're open and we've got people queuing out the door, and that's something to be grateful for," Mrs Hamilton says.
However they do believe this does have an impact on visitors' experiences, with the area not being showcased as it once was.
"It's a shame for our visitors as the area isn't reflected as well for them with several places being closed. It's not reflective of what the area is about," Mrs Hamilton says.
Yet improvements can start with a mentality shift, the most important thing is to change that narrative about our hospitality industry as businesses adapt to the changes the industry brings.
"It's a time of adjustment and adapting to those adjustments. We know it will get better and we are remaining positive."
Main image: Helena Smith manages Arrowtown's Fork and Tap pub. She reckons for most the industry's a fun one to work in.


---