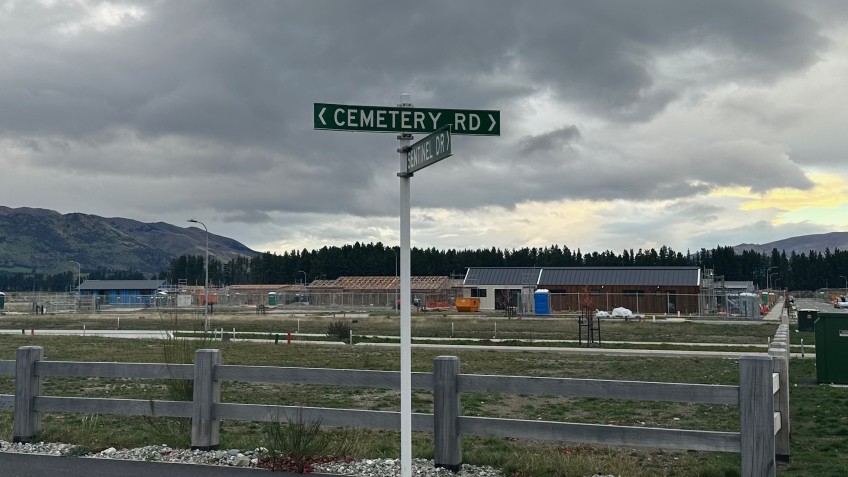 Hāwea's urban footprint doubles as Cemetery Rd boundary shifts south
---
Lake Hāwea has been given go-ahead to more than double its existing footprint as the council's map for the lakeside township has been successfully challenged by developers.
A decision by the Queenstown Lakes District Council not to extend Lake Hāwea's Urban Growth Boundary has been overruled in the Environment Court after a lengthy legal challenge.
The line in the sand for carving up rural land for devleopment had been Cemetery Road, but this will now push out further south to Domain Road.
A spatial plan for the unlocked land includes spaces for a new school includes space for a new school, walking and cycling tracks, a market square and recreational reserves.
In 2021, the Queenstown Lakes District Council had made the call to retain the Cemetery Road boundary in its Proposed District Plan, leaving the land south of it zoned rural, a move supported by the Hāwea Community Association.
But developers that already had their eyes on residential and commercial developments south of the boundary had appealed the decision.
Among them, Lane Hocking of Universal Developments, behind Hāwea's Longview subdivision underway, and Streat Developments, behind the close-by Domain Acres subdivision.
Mr Hocking had wanted to see the rural area rezoned to enable a mix of housing densities and commercial zones as well.
This week, after a mediated attempt to find common ground, the changes to the Proposed District Plan that had been asked for by the developers have been ratified by the court.
The Hāwea Community Association has been involved with the appeal process, having earlier on requested to be included under section 274 of the Resource Management Act as an interested party.
It is waiting for a public meeting, that has been flagged to take place on Sunday, June 11, to have a conversation with the community about how the process has played out.
Speaking with Crux today, Queenstown Lakes District councillor and Hāwea resident Cody Tucker encourages people to come along to the meeting, bring any concerns, and clue themselves up on what it all means.
"We're here to be open and take the time to bring people up to speed with the why," he says.
"A lot has been spoken about the housing, which will understandably make a lot of residents nervous, but this is also enabling commercial land for hospitality and shopping, provisions for a primary school, new parks, a market square, green connections, strong social infrastructure and a rare example of the community and developer collaborating to create the best outcomes."
Mr Tucker has been heavily involved in a community-led project to develop a master plan for Hāwea, and this had led to his involvement with the Environment Court appeal.
He is cautiously optimistic about the next stages for Hāwea's growth, and thinks the boundary shift doesn't have to be seen as bad news.
"It will enable Hāwea to be far more independent and localise the needs of residents, so there's less journeys into Wānaka for everything."
It is his view the community can continue a "bottom-up" approach to development, despite it feeling like decisions are controlled by legal processes.
"It (the urban growth boundary shift and zoning changes) will be an opportunity to create a cultural narrative around what Hāwea is outside of a remote subdivision of Wānaka and will enable our community to be able live, work, play, connect and learn within cycling distance."
At last count, the settlement had been one of the fastest growing in the country, and there is no sign of population growth letting up.
The residents group has long called for a coherent approach to growth that takes note of community aspirations for their place, as well as some breathing space to allow for infrastructure to catch-up to meet the needs of the additional people and households.
In addition to the group, the QLDC and the Otago Regional Council have been involved in the mediation with the developers.
QLDC planning policy manager Alyson Hutton says new provisions have been added to the district plan in line with the consent order from the Environment Court that ratifies the agreement that has been reached.
"This follows extensive mediation between all parties, and included community-led planning for Lake Hāwea with the community seeking to engage in the future urban development of the area to ensure it would meet future needs."
Read more: Hāwea favours 'bottom-up' development as locals map future growth
Taxpayers to close $24m funding gap for Hāwea's 'poo pipeline'


---