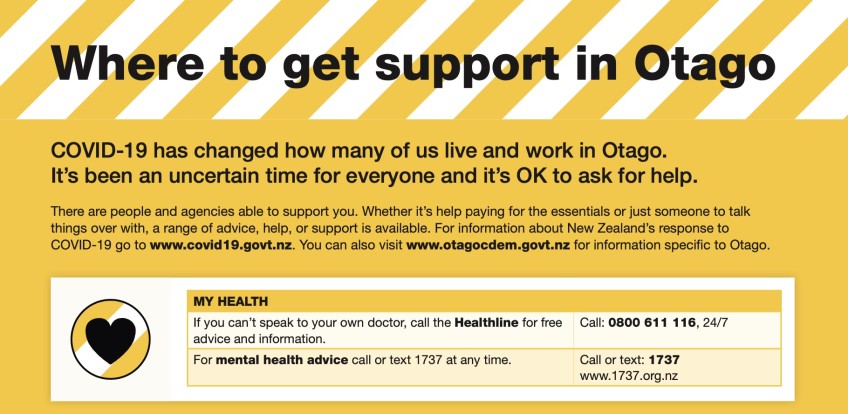 Government funds backdated rent/power bills for migrant workers
May 11, 2020
---
From Otago Civil Defence and Emergency Management.
"Help is in sight for people living and working in Otago who have not been able to pay their rent and bills due to the COVID-19 lockdown, which is good news for migrant workers in the region.
The government's $30 million support package to bolster welfare assistance has enabled Otago Civil Defence Emergency Management (CDEM) to provide emergency funding for accommodation and utilities, alongside the food and other essentials that have already been provided.
Otago CDEM Group Controller Richard Saunders said this will be welcome news to many people, especially for those who have lost their income and may not qualify for central government's welfare assistance, the wage subsidy and have no other sources of support. Over 5500 people In Queenstown have asked Civil Defence for welfare support since late March, more than 3600 of these are foreign nationals.
"People can apply for help with their rent, boarding fees, hostel feels, electricity or gas. It takes the pressure off those who are worried about where they will live if they have to move out due to unpaid bills.
"This help is available for any foreign nationals in Otago who meet the criteria, although we know most people who need help live in Queenstown. New Zealand citizens and permanent residents who need support with accommodation should contact Work and Income New Zealand in the first instance. If they do not qualify for welfare support from Work and Income they may be provided support from Civil Defence."
Those unable to pay their rent and power/gas bills due to the impact of COVID-19 can apply for assistance via an online form at www.otagocdem.govt.nz
They will then receive a follow up phone call from Otago Civil Defence to assess their application and confirm payments, if eligible.
"Payments will be made directly to landlords or accommodation providers, and electricity or gas companies," Mr Saunders said.
Applications must be made by the tenants. Landlords can't apply on behalf of their tenants but are encouraged to contact those living at their property who are unable to pay rent and let them know financial support may be available.
Payments can be backdated to 26 March 2020, when Alert Level 4 lockdown began. People who have been able to pay their living expenses will not get them reimbursed. Forward payments may be paid for those whose living circumstances aren't expected to change in the coming weeks. If they need support after that, they will need to reapply.
Otago CDEM will continue to operate its welfare helpline for those needing support with food and other essential items such as winter clothing or firewood. It runs seven days a week 9am to 5pm and can be reached on 0800 322 4000 or help@otagocdem.govt.nz "

---