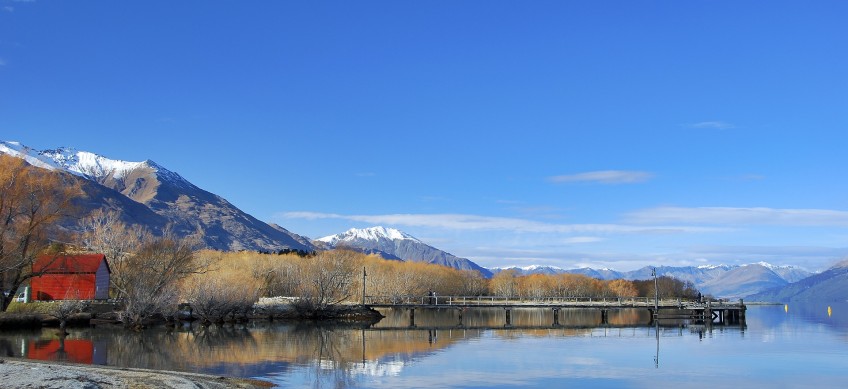 Glenorchy facing 'tens to hundreds of millions of dollars' cost to be disaster-ready
---
He's been in the game a while, but yesterday Otago Regional Councillor Michael Laws described a report on options to manage significant natural hazard risks in Glenorchy as one of the most depressing he has ever been presented.
"I feel very sorry for the people who live in Glenorchy," he told members of the Safety and Resilience Committee.
The report considers the findings of two other pieces of work by Tonkin + Taylor and Damwatch, completed in recent months, that put forward options for engineering solutions to help protect the town or, at least, mitigate risk of damage.
The grim reality: few of them are cheap or any kind of silver bullet to all impact.
Engineer Mike Jacka of Tonkin + Tayor spoke to his company's report.
Even with all the clever engineering fixes available to prep for liquefaction in a massive earthquake – and his report outlines options for bolstering the ground under houses or even a whole town with compacted gravel meters deep or grids of upright concrete beams – properties will be impacted.
"It's not practical for us to mitigate all damage...What we're attempting to do is limit the extent of that hit."
The issue with much of Glenorchy will be retrofitting these solutions for an existing community – up in Christchurch swathes of land have benefitted from these techniques but only on greenfield developments.
The price tag: "The bottom line is you're talking many tens to hundreds of millions of dollars".
Mr Jacka told councillors he was thrown "straight in the deep end" as an engineer in Christchurch specialising in liquefaction.
He showed 'then and now' images of whole neighbourhoods that decisoin makers chose to wipe off the map in the Garden City.
"It wasn't feasible to rebuild in those areas. That's why we have red zones."
He said the overwhemling reaction from people he talked to that lived on properties affected was, "Why did the council let me build here...Who is going to pay to fix this mess?".
John Glover, the owner of Kinloch Lodge, and a long-term resident at the top of the lake, says media takeaways from the fresh council report appear to be focused on the financial cost of any intervention.
Speaking in the public forum at yesterday's meeting, Mr Glover has urged councillors to widen their focus before any decisions are made.
"Why are we just looking at costs?
"My headline would have been 'Engineering solutions enable amazing community to survive and thrive'."
He successfully argued for an earlier report – known as the GeoSolve report – to be given more note by the council.
It is Mr Glover's view this report, from 2016, delivered some able-to-be-implented, shorter-term fixes to help keep the road beyond Glenorchy, to Kinloch, open, yet is dismissed in one of the latest assessments by a "very judgemental, out-of-hand statement".
Mr Glover is referring to the Damwatch Engineering Report – while the Tonkin + Taylor report focused on liquefaction risk, this focuses on flood risk.
The report is far from optimistic, with Councillor Laws saying the report's writers seem to summarise most of the talked-through options to manage flood risk as "impractical or too expensive or there isn't any engineering answer".
Councillor Laws pushed for confirmation from council staff that the few immediate risk mitigation measures that are listed are underway, citing recent civil emergency events up north as motivation for not being complacent.
The answer: yes.
These include flood warning improvements, revision and communication of flood response procedures, coinsideration of improvements ot the existing stop bank and investigation of planting on the Rees River bank.
But the end word comes from the report: Probably, nothing can prevent flooding from the river at Glenorchy, and any intervention is a short-term measure only to mitigate or delay risk, and that needs to be "communicated very clearly and carefully to the community".
However, it is Mr Glover's view the community needs the chance to express what is a stake, because value decisions need to be made.
"What matters most?"
He is disappointed social and economic assessments have not be completed in tandem with the engineering reports.
"We've got engineers making their assessments on our behalf for what is worthwhile, what is expensive and what should be done."
Councillor Alexa Forbes queried staff on this at the meeting.
"This is really big news and really hard for the comunity...and we're still waiting for other pieces of the puzzle.
"That social and economic report is really important...We can't say things are affordable or unaffordable (without it)."
Staff say the work will be completed "in the next financial year".
Yesterday's report provides an update on the ORC-led work programme to develop a natural hazards adaptation strategy for the area at the head of Lake Whakatipu, and shows a shift from the what-are-the-risks phase to the what-can-we-do-about-it phase.
ORC chair Gretchen Robertson says figuring out the risks in Glenorchy and how to manage them is "really, really challenging", and with each step taken by the council "ultimately, the community needs to be with us".
Dates for the next community engagement sessions in Glenorchy are yet to be confirmed.
Read more:
ORC report confirms Glenorchy as risky as it is beautiful
Residents of Glenorchy face uncertain future

---