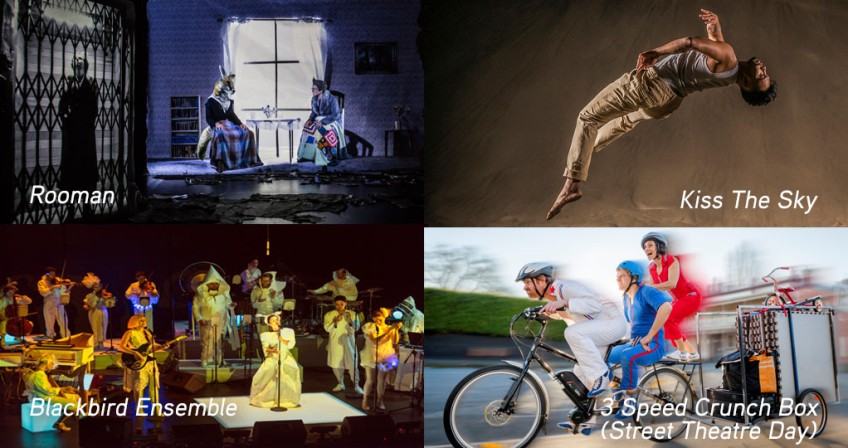 Full Festival of Colour Lineup Announced
Feb 11, 2019
---
This is the full lineup announcement released today by the Festival of Colour.
"The Southern Lakes Festival of Colour today revealed a packed six-day programme featuring an exciting mix of theatre, dance, music, visual arts and conversation from New Zealand and around the world.

The Southern Lakes Festival of Colour takes place from Tuesday 2 to Sunday 7 April in Wanaka, Queenstown and Central Otago. Known as 'the best little arts festival in New Zealand', the festival also spills over for an extra four days of special events from Saturday 30 March including an exclusive pre-festival concert by baroque music superstar Jordi Savall on Sunday 31 March.

This year the festival includes three of New Zealand's major arts companies bringing shows to Wanaka – the New Zealand Symphony Orchestra, the Royal New Zealand Ballet and, for the first time in Wanaka, The New Zealand Dance Company performing Kiss The Sky which includes a newly commissioned work for the Festival of Colour – The Fibonacci.

"All three companies have been acclaimed on international stages and we're delighted to have them as part of the Festival of Colour," says Festival Director Philip Tremewan.
The Royal New Zealand Ballet will perform a programme of three contemporary works. Strength & Grace includes two pieces choreographed for the 125th anniversary of women's suffrage.

The New Zealand Symphony Orchestra performs two concerts in the festival – the first featuring Mozart's Symphony No. 41 'Jupiter', considered to be one of the greatest symphonies ever composed, while the second concert features the NZSO's chamber orchestra performing Handel's 'Water Music'.

Adding to the classical music programme is the pre-festival concert by baroque music superstar Jordi Savall – his only New Zealand concert on his current world tour, and concerts in Wanaka and Bannockburn by baritone Julien Van Mellaerts and South African pianist James Bailieu feature a new commission 'The Tui' – part of a sequence of short comic songs about four New Zealand birds, based on poems by Bill Manhire with music by Gareth Farr.

Theatre highlights in the Festival include four award-winning New Zealand productions – The Road That Wasn't There, My Best Dead Friend, Wild Dogs Under My Skirt and Still Life with Chickens.

"We're very proud to present these four theatre works showcasing some of the best new works from New Zealand theatremakers – a dark children's fable, a poignant true story of grief and enduring friendship, a passionate powerful work featuring six Pasifika actresses, and an intimate heart-warming play about loss, love and life."

Rounding out the theatre offerings are two international shows: Following on from her sold-out 2011 Festival of Colour season of 2D Life of Her, Fleur Elise Noble returns to Wanaka with the visual-musical extravaganza Rooman, while Edinburgh Fringe Festival hit Bruce fuses mime and puppetry in an epic adventure of love and revenge that will melt your heart and will be performed at Hawea Flat.

Young Wanaka high school students take to the stage in Permission to Speak, a devised work also including movement and music presented by Britain's GOYA Theatre which shines the light on the issues facing young people today – body image, gender equality and what feminism means.

The Pacific Crystal Palace, proudly supported by Central Lakes Trust, returns for the Festival and is home to an eclectic music programme. 

Opening the music offerings is a special night of Icelandic music – the acclaimed Blackbird Ensemble, with a line up including Mara TK, Anna Coddington and Priya Sami (one of the Sami sisters), performs Björk: All Is Full of Love, an homage to Björk; and later that night, Iceland's 2018 Artist of the Year Jófríður Ákadóttir performs her solo project JFDR, drawing on classical, folk and electronic backgrounds.

Other highlights of the music programme include singer-songwriter Nadia Reid; The Māori Sidesteps – a Maori showband reliving the glory days of the Howard Morrison Quartet and Prince Tui Teka; Canada's Tequila Mockingbird Orchestra weaving a musical tapestry of bluegrass, roots, Eastern European dance party, jazz, flamenco, African, Latin, Celtic,rock, gospel and blues; Finn Andrews (The Veils) and Reb Fountain; Lawrence Arabia's Singles Club; Estère; The Locals and jazz/funk from Lou'ana.

Documentary film Central to the Soul paints a picture of Central Otago through the eyes of touring artists and their audiences and will screen at Cinema Paradiso.

A highlight of the visual arts offerings, Wai Water Wanaka is open from Saturday 30 March and throughout the festival. The work explores New Zealand's water crisis and insights into our rivers, lakes and wetlands and has been curated by Greg O'Brien and Bruce Foster, featuring an anchor piece by Ngāi Tahu artist Ross Hemera.

Aspiring Conversations, the festival's literary, science and socio-political debating sessions, returns. Speakers include leading New Zealand water scientist Mike Joy with Ngāi Tahu kaumatua Sir Tipene O'Regan and artist, poet and commentator Greg O'Brien tackling the freshwater crisis, historian Dame Anne Salmond on first encounters between Māori and Captain Cook 250 years ago, public health expert and former World Health Organisation adviser Sir David Skegg on New Zealand's failing public health system, Green Party co-leader on James Shaw discusses the need to move to a low carbon economy, and peace-keeping with Major-General Dave Gawn and New Zealand Alternative founder Thomas Nash.

Running throughout the Festival is Schoolfest, a programme for primary, intermediate and secondary school students with a variety of performances and workshops in local schools.

On Saturday 6 April, the Festival of Colour takes to the streets of Wanaka for a fun-filled free Street Theatre Day for the whole family with acrobats, a site-specific dance work, an intricate celestial labyrinth, storytelling, a People Library, audio walk and a special photo shoot for redheads!

The 2019 Southern Lakes Festival of Colour takes place 2-7 April and is generously supported by gold sponsors Te Rūnanga o Ngāi Tahu, Aurora Energy and Milford Asset Management plus funders Creative New Zealand, Central Lakes Trust, Otago Community Trust and Queenstown Lakes District Council."

---