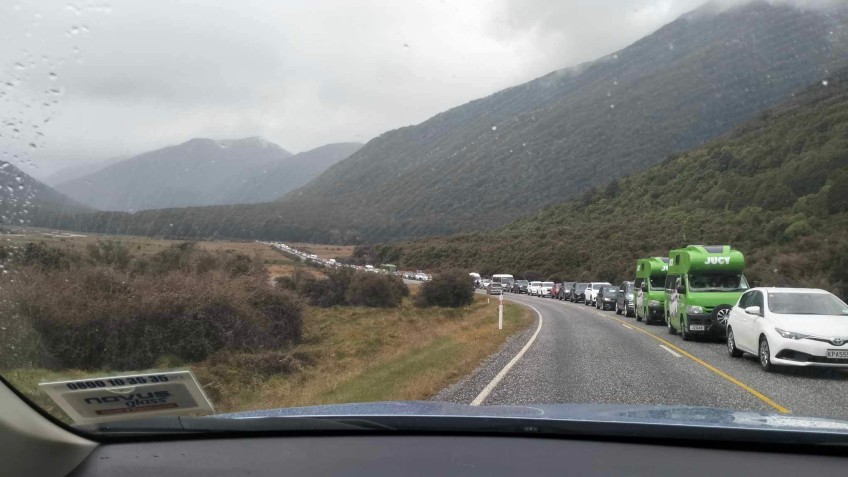 Frustration for holiday traffic as Waka Kotahi changes SH6 convoy times
---
Update, Tuesday, October 3: Waka Kotahi says it is adding an additional midday convoy, after feedback from bus companies.
A late change to convoy times for traffic travelling between Wānaka and the West Coast has caught many motorists out today.
Despite earlier advertising three escorted movements of vehicles, at 8am, 12pm and 4.30pm, Waka Kotahi this morning reshuffled arrangements, swapping in a 10am and 2pm trip instead.
It was an uncomfortable and unexpected wait for hundreds of motorists who had organised their journey around the originally advertised times.
One family caught out by the change reported arriving at the Makarora side at 11am, only to find out they had a three hour wait before moving on.
"Sitting there from 11 to 2pm when you thought you'd go through at 12 was insanity on a Monday of school holidays on a state highway."
The traveller says people were hopping out of their cars and walking up and down the road to pass time, and it felt obvious from many people's body language they were not happy about it.
"At least we had the tea rooms (on our side)."
After making it through the convoy, the family drove past a long tail of traffic on the Haast side of the road closure.
A spokesperson fro Waka Kotahi says at 10am 50 vehicles were escorted through towards Haast and 70 towards Wānaka, while at 2pm there were 100 vehicles towards Haast and 120 towards Wānaka.
Traffic on approximately nine kilometres of the state highway that links Central Otago and Queenstown Lakes to the West Coast is currently being controlled, as roading crews work to clear a huge slip that came down in a record rainstorm two weeks ago.
It take ten minutes or so to drive through.
Scheduled convoys are set to continue this week through the work zone at 10am and 2pm as the stretch of road remains closed between 8am and 4.30pm.
Meanwhile West Coast businesses are struggling with cancellations during what should be a school-holiday boon.
Manager of Haast River Motels and Holiday park Tania Frisby says today has "been a very frustrating day" for both tourists and locals.
Since the rain event approximately ten days ago she has lost thousands of dollars due to cancellations.
"We've lost a lot of bookings...we could be up to 40-odd rooms, and that's not even including the caravans."
She says it's the same for many other local hospitality and tourism businesses, and the situation has been exacerbated by Waka Kotahi's journey planner webpage marking the highway as shut, and Google maps following suit.
Numbers were also down at this weekend's much-anticipated Haast Whitebait Festival, and Ms Frisby thinks many of would-be attendees decided not to risk the uncertain highway situation.
"The stallholders and those that did make it had a fantastic weekend...but it would have been nice to have it a bit clearer on the NZTA webpage."
Waka Kotahi has this afternoon updated its journey planning webpage, no longer marking State Highway Six as "closed" and instead providing a general "area warning" in regards to the slip.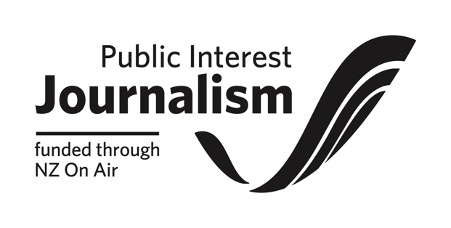 ---