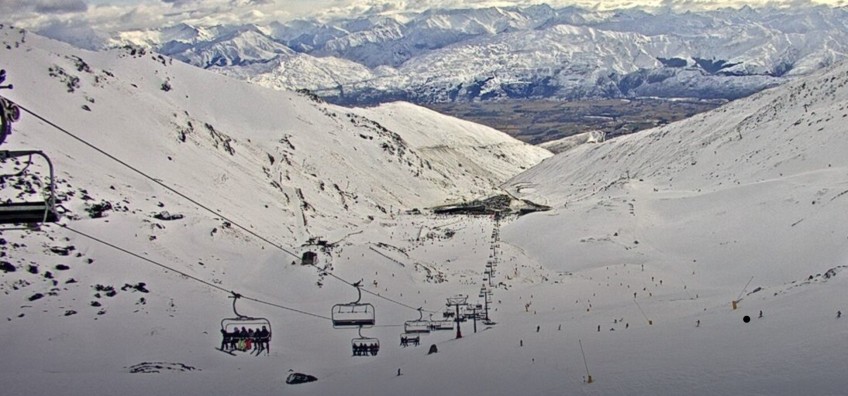 'Bombs' dropped to clear avalanche danger after snow dump
---
After quite the storm this week, delivering 40 centimetres of snow to the Remarkables, the ski field's snow patrol team were busy "throwing bombs" until just after midday yesterday.
The work will be no surprise to residents and workers in Frankton and surrounding suburbs, which reverberated with 'booms' throughout Thursday morning.
Remarkables Ski Area manager Ross Lawrence says it was the biggest avalanche prevention work of the season so far for his crew.
"We have to wait until the weather settles before we actually go out to do the big avalanche control work, otherwise it just keeps loading behind you.
"There was 40 centimetres of snow, and the way the wind came from two of three different directions, it changed where snow was loading up faces, clearing out snow and then loading again.
"The Remarkables has three specific bowls - Shadow Basin, Curvy Basin, Sugar Bowl basin, which all attract wind from different directions.
"All those avalanche zones are up above and on faces that lead down into the main trails."
Despite the lower carpark being full by 9.30am yesterday with eager skiers and snowboarders after the fresh dump of snow, Mr Lawrence says there were delays on the three main chair lifts.
The whole mountain didn't open until 1pm, with Sugar Bowl the last to open.
"There's always so much [excitement] on a powder day. You mention the word 'powder day' in Queenstown and people are taking sick leave…but we've really got to be conscious and make sure it's safe for people before we can let them out."
He says the control work started at 5am, with his team using two different products on the job.
"Powergel is the main product, that comes in tubes, like sausages, and they bind about two or three of those together depending on what sort of blast we need."
There's also INFO, which comes in pellets, and isn't used as frequently, but yesterday they used around 20 kilograms.
"That's more for bigger shots and if we're doing something on the road, where we want the blast to travel up the hill from the road, that was done prior to anyone getting here. It was done early in the morning to just expediate or make sure that we had safe access basically on the road."
While the storm was cause for excitement on the fields, Mr Lawrence says "it's still early days" for the snowpack.
"We're just over a metre of snow on the main trails now. A normal season you'd usually be getting up to two and a half metres [by now], so we've got a long way to go to get there.
"This has certainly filled in gullies, smoothed out terrain a bit more, and allowed us to push snow around a whole lot more, and definitely set up for the winter now.
"But I have to say it, until the last day of the season, you never know what's going to come around the corner, we could have two or three weeks now of beautiful, fine warm weather."
But for now, conditions are good, with tomorrow forecasted to be a "blue bird day", Mr Lawrence says.
For those wanting to give ski touring a go, Mr Lawrence asks explorers to respect closures in place whenever they're doing avalanche control work, and make sure they've got the gear, and know the conditions.
"Always call into our ski patrol and find out what's going on, they're happy to talk and give people advice.
"If you're going backcountry, make sure you're prepared, make sure you know what you're getting into, you've got your probe, your transceiver, your buddy, your shovel, as a bare minimum."
During the snow storm, and for all of yesterday, the New Zealand Avalanche Advisory had a Level 4 'high' danger alert for Queenstown and Wānaka, where travel in avalanche terrain is not recommended.
Then, dropping today to a Level 3 'considerable' alert for Wānaka, and a Level 2 'moderate' in Queenstown.
The Mountain Safety Council compiles the avalanche warning system, and chief executive Mike Daisley says the Southern Lakes region has been extremely dry this winter and this has resulted in a weak snowpack.
"The snowfall forecast over the next few days will fall on this weak snowpack across the south, especially in regions where persistent weak layers have developed throughout July. As a result, the avalanche danger will increase dramatically across the Southern Lakes region."
It's already been a pretty big season for avalanches for Queenstown's Remarkables, with quite a weak pack of snow forming over the backcountry, and skiers triggering avalanches almost every day.
One skier lost their gear after setting off an avalanche in July, but suffered no injuries.
Over at Cardrona and Treble Cone, there was no avalanche clearing up on the mountain yesterday, however staff and skiers were excited with the amount of snow.
After Cardrona was closed for two days, the mountain reopened for a sold-out day on Thursday.
The resort received 10 centimetres overnight on Wednesday through to Thursday.
Treble Cone also faired well in the storm, receiving 35 centimetres in the last dumping, and 53 centimetres in the last seven days.
Main image: Snow camera on the Remarkables from the top of Curvey Basin, taken at midday today (Friday, August 4).


---