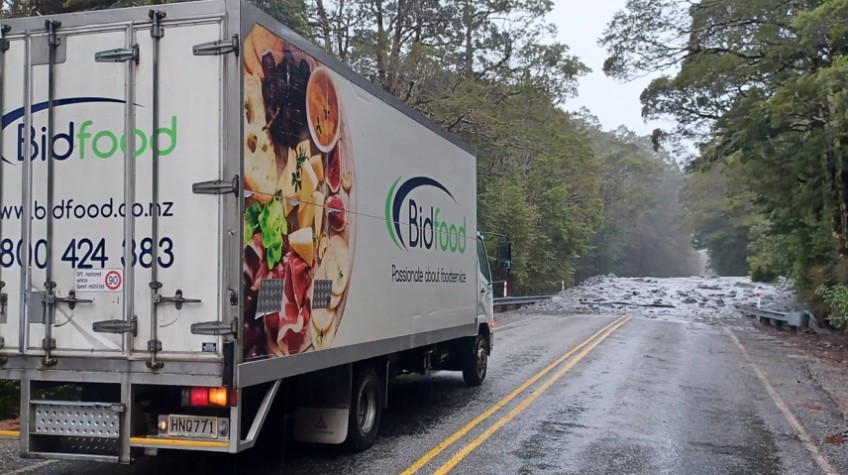 Flooding, downed trees shut roads as weather slams south
---
Torrential rain making its way up the South Island has closed State Highway Six north of Makarora, with a creek flooding the road bringing dirt and vegetation with it, while elsewhere fallen trees have closed roads and brought down power lines.
In a written statement, Waka Kotahi says the route to the west coast route shut at approximately 10am this morning and will remain closed today and overnight.
It is the aptly named Muddy Creek, near popular tourist stop the Blue Pools, that this morning overflowed its bed and flowed onto the highway in a messy mix of muddy water and debris.
An update on the situation is expected at 5pm.
Meanwhile other parts of Waka Kotahi's southern network have been affected by surface flooding, and motorists are being advised to slow down and check the transport agency's traffic map and MetService weather warnings before heading out.
Aoraki/Mt Cook remains cut off, with a major scrub fire near Pukaki Downs closing the intersection of State Highways 80 and 8 at the Twizel end of Lake Pukaki, while the road into Milford Sound is also closed, due to avalanche risk, which will be reassessed at 1.30pm tomorrow (Friday).
There are reports of w ind-blown debris littering roads up and down the island, and closer to home, in Central Otago, the wild weather is impacting on the afternoon school pick up.
Adults are being asked to come and collect some pupils in Cromwell after one school bus route, to Lowburn, was cancelled, while wind and rain is making it unsafe for others to walk, bike or scooter home.
Fallen trees have also taken out power lines in the Queensberry and Luggate area, where approximately 385 households are without power, while hundreds more are without power in Wānaka as well as more than 1,400 around Cromwell.
Several flights at Queenstown Airport have been delayed, diverted or cancelled.
Main image (Supplied/Waka Kotahi): The slip which has closed State Highway Six north of Makarora, before 10am today (Thursday, September 21) .


---