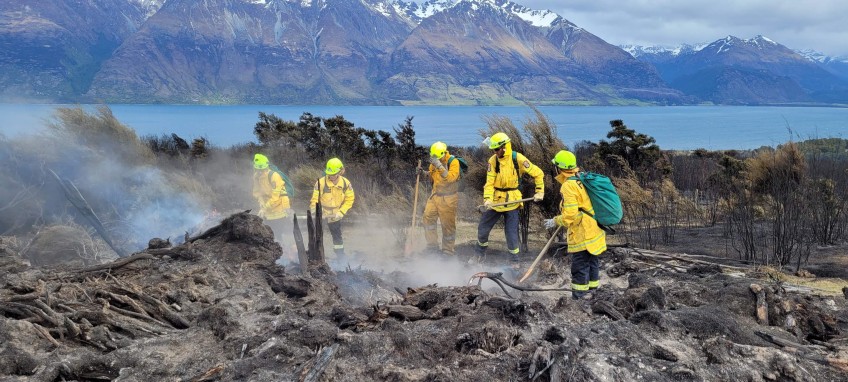 Firefighters race wind to deal to hot spots at Q'town fire site
---
Firefighters on the ground at the site of a fire that burned out of control on a station outside of Queenstown this weekend are targeting 13 hot spots to put the blaze to bed.
But they're keeping a close watch on growing wind gusts that may force them to abandon their efforts.
In a statement this afternoon Fire and Emergency incident controller Mark Mawhinney says thermal imaging has helped crews at the site of the Mt Creighton burn detect 13 hotspots this morning.
Ground crews are using hand-held firefighting equipment to work to extinguish seven of the hot spots, while the other six are being water bombed using helicopters, as their location prevents ground access.
Winds are whipping up at the site - there's sustained 30 to 40 kilometre an hour winds for now, and it's getting worse.
"Operations will be suspended for safety once the gusts exceed about 60 kilometres and hour."
NIWA is predicting gusts of up to 120 kilometres an hour by the end of the day, dying down again overnight.
There's been no fresh fire outbreaks today as firefighters deal with the aftermath of what started as a controlled burn off on Mt Crichton Station, above the road to Glenorchy.
The area affected by fire remains at 230 hectares within a 13-kilometere perimeter.
Mr Mawhinney says planning is underway for tomorrow's operations, which will involve continued "mopping up".
Most of the damage is restricted to land that is part of Mt Crichton Station, although a small area of adjacent Department of Conservation estate is also affected.
The fire did not reach any buildings or farm structures other than fences over the weekend, burning mainly through Manuka and tussock grassland.
Main image (Facebook/Otago - Fire and Emergency): A DOC crew working yesterday using mattocks and spades to dig up material burning underground, and smother it, and McLeod fire rakes to spread out smouldering vegetation so it cools down.


---