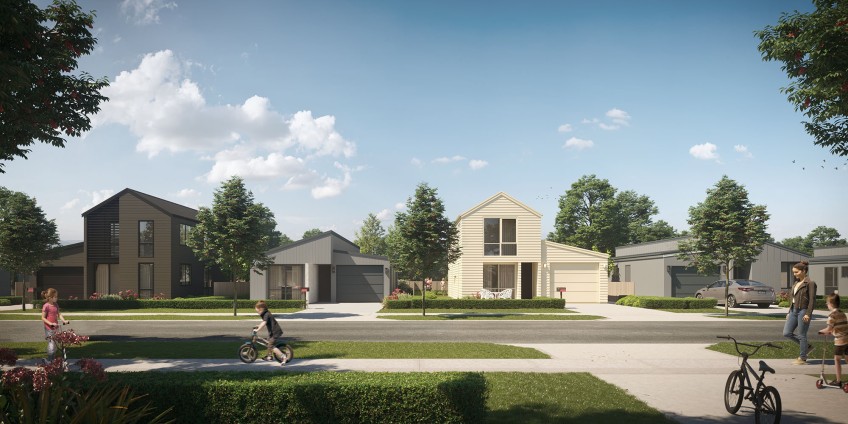 Fiery opposition to River Terrace from Cromwell residents
---
There was plenty of drama and heated exchanges at the fourth day of Cromwell's Plan Change 13 hearing today, which included a suspension of the hearing. If the subdivision gets the green light it will double the population of Cromwell in one hit.
Submissions were halted after Winton boss Chris Meehan's lawyer, Warwick Goldsmith, objected to the use of a Spatial Framework document by opposing witnesses, claiming it had not been disclosed in advance.
The Spatial Framework document is part of the Cromwell Master Plan, which Meehan himself labelled as inconsequential during Monday's session - "even if it was finished."
Simon Giles, chair of the Residents for Responsible Development Cromwell Association Incorporation, said today that Mr Goldsmith was 'being cute' by saying they didn't know about the document.
Much back and forth debate ensued to determine whether to scrap the document as evidence, which Mr Goldsmith expressed as his position. However, despite his best efforts, the debate ended in suspension of any submissions regarding the document.
"The way this has been handled has been quite unacceptable. The procedure is entirely inappropriate, verging on unprofessional. This is the complete opposite to efficiency and fairness to an applicant," Mr Goldsmith told the hearing.
Today and yesterday, the Resource Management hearings heard from the people and businesses of Cromwell who are opposed to the proposed 900-lot River Terrace development. Most significantly, these are Highlands Motorsport Park next to the River Terrace site, and neighbouring horticultural operations.
The community sentiment was clear today with multiple opposition presentations being met with enthusiastic applause from the public gallery.
Highlands COO Josie Spillane likened Winton group's style of marketing to "a unicorn farting rainbows"; an approach that's going to leave her with a considerable business problem on her hands.
The problem Ms Spillane was referring to is a potential 3,000 neighbours with noise complaints, which she says the proposed no-complaints covenant from Winton will not protect her from.
Her objections were echoed by several expert witnesses who addressed the impact of motorsport noise on residential dwellings. "The notion that you're going to have hundreds of people living in this area not being affected by this level of noise is a fanciful notion," consultant expert Dr Childs told the hearing.
"The fact that residents have signed the covenant doesn't affect the health exposures, or the annoyance. There is no mitigation for this level of noise."
Economist Michael Copeland addressed the economic effects of Plan Change 13. In response to Mr Meehan's claim that River Terrace will provide much-needed affordable housing to Cromwell, Mr Copeland said he doesn't accept that there's some special market that only the plan change could meet. "There are other parts of the housing market in Cromwell and surrounds that will compete with the plan change, and vice versa."
Mr Copeland also said that River Terrace as a 'dispersed form' of urban development, has the potential to lead to increased public infrastructure costs and, being remote from the town centre, increased transport costs.
He said the negative effects of the plan change on Highlands Motorsports Park, the Cromwell Speedway and horticultural activities will have consequent adverse economic effects for the wider Cromwell and Central Otago communities.
James Dicey, viticulture expert and Cromwell resident, told the hearing of the suitability of the Plan Change 13 site for growing grapes, and of the shortage of sites of this quality in Central Otago. Mr Dicey also told the hearing that spray drift from neighbouring orchards will always happen, and are not able to be always controlled by the sprayer.
Mr Dicey said Mr Meehan's proposals both rely solely on buffer zones to mitigate adverse effects. "In my opinion, he has misinterpreted the tables and and has ignored the level of hazard of the agrichemicals being applied, and the need for a larger buffer zone."
In his private submission, Mr Dicey called out Mr Meehan's 'affordable housing carrot' as simply a red herring.
"Just like grapes, houses need to be in the right place. Cromwell's 'housing crisis' has not been defined, nor evidence supplied. As a local business that employs 40 local permanent staff, I note there is a lack of affordable housing - I have not noted a crisis. There is a shortage, which is being addressed over time."
"The so-called elephant in the room (a housing crisis) is a mouse dressed up as an elephant. I note that no evidence has been provided on affordability and what that means in the Cromwell context. Mr Meehan's interpretation of affordability is as people who are less well off than others, but too well off to apply for social housing. I employ these people, and none can afford Mr Meehan's houses. For the very cheapest to be classified as affordable, they would have to cost less than the sites themselves (under $200,000), the median income would have had to have increased by 287%. This clearly is not going to happen."
"Using brute force and money to engage an impressive bevy of suited experts to wrangle the RMA, is in my view, whilst perfectly legal, an abuse of the process."
Cromwell resident Mr Wilkinson wrapped the day up, addressing Mr Meehan in response to his claim about being the McDonald's of housing.
"That's not the way we do business in Cromwell. I can assure you that the residents of Cromwell would far rather support a "Mom and Pop' business than an international franchise."
The final outcome is not expected for another one or two months after the hearings closes.
Main Image: Winton Group marketing illustration - "a unicorn farting rainbows"?



---