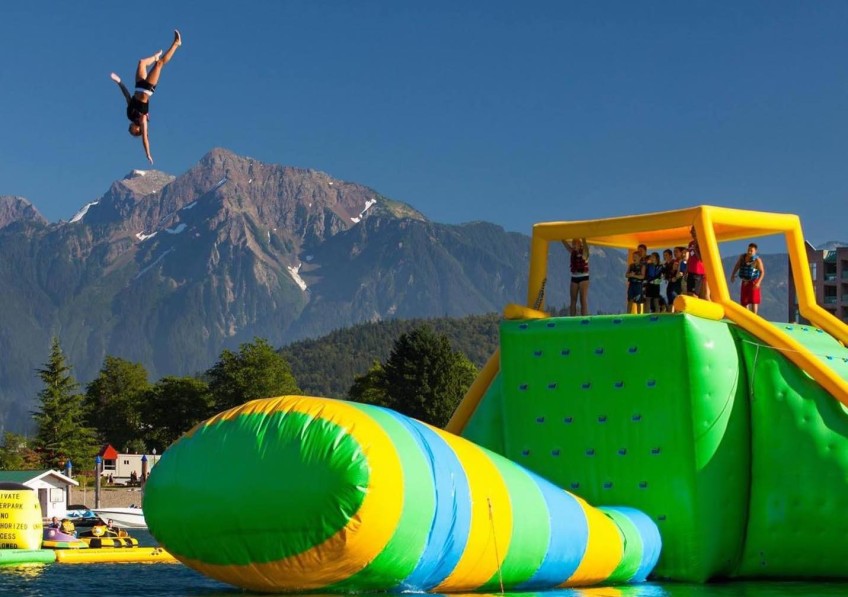 Epic inflatable water park for Lake Dunstan
---
An inflatable water park the size of which has never been seen in New Zealand is coming to Cromwell this summer.
The 10,000-square-metre, blow-up playground will be moored on Lake Dunstan at Lowburn from the end of December.
Queenstowner Emily Rutherford and her mother, Janet Rutherford, who started Glenorchy Air with her late husband Robert, are behind the idea.
Ms Rutherford says similar water parks are found in other lake and seaside locations around the world, but they're not commonplace in New Zealand.
"They're super popular overseas – you can find them in lakes and seas in Canada, Japan, Australia, Croatia and Spain.
"I thought: this would go down so well in New Zealand."
The business idea is a good fit for Ms Rutherford, who chose to return home from London earlier this year as Covid chaos reached fever pitch.
"I've always been obsessed with swimming. As a kid, I lived on my trampoline."
The water park that will float on Lake Dunstan has been bought from a Chinese manufacturer, and users will need to wear a lifejacket to play on it.
"There's been a really small one in the North Island, but there's been nothing of this scale in New Zealand, so I think it will be awesome."
It's suitable for people over the age of ten, although confident younger swimmers can have a play with an adult in tow, Ms Rutherford says.
Since putting a shout-out for staff, including lifeguards, on local Facebook pages yesterday, Ms Rutherford says she's been inundated with messages from would-be workers and interested locals.
Although feedback from similar operations overseas shows water parks are a hit with local repeat customers, Ms Rutherford also thinks the novel business will help put Lowburn on the map.
"I really hope this will help bring people to the area."
However, it's been tough slog working with multiple local authorities to get the necessary consents required to take up space on the public waterway, Ms Rutherford says.
Land Information New Zealand, the Otago Regional Council, the Central Otago District Council and Contact Energy are all involved in the managment of Lake Dunstan.
The official greenlight was given in the last week, but that has pushed back opening day, Ms Rutherford says.
"It's taken a long time."
Her message for anglers and other lake users: There's kilometres of lake around Cromwell, and plenty of space for everyone to enjoy it this summer.
Main Image (supplied): A 'blob' similar to this pictured in Canada will be part of an enormous flaoting water park to be stationed on Lake Dunstan at Lowburn, starting this summer.


---