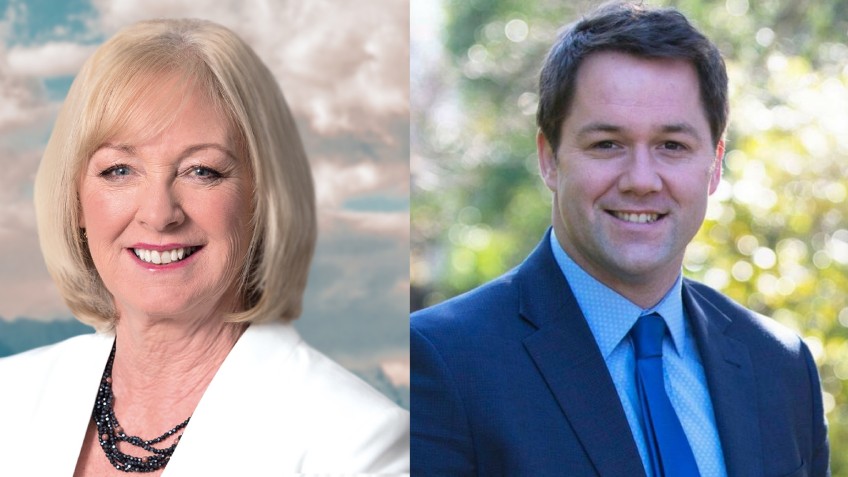 Editorial: Why have we got such lame duck, absentee MPs?
---
There was a time when the MP for Otago Central, Warren Cooper, was also the Minister of Tourism. That seemed to make sense then, and would make even more sense now. We are growing faster than anywhere else in New Zealand.
But instead our MPs are ranked #17 (Jacqui Dean) and #52 (Hamish Walker) by their own, opposition National Party. Jacqui has offices in Oamaru, Alexandra and Cromwell ... she lives in Oamaru. Hamish has offices in Gore, Balclutha and Queenstown - he lives in Balclutha. That puts Jacqui's home 232 kilometres from Wanaka and Hamish's home 238 kilometres from Queenstown.
So we have two non-resident MPs who, for the time being at least, don't look like achieving Minister status. Jacqui's Wikipedia page lists being a former Play School TV presenter as an achievement she is best known for, while the same page for Hamish lists no "early career" experience - but we know from the National Party website that he has previously held roles as a commercial fisherman, police jailor, gold miner, mentor for youth living with diabetes, a former first class rugby referee, a senior consultant at an accountancy firm, a banking consultant and a governance advisor. Not bad for a 33 year old but maybe this colourful, vibrant and quirky CV might not appeal to the average human resources manager? I've never figured out why politicians don't need any qualifications, relevant experience or even local connections, especially given the very generous pay, accommodation, staff, pension and travel benefits. Maybe having a thick skin is the only qualification that counts?
Before Hamish, the MP for Clutha Southland, which includes Queenstown, was Todd Barclay - the nation's youngest MP. He now lives in London, having sandwiched his brief political spell in between being a tobacco salesman and now handling European sales for the Too Group, an international conglomerate that also owns Millbrook Resort near Arrowtown. Todd had a townhouse near Millbrook that he sold for a reported $300,000 profit after only two years of ownership. We never did get the full story on what happened in Gore, in spite of Todd's close friendship with some Queenstown journalists. However, the truth usually comes out in the end.
So, here we are in mid-2018, embroiled in spirited debates over our future - bed tax, affordable housing, overtourism, airport growth, the lack of a hospital, the environment, mental health and so on. Big issues, but us locals have not all left yet - so there must be some light at the end of the tunnel.
But where are our local MPs in all of this? Hamish can be seen welcoming Uber to Queenstown, or being catapulted by A J Hackett as part of its latest tourist attraction. He has the odd flurry of political activity - supporting the Lumsden Maternity Centre - after all, who wouldn't? Jacqui does the rounds - chipping in when it's relatively safe to do so. 
The truth is that the reason we have relatively weak, absent MPs is that, in political terms, we are seen as safe National seats. Therefore, no point in wasting a big hitter down here.
But surely we need strong, powerful, experienced MPs who are swimming against the Wellington tide in our support? Above all, dispelling the myth that Queenstown and Wanaka are not actually populated by real people who get sick, experience financial problems, can't put a roof over their heads, encounter domestic violence, have mental illness in their family, or who struggle to make ends meet on low wages in a high cost environment.
To be fair, the Clutha Southland and Waitaki electorates are vast and contain very diverse communities. It's probably quite hard for them as a lone, lower-ranked MPs to be accountable for an area roughly the size of Switzerland.

It's not clear exactly who National and Labour think live here, apart from the hackneyed cliche of Pinot-drinking rich elite who ski every morning before meeting their financial advisor to discuss their ever-growing wealth from tourism.
Perhaps our MPs could start doing what we pay them so well for - fighting on our behalf for a better life and a better future. Living here might also be a useful thing.

---