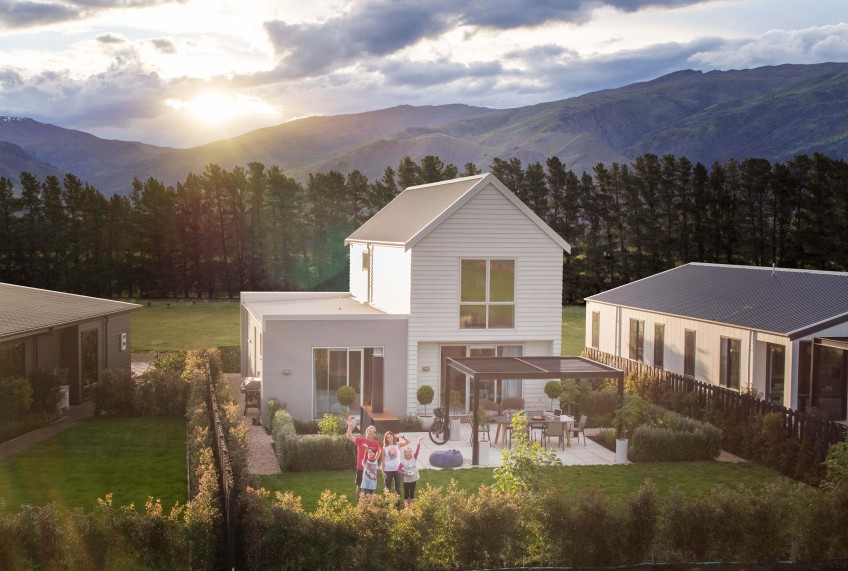 Developer offers 200 Cromwell houses "from his own pocket" for consent
---
In a dramatic twist today, Winton property boss Chris Meehan has said he will fund 200 freehold titles (houses and land), worth an average of over $500,000 each, and 200 residential lots averaging over $200,000, if commissioners give the green light to his River Terrace subdivision just outside Cromwell.
The unique offer is worth around $140 million on paper. In effect the developer is offering to take the risk that the first 200 subdivision houses and sections will sell.
Mr Meehan told today's Resource Management hearing that Winton normally prefers to sell houses "off the plan" in return for around a $50,000 discount so that the cash risk is shifted to the house buyer. But he told the planning commissioners that he took Cromwell's housing crisis so seriously he was prepared to use his own money to cash flow a "lightning fast" start to the building of River Terrace.
The commissioners seemed both bemused and nonplussed by the offer saying that they did not know if such a deal could be "codified" or written into the Resource Management Act consents that Winton is seeking.
Mr Meehan then doubled down on his offer and said that he would surrender the resource consent if he broke his promise and did not deliver the finished houses and land within an agreed period.
The attempted deal making was just one aspect to an extraordinary and dramatic presentation by Mr Meehan where he accused the Central Otago District Council of consulting everyone "except those that don't have a home" on the subject of Plan Change 13. The plan change is needed to allow River Terrace to go ahead.
Mr Meehan said that every single agency he knew of at Central and Local Government level acknowledged there was a severe housing crisis in Cromwell. He gave an example of the local housing pressures from another of his developments, Hanley's Farm, near Queenstown.
"Just on one Saturday, 800 people turned up for a sales day. There was a line one kilometre long stretching from the car park to the sales office. The people I spoke to made it clear they were desperate for somewhere to buy and that living in Cromwell was not a problem for them. Whether we like it or not, many of the people that buy homes at River Terrace will work in Queenstown."
Mr Meehan and his lawyer, Warwick Goldsmith, have made it clear to the commissioners that affordable houses are fundamental to the River Terrace application. Prices are forecast to run between $485,000 and $600,000.
Mid market houses at Hanley's Farm (450 sq metres land, 162 square metres house) are already appearing on the market for just under a million dollars, only two years after sections were being sold for $250,000, and houses were being built for around $350,000 - $400,000.
Addressing the proximity of the Highlands Motorsport Park, and the risk that River Terrace residents will complain about noise from the racetrack, Mr Meehan said that he saw the racetrack as "a positive from a marketing point of view. People in this part of the world like their sports and activities so they'll either go to the race days at the track - or take a hike."
Mr Meehan went to some lengths in pouring cold water on alternative plans for housing in Cromwell. Referring to a plan to build houses on the local golf course he said that he did not believe the project had benefited from any proper planning process and said that he seriously doubted that the golf club would agree to ending up with "a large paddock and a club house."
In driving home his view that Winton would deliver affordable, fast housing for the area, Mr Meehan likened his approach to that of McDonald's and the fast food industry.
"There's no point in researching the potential for hamburgers in an area by just looking at the sales figures for a small Mom and Pop burger joint. If that small business sells 100 burgers a day, a consultant might forecast that another similar business would also sell 100 burgers a day. Winton is like McDonald's - we'll come along and sell thousands of burgers in a day, but council planners don't get that because they are just measuring what they already know and understand. It's a matter of scale and reputation."
Mr Meehan said that was why he was backing his own project by risking the 200 homes and 200 sections "out of my own pocket" as a guarantee of demand for the 900 houses that will eventually be part of River Terrace.
The hearing will continue until Friday, with the final two days being taken up by submitters against Plan Change 13.
Main Image: One of the planned 900 houses planned for River Terrace. Source: Winton Group.


---