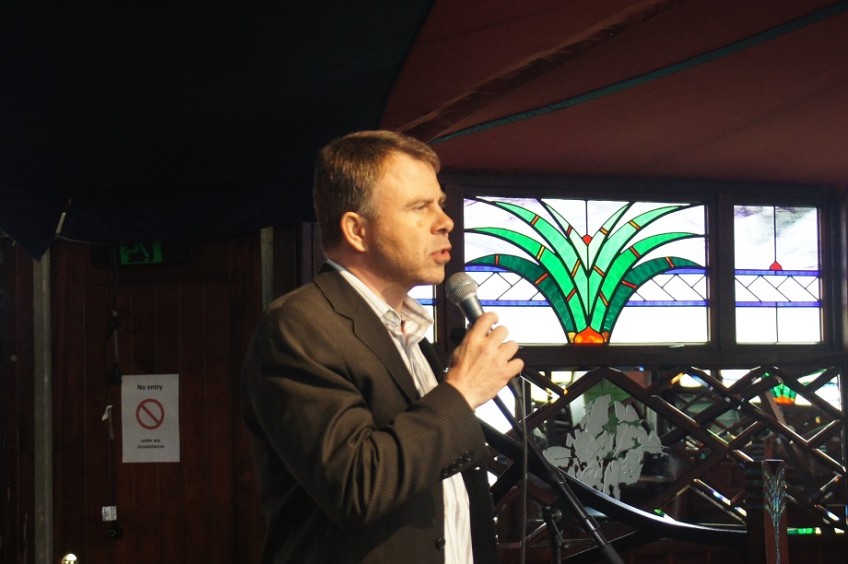 Crux Local Democracy Project launches in Wanaka
---
It was the launch of a world first in Wanaka this morning - the marriage of digital democracy and independent journalism. The Crux Local Democracy Project.
At a time when both national and local media are struggling to find a new business model, Crux has joined forces with Ethelo, the leading digital democracy platform based in Vancouver Canada. The project will allow public interest journalism to build unprecedented outcomes around a new level of citizen involvement.
Unlike the survey tools currently being used, Ethelo uses advanced technology to capture the complexity of proposed civic projects and produce an equally multi-faceted solution based on detailed residents responses - not just yes/no or like/dislike. Described as a "formula for fairness" Ethelo produces an outcome that is likely to satisfy the largest number of people, not just a vocal minority.
The founder and CEO of Ethelo, John Richardson told today's Wanaka launch - "We have a strong social mission, and that's to advance democracy. Ethelo allows a group to break down a problem together, because it's never as simple as yes or no."
He says that the division and polarisation in society that can been seen across the world is largely due to the way polling is done - using binary questions and not taking wider public opinion into consideration. "If you give people a silly question, you're going to get a silly answer," Mr Richardson says.
Crux Managing Editor Peter Newport used Wanaka airport as an example. It's not a matter of 'should we or shouldn't we', but of having a discussion that includes all possible ideas. As well as this nuanced measuring of public opinion, there's a need for plenty of independent information, and this is where quality local journalism comes in."
"Crux will be providing accurate and fresh journalism to delve into and act as an advocate for key public issues. We'll be aiming to make sure all voices are heard, and then, using Ethelo, acted upon"
Today also gave the public a chance to actually use the platform for the first time. The Pre Launch project is an opportunity to gather opinion on what citizens think the key issues facing the district are.
The first full Local Democracy Project, to be launched in around 3 weeks time, will aim to set the agenda for this year's local body elections in a way that clearly describes the citizen's priorities for candidates to respond to, rather than the candidates themselves setting their own, preferred agenda.
Watch: our full coverage of today's Wanaka launch
Main Image: John Richardson, founder and CEO of Ethelo


---