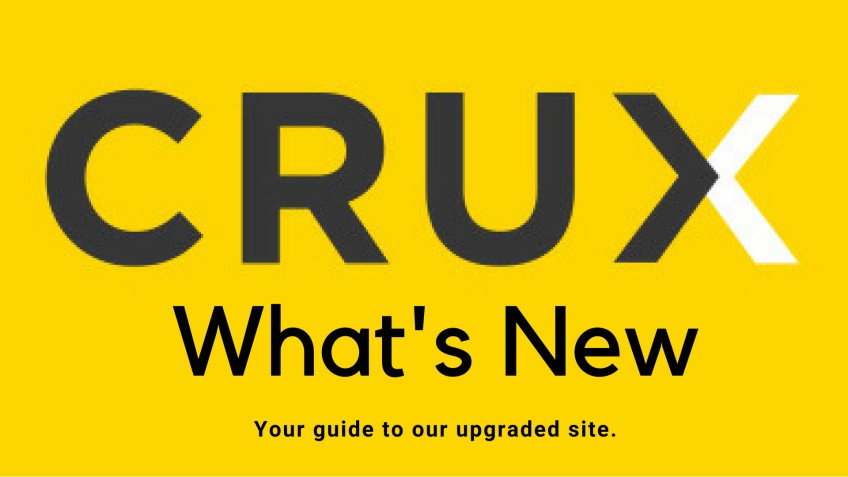 Crux has been upgraded - check it out
Sep 03, 2018
---
Since launching Crux four months ago, we've been working behind the scenes to make it even better, largely based on our readers' feedback, including through our recent audience survey.
We can now reveal some of the exciting changes. This is your guide to what's new, and how to find it...
Crux has partnered with RNZ National News and its top headlines are featured on our home page with the full stories on our new National News page. Some Crux stories will also now appear on the RNZ website.
The top 12 RNZ national headlines can be browsed using the menu bar on our home page. Click on either the "more" button or the central dots and then click on a headline to go directly to that story.
Popular Stories - now the top stories from the past week are always featured on the right of each page.
In Brief - is an important place to find news tidbits, reminders of local events, story updates and opportunities for community feedback. It's always below Popular Stories, on every page. Want to feature your event or ask for community feedback? Email [email protected]
New writers - Crux is pleased to welcome Wanaka journalist Kerrie Waterworth, Cromwell journalists Susan Curran and Jill Herron, Queenstown contributors Esther Whitehead and Poppie Johnson, Glenorchy contributor Leslie Van Gelder, arts writer Laura Williamson of Wanaka, and opinion/feature writer Andrew Waterworth, also of Wanaka.
Jane Guy is the editor of our new Living section - featuring events, issues and food/drink options in the Southern Lakes.
Crux has partnered with Queenstown Trading so our news articles feature on their hugely popular Facebook page (over 30,000 users) and we will link to their site from Crux. Just click on the QT Trading link, at the right of the main Crux navigation bar.
Crux's local stories will stay on our home page for longer, before being archived - just scroll down to see all the recently published stories.
Crux will develop even more feature-length stories and in-depth, local investigations. These take time, but are on the way.
Weather - we now feature weather summaries for Queenstown, Wanaka and Central Otago/Alexandra on our home page.
Traffic cameras feature on our home page. Click the "see all" link under the three camera views to see more - including the new Lindis Pass NZTA camera.
Production is underway on our new video documentary series - "Living in La La Land". This is funded by a $114,000 grant from New Zealand on Air. The first parts of this series will be published by Crux before the end of the year and the series will run all the way through to September 2019. The programmes are being produced by our video partners Storyworks.
You can find older stories by using the key-word search window above Popular Stories, or go to each section of the site, click "show all" at the foot of the page and then click through the pages selection to find the story you want.


---