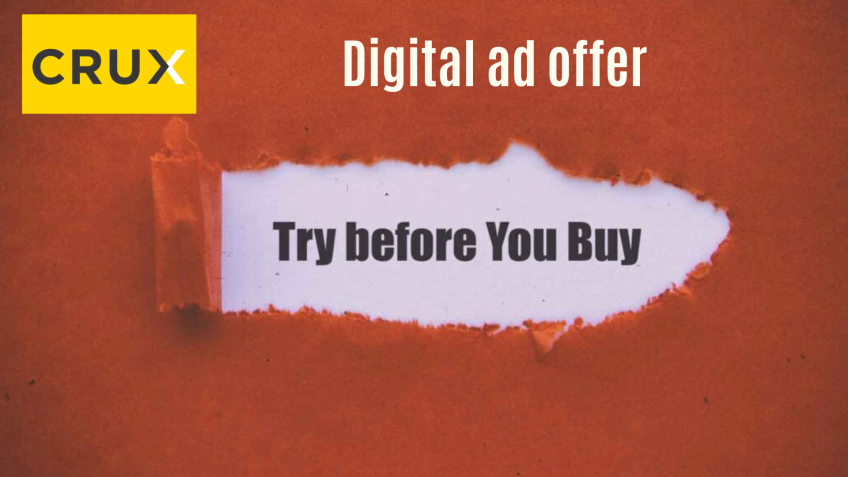 Crux digital ad offer – try before you buy!
Nov 08, 2022
---
Crux is running a special promotion in November/December that will allow local businesses to experience the reach and accuracy of our digital advertising products – at no cost.
Just book a month's worth of advertising with us and if after the first week you are not 100% happy with the results you can exit the arrangement without any cost at all.
This will allow you to see not only the effectiveness of digital vs print advertising but also the degree to which you can measure that success.
In simple terms you will never really know how effective a print ad has been, but with the Crux digital ad experience you get detailed, secure online reports on your ad performance, and you can even upload your own ad creative.
Our reports will show you how many times your ad has been clicked on, where your customers are based, compare your ad performance to industry averages, show which ad positions performed better than others and even how many times our readers have hovered over your ad.
Plus we have suggestions on how to combine your banner ads with other opportunities such as our weekly newsletter that reaches over 4,000 people every Friday, how to use video and even organise promotional events or sponsored editorial content.
We've also noticed that print news media titles are encountering increasing difficulty getting their papers delivered and distributed, so don't spend your ad budget on newspaper copies that sit unread in a supermarket pile or a street box.
Some features of our offer:
No creative? Have free access to our ad building software
If after a week your campaign is not performing as expected, or above industry standard benchmarks – you can stop without spending a cent
Crux reaches over 20,000 locals each week
High impact creative that demands attention and drives results
Be seen – average time spent on each Crux page – 2.5 mins
Guaranteed viewability – our ads are seen, counted and reported on in real time. Monitor ad performance with a custom log in to track your campaign
Only buy what you need/can afford. Our CPM pricing ensures any business is able to afford local digital advertising
Interested? Call or email Crux sales director Grant Morgan on 027 277 7112 or grant.morgan@crux.org.nz

---