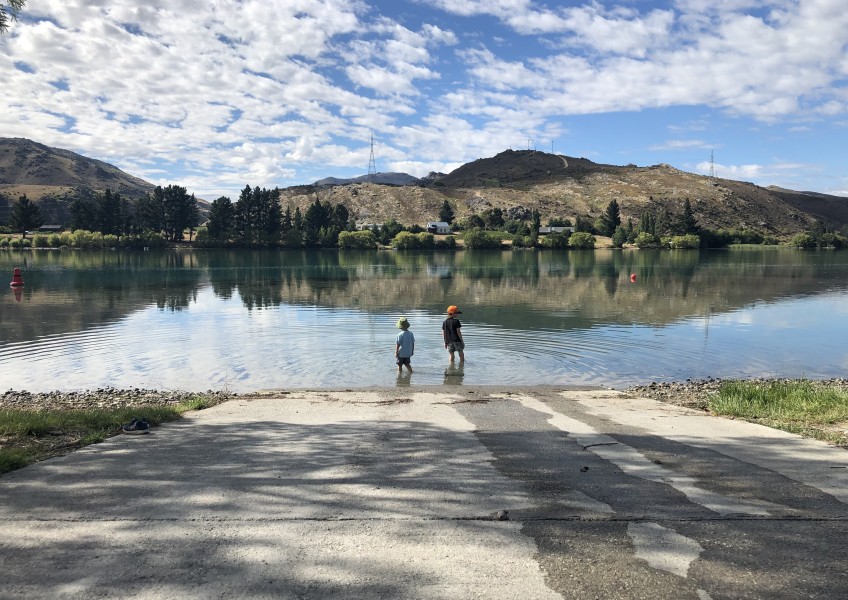 Cromwellians invited to guide Lake Dunstan's future
---
Locals who get out and about on and around Lake Dunstan are being asked to help create a roadmap to guide how the lake is managed and used.
A survey and a series of workshops and working groups are planned to consult with members of the community on what they see as challenges and opportunities for the lake now and in the decades ahead.
In the coming weeks, two workshops are in the diary for Cromwell and one for Clyde.
The survey is able to be completed online, and lake users will also be approached for comment at popular recreational spots like the Lowburn campground and boat ramp.
From there, a community vision document will be created to help inform decision-makers with jurisdiction over the lake and give teeth to the Lake Dunstan Charitable Trust's advocacy work.
Megan Phillips, who works for the Lake Dunstan Charitable Trust, says she doesn't want to pre-empt what the community thinks the big issues are or put words in mouths.
But there's some obvious talking points around town when it comes to the lake: lagarosiphon (an aquatic weed) invading popular fishing and swimming spots (and regular old weeds taking over green spots around the lake), driftwood piling up on the shoreline, and silt-build-up in the Kawarau Arm limiting access for boaties.
There's more than one government body with a hand in managing the lake and foreshore - Central Otago District Council, Otago Regional Council and Toitū Te Whenua Land Information New Zealand (LINZ) are the main ones - so who's responsible for sorting what problems or creating what opportunities is often another contested topic among locals.
Also in the mix are businesses – the Kiwi Water Park and Contact Energy among them – who have resource consents (with conditions to be met) allowing them to use sections of the lake and foreshore to make money.
When the issues are well known, consulting with members of the community on them may seem pointless, but Ms Phillips says it's an important step.
"It may be obvious what's needed for the lake. But, the thing is, that's not written down anywhere. That's not collectively put together."
And that's a problem when Council, Contact or any other stakeholder needs to factor public opinion into a decision made, she says.
The lake may be young, and it's manmade, but people in town are passionate about it.
"We've got people that know it very well, and they've known it for the last 30 years since it's been here. We've also got new people to the area, who've got new ideas.
"So it's a really good way of bringing all those people together and their concerns, ideas, and aspirations - what they want to see for the lake."
The Trust has chosen to outsource the development of the community vision for the lake to Queenstown-based Shaping Our Future.
It's an apolitical not-for profit with a simple goal: to make sure as many people in the community as possible get to have a say in the future of where they live.
Shaping our Future secretary John Glover, who runs the historic Kinloch Lodge near Glenorchy, says he wants the community to try and think broadly about things they value in regards to the lake rather than simply hone in on specifics they want or don't want.
It's the bigger-picture, aspirational stuff they hope to untangle, he says.
"We know what the 'now' issues are, and we'll capture those and those are our baseline. But the community will be asked 'So, 30 years in the future, what does success look like?'".
And that's where the end document will have some teeth: those who volunteer to take part will come up with prioritised recommendations for different decisionmakers and stakeholders, he says.
"I'll give you an example. I was involved as a member of the community in visioning that was done in Glenorchy back in 2015. And that's been such a powerful document to have…because it helps improve decision making."
Core to the role of Shaping Our Future as the consultation progresses is helping Cromwell and Clyde residents focus their recommendations and present them to those in-charge in a way that will have effect, he says.
"Some stuff might need to go into a regional council long-term plan, some might be facing CODC, some might fall into areas that LINZ or Contact are involved with."
He's realistic within the community there'll be a range of views on issues, and the end document won't be a silver bullet for all the lake's problems.
"It's not going to be a process that comes out with instant solutions that take us from today to 30 years' time, but it will identify what the first steps are, and what the priorities should be."
The work by the Lake Dunstan Charitable Trust to create a community vision for the lake is part of a Jobs for Nature project funded by LINZ.
The Trust will receive up to $953,000 of Government funds over four years.
Also part of the project is a landscape plan for the foreshore of Lake Dunstan – think native plantings, picnic areas, and protected habitat for endangered species, among other things - which will soon be made available to members of the public.
Love the lake and keen to have your say?
Main image: The boat ramp at Butcher's Road in Cromwell is increasingly a boat ramp in name only - a build-up of silt in the Kawarau Arm of Lake Dunstan means most boats with outboard motors can no longer use the ramp to access the lake.


---