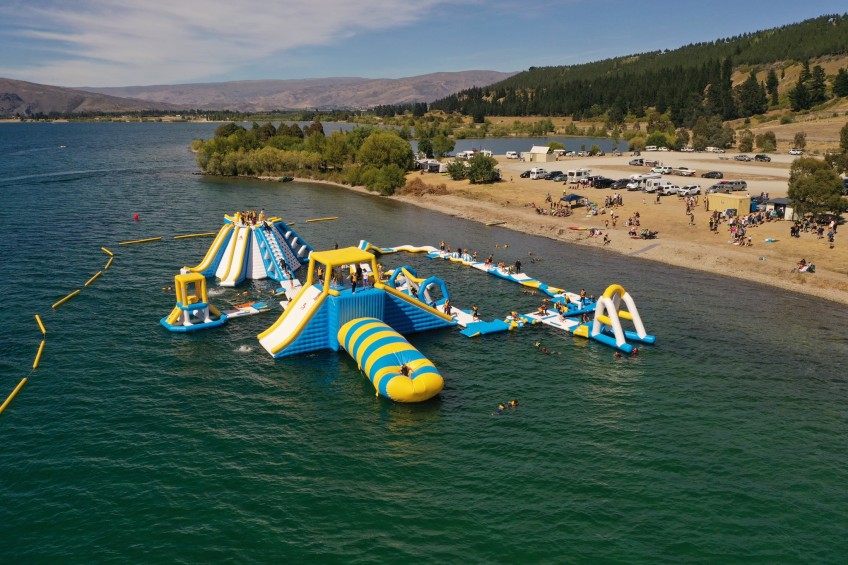 New home needed for Cromwell water park
---
The Queenstowner behind Cromwell's waterpark is on the look-out for a more sheltered location after an otherwise successful first season afloat Lake Dunstan was marred by wind damage.
Emily Rutherford spent last week supervising the pack-up of her 10,000-square-metre blow-up playground, which has been moored off the Lowburn freedom camping site this summer.
But gusty winds whipping down the lake wreaked havoc at what was otherwise a perfect location, forcing the businesswoman to close for the season weeks earlier than planned.
Being located in a visible spot just off the state highway, central to Wanaka, Queenstown and Cromwell, helped ensure a healthy customer base for her fledgling business, she says.
However, severe and frequent winds damaged the structure and forced closures throughout the season that resulted in cancelled bookings.
The wind wasn't unexpected – At the offset, they used three times as many mooring blocks as told to by the manufacturers to help keep the inflatable park in place, she says.
"But the wind was so strong in the last week before we closed that it moved the mooring blocks a-metre-and-a-half, and one of the mooring blocks moved three metres under the water.
"It was crazy."
The popular "blob", a huge pillow-like structure that people could jump onto and catapult another participant into the water from, was out of action just weeks previously due to wind damage.
Despite the forced early closure to the season, Ms Rutherford says she's stoked with the support she received for her venture.
Her hunch that locals from across Central Otago and the Southern Lakes would embrace the offering was right – she grew up in Queenstown and it's exactly the sort of thing as a youngster she would have loved to have on the lake in summer, she says.
"We sold out a lot over the school holiday period and even some of the weekends after the school holidays.
"It was amazingly well-supported."
The venture also drew customers from further afield into the district, she says.
"There was a family at one of our last weekends who had flown down from Wellington to Queenstown ad the main reason they choose to come was because the kids had seen it on TikTok and wanted to go on the waterpark.
"We had people from all over the country.
"It definitely brought people to the area, who might not have come to Cromwell otherwise."
Scouting locations for next season, Ms Rutherford is confident Central Otago will remain home to her water park.
"We want to stay in Lake Dunstan, if we can."
And she's hopeful the strong fanbase she's generated will follow her to a new spot, even if it is, by necessity, a more secluded and sheltered one.
The time and effort put in to promoting the business via new media has paid off - Her TikTok account has more followers and interactions than that of the America's Cup, she says.
"Some of our videos have more than two-and-a-half-million views.
"That was definitely a huge way that we got people because we didn't have brochures, we weren't on any booking sites at all…we didn't do any of the traditional ways."
In a Facebook message announcing the abrupt season closure, Ms Rutherford thanked those who had helped make it a success, including local contractors, and Land Informational New Zealand and the Central Otago District Council.
Main Image (Photo source: Facebook, Kiwi Water Park): Queenstown businesswoman Emily Rutherford is scoping Lake Dunstan for a more sheltered spot for her inflatable water park for next summer.


---