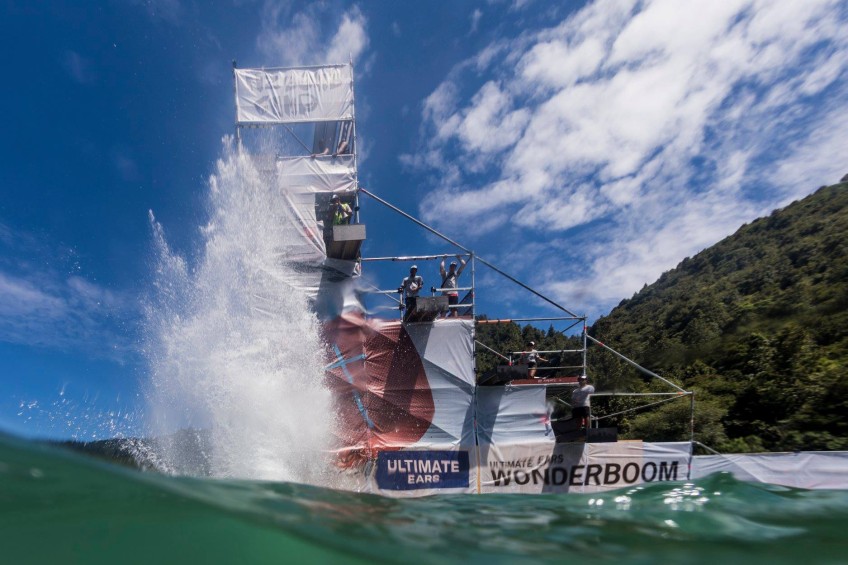 Cromwell scaffolders pitch 'Bombwell' for Lake Dunstan
---
Two Cromwell scaffolders have a business plan they're hoping will make a big splash in Cromwell next summer.
James Coates and Juan O'Sullivan are pitching a five-tiered tower to be stationed in Lake Dunstan for users to jump off into the lake.
They've named the fledgling business "Bombwell".
The idea's modelled off the "Bomb Station" built by a scaffolding company in Rotorua and submerged in Lake Tikitapu (Blue Lake) for a radio station-sponsored bomb competition.
Bombwell's version is being designed by an engineer and will have five diving platforms – at two, four, six, eight and 10 metres.
While the tower up north was in the lake for just a couple of days, the pair want theirs to have a more permanent place in the lake.
They both moved to town from Christchurch for work a year ago and "fell in love with the place" but reckon Lake Dunstan is underused, especially when compared to neighbouring Lakes Wānaka and Whakatipu.
"We want it to stick around...We thought it would bring a lot of people down to Cromwell," Mr O'Sullivan says.
They've scoped around and landed on the northern end of the Alpha Street Reserve swimming spot as a potential choice location for the tower.
It gets deep quickly, access is not off a state highway, and local young people can walk or ride bikes there, they say.
"We want it to revolve around the community and turn that area into an even better area, but without taking away from anyone," Mr Coates says.
Last year, backed by Toitū Te Whenua Land Information New Zealand, the Lake Dunstan Charitable Trust completed the biggest community engagement project in the history of Lake Dunstan.
"The community indicated they are generally supportive of new commercial activities on the lake providing the operations are well planned, abide by consent conditions and do not unreasonably affect the visual or recreational amenitity values of the lake for other users," chair Duncan Faulkner says.
He's confident the proposal will be a big hit with locals and visitors looking for a more adventurous activity.
"I know the local publican of the Five Stags will be the first in line to jump off. He's been requesting a jumping platform for years."
The challenge was put to The Gate and Five Stags boss Glen Christiansen: "Bloody oath, I love that stuff."
He says there's a prominent jumping platform on the waterfront in Wellington and he's long reckoned a similar set-up would go down well on the lake in Cromwell.
"I love the atmosphere that Wellington one creates. I love what it contributes to the waterfront."
Mr Coates and Mr O'Sullivan are canvassing more of the community via an online survey, that at last count had been completed by more than 230 people since going live on Friday.
"Ninety-two percent of the people agreed with it and agreed with the location, and love the idea and have given us heaps of feedback," Mr Coates says.
"We know this is such a small community and everyone is pretty close, and we don't want to step on anyone's toes."
Mr O'Sullivan says they are also welcoming constructve feedback on their business plan: "We also wanted to do the survey so if people did have any problems we can think about how to counter them."
He says while the Rotorua tower was covered in advertising they're conscious of doing what they can to allow their scaffold tower to blend in with its surrounds.
"The problem for a lot of the naysayers that don't like it is that it's an eyesore on the lake, on the landscape, but we want to try and make it something that will fit in or at least be appealing to look at."
The men have engaged the services of an engineer as well as land development experts Landpro, as there are at least two regulatory hurdles to clear before they can press go - resource consent from the Central Otago District Council and a permit to set up on the lake from LINZ.
A spokesperson for the council says no application has been received to date. In addition to a resource consent, the business may also require a building consent for the structure, the spokesperson says.
There's also no application in yet at LINZ, where a spokesperson says if it was to receive an application "we would consider a range of factors, including impacts on the environment and other recreational activities".
Cromwell already has one water park - the Kiwi Water Park at Lowburn has just shut up shop after its third year of operation - but by next summer will it have two?
Main image (Facebook/NZ Bomb Comp): The 'Bomb Station' built by a scaffolding company in Rotorua and submerged in Lake Tikitapu (Blue Lake) for a radio station-sponsored bomb competition.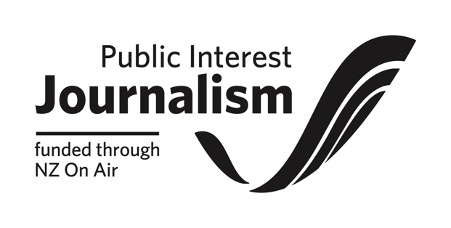 ---