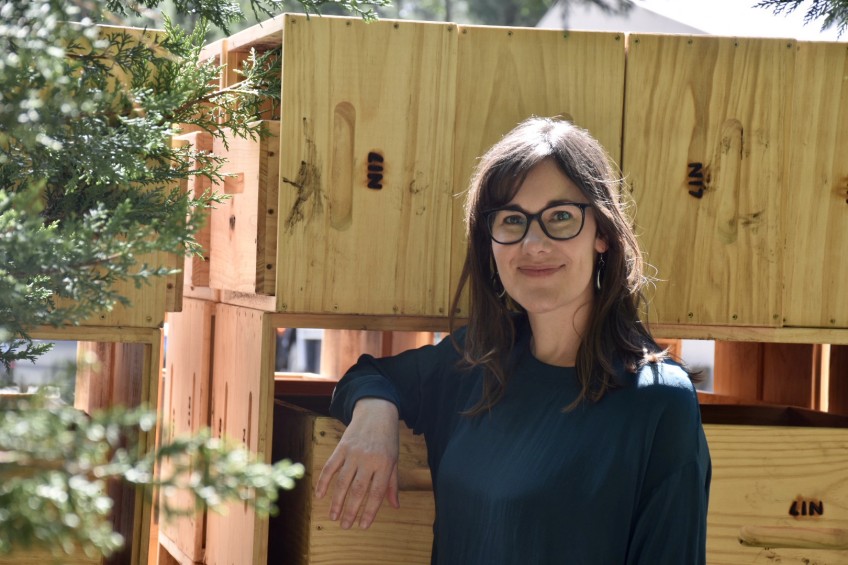 Cromwell honey seller finds sweet spot in Covid chaos
---
Ironically, Cromwell honey seller Zoe Wood is allergic to bees.
A sting could cause life-threatening anaphylaxis.
It's a revelation that elicits a wry chuckle. She's so passionate as she talks about honey, it's not hard to imagine her lovingly tucking in each of her hard-working, buzzing producers at the end of a day.
From a roadside stall out Bannockburn way, Ms Wood has been selling what she reckons is nature's liquid gold for close to ten years.
She has plenty of loyal local customers, but a good chunk of her business has come from overseas travellers pulling over to purchase a jar of Kiwi honey to take home.
It's a revenue tap the Covid pandemic has abruptly turned off.
She's not alone.
Small business owners in the town used to benefitting from the overflow of international tourists from the Southern Lakes are feeling the pinch, she says.
Already juggling the fulltime job of being mum to four young people, it may have been easy for Ms Woods to put her business side hustle on the backburner during what's been a crazy year.
Instead, she's upped her game.
"I had to rethink the way I was doing things."
First, she's taken her product online, offering honey lovers near and far the option to order remotely and also by subscription.
Forage and Gold honey, Ms Wood's brand, is all sourced in this neck of the woods, from hives throughout Central Otago and a bit from over the West Coast.
Some of the blends are unique – there's Thyme and sometimes Rata honey, and even the humble Clover is unusual because local conditions mean the bees choice of flower is restricted and the resulting honey, pure.
Friends and customers returned home had been nagging her for top-ups once their purchased jars had been scraped dry.
"They said: 'I can't find anything like it in Auckland. Can you get it to us?'"
Second, in what is a ground-breaking move in New Zealand, she's starting to pack her honey in glass jars that can be returned and, eventually, refilled.
It's a good fit for the product, she says.
"It has an amazing journey to get to where it is in this form. It's just so much better in a glass jar."
Ms Wood's honey-selling journey began at the Cromwell Farmer's market. As she looked to scale her business, plastic was the obvious choice.
But times have changed.
She's inspired by other Kiwi producers working towards a circular economy, as opposed to a take-make-waste model, she says.
"It's pretty simple really – cleaning them, sterilising them and reusing them. I love the idea and I'd probably been avoiding it because it was in the too-hard basket."
The enforced business reboot due to the pandemic has enabled her to push herself, she says.
And, despite seeing an opportunity to stand out in a climate where consumers are increasingly interested in the ethics of their purchases - even a purchase as humble as a simple condiment – she says she's happy to forfeit any competitive advantage if it means a greater number of small businesses opting for more sustainable packaging.
The challenges posed by Covid have been huge, for some, insurmountable, but collaboration between Cromwell business owners has made everyone stronger, able to ride the wave of uncertainty, Ms Wood says.
"It's been something since Covid – the willingness of local businesses to collaborate."
Cromwell caterers Moreish Kitchen are working on honey-themed recipes for Forage and Gold's subscription customers, local wineries and restaurants are showcasing the honey in signature dishes - that sort of thing, she says.
"There's been a real need to do it. We're now not just relying on the influx of tourists.
"We've had to really focus inwards.
"You're sharing in each other's work, supporting each other. It's not a lonely thing.
"It does make you feel like you are part of a community."

---