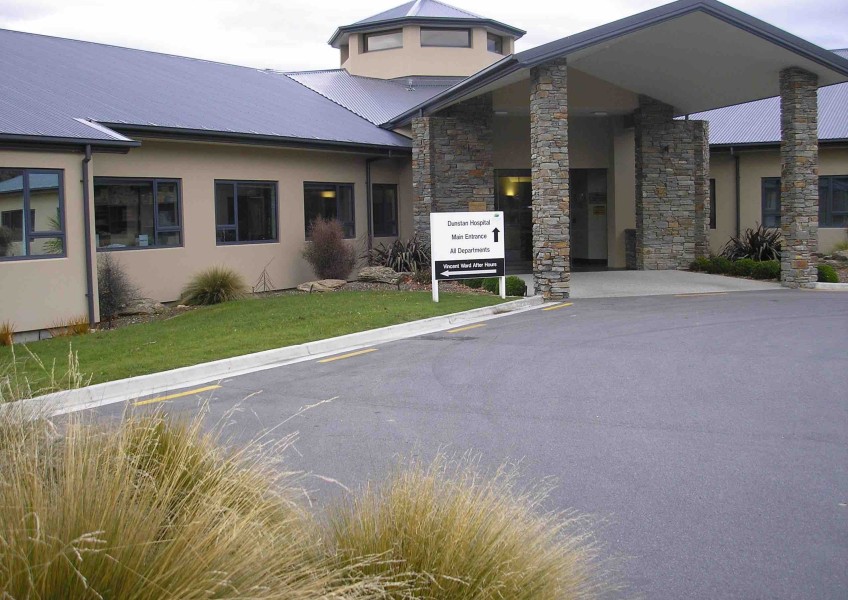 Cromwell doctor says SDHB response to health crisis - "very Trumpian."
by Kerrie Waterworth - Nov 03, 2018
---
For the next few months residents and tourists in Central Otago will no longer have "adequate" after hours and overnight emergency care which one Central Otago doctor says could put lives at risk.
On Thursday the Central Otago After Hours Incorporated (COAH) Board implemented new measures reducing their after-care hours to primary care patients from 6pm to 10pm daily until February 1 next year.
In a statement COAH Board chairperson Dr Kate Dixon says "due to health and safety concerns for our staff which is contributing to the sustainability of the service, we are no longer able to provide the same level of service."
That same level of service was providing after hours primary care to patients living in or around Cromwell, Bannockburn, Alexandra, Clyde, and Omakau between the hours of 6pm to 8am, 365 days a year.
Dunstan Hospital in Clyde is the only hospital in the Central Otago region but it doesn't have an Emergency department. The nearest EDs are at Dunedin Hospital or the Lakes District Hospital in Frankton. Since COAH was established three years ago doctors in Alexandra and Cromwell have provided urgent after hours care in their practises, at the scene of the emergency or at Dunstan Hospital in the after-hours clinic.
Wellsouth (the Primary Health Organisation PHO) has known about the COAH concerns over the future viability of the after-hours service since June when COAH sent a letter outlining the contributing factors.
These were a shortage of local GPs who felt they could not work the fourteen hour overnight shift and go on to provide a high-level of care to the patients at their own practices during normal working hours; health and safety concerns about working alone, isolated overnight with no support; and the low patient numbers using the after-hours service, particularly between the hours of 2200-0800 and during the winter months.
The Board of COAH, WellSouth PHO, Dunstan Hospital (COHSL) and Central Otago Mayor Tim Cadogan had a meeting on the 19th June at which they agreed that COAH, PHO, COHSL and the Southern District Health Board (SDHB) would work together on a new, cooperative model to provide a longer term, sustainable after hours service for Central Otago.
In the meantime the COAH agreed to continue the existing after-hours service until 1st September and when that deadline passed it was extended until 1st November.
Dr Dixon says the COAH "has been proactive and continued providing after hours care while working together with Wellsouth, COHSL and the SDHB over a period of 4 months to develop a sustainable after-hours model which will provide our patients with a more equitable service as is provided in other regions. However due to continued health and safety concerns for our staff and a subsequent lack of GP staffing, we need to put in place alternative arrangements as an interim measure whilst a longer term solution is sought."
Central Otago Mayor Tim Cardigan issued a statement yesterday saying "I was as surprised as anyone to be informed by Central Otago After Hours Inc. last Friday that the after-hours service provided by local GPs at Dunstan Hospital was being cut back from the 6pm to 8am service that has been in place for the last three years or so to a 6pm to 10pm service, especially having been involved in discussions to resolve the issue back in June.
"This change has caused considerable concern in the community and that is understandable. I have been talking to medical professionals and others involved this week to try to get an understanding of what is quite a complex situation. At this stage, some crucial people I need to be talking to are not available and so I am not in a position where I can responsibly comment further, other than to assure the public that I am aware of their concerns and am making efforts to get a clear picture of what the best way forward may be for the public of Central Otago."
Cromwell Family practice GP Dr Greg White was one of the founding doctors of COAH Inc. who set up the after-hours roster system three years ago. He says there are about fifteen doctors practicing in the region and over the past three years he has only ever been required to work one or two night shifts a month with an average of three to four call outs each night.
He believes the roster system is no longer working because many of the doctors in the region are reaching retirement age, are no longer owner operators or are locums who only want to work part-time and don't want to work the night shift.
Dr White says he has told his patients on his Facebook page that he is on call for them 24/7 but he has grave fears for nursing home residents who will no longer have access to the services of doctor in a medical emergency at night. He says, doctors were also on call to attend car crashes and heart attacks "and now nothing."
Dr White anticipates a negative reaction from tourists visiting the region this summer. He says they come expecting to be able to see a doctor at any time of day or night. "They can't understand it."
Dr White says he believes the SDHB may actually be in breach of the PHO agreement they sign with doctors. Under the heading "Access to Urgent Care Services" it says:
"The PHO must ensure that Urgent Care Services that are provided by a face to face consultation are available to 95% of its Enrolled Population:
(a) Within 30 minutes travel time during regular Hours; and
(b) Within 60 minutes travel time during After Hours.
Cromwell is within 60 minutes drive of the ED at Lakes District Hospital in Frankton but Alexandra is more than 60 minutes drive from the Emergency Departments at Frankton and Dunedin Hospitals.
Crux contacted Southern District Health Board for an update on the negotiations for a new after-hours agreement with the COAH board and received this statement from WellSouth primary health network Chief Executive Ian Macara.
"The recent changes for non-urgent Central Otago after hours services are interim while planning continues to agree the long-term solution for service provision.
"WellSouth, Central Otago After Hours, GPs, Dunstan Hospital and other health providers and local government officials in the area are working together to find a solution ensuring sustainable and effective health services for patients and service providers.
"Patients requiring urgent after hours GP services in Central Otago should call their normal daytime GP practice, as they usually would, to be triaged and receive advice on where and when to seek medical assistance. In cases of emergency, they should call 111."
Dr White is "not expecting great things" from the negotiations as the SDHB response to the current midwife shortage across the region was to close the Lumsden birthing centre. "A very Trumpian response", he says.

---