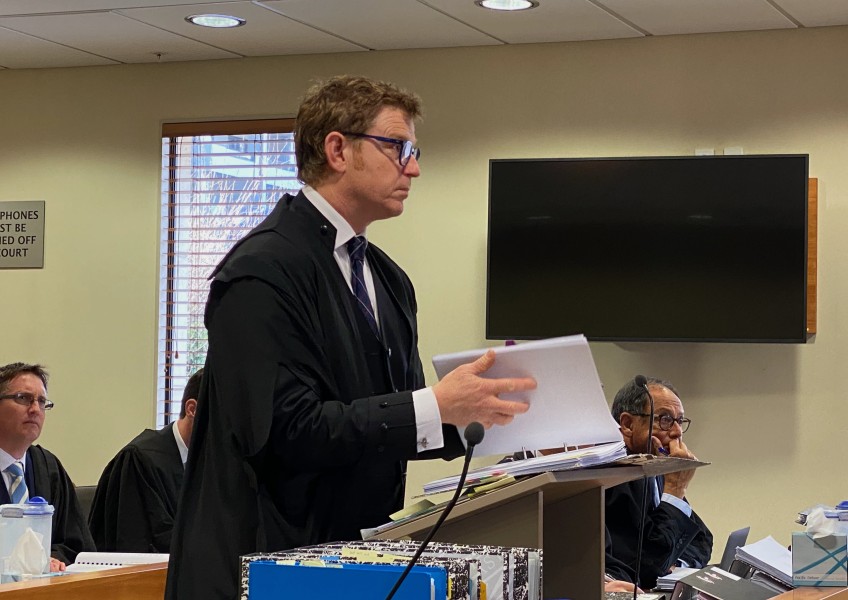 Court told QLDC withheld information from Councillors over Wanaka airport
---
A High Court case in Queenstown today heard evidence that elected QLDC councillors were kept in the dark over plans to introduce jet aircraft to an expanded Wanaka airport.
Bob Hollyman QC (main image above), representing the Wanaka Stakeholders Group (WSG), said that former councillor Ella Lawton would have voted differently if she had been supplied with the full facts surrounding expansion of Wanaka airport.
In an affidavit supporting the WSG Ms Lawton said the 100-year Wanaka airport lease she had been briefed on was quite different to the agreement that was eventually signed. "Had I known, I would have voted differently" Mr Hollyman told the court quoting from Ella Lawton's written evidence.
The lease is at the centre of the week-long judicial review before Justice Gerard Van Bohemen. WSG alleges the QLDC and Queenstown Airport Corporation (QAC) did not act legally in transferring ownership and control of Wanaka airport to QAC via the lease. WSG also claims that QLDC did not act truthfully when consulting with the community as the information used was not accurate or complete.

QLDC and QAC dispute the claims, arguing that the lease did not pass ownership and control of Wanaka airport as control still rested with QLDC via the often-controversial Statement of Intent process. They also argue that as no decisions have actually been made the community could not have been misled.
Mr Hollyman also presented evidence to the court that suggested the existence of an ambitious plan to fast track the introduction of commercial jet traffic to an expanded Wanaka airport back in 2016.
The evidence comes from a secret November 2016 agreement, still not released to the public by QAC or QLDC, that is called a Strategic Alliance Agreement (SAA) – between QAC and Auckland Airport (AIAL). The SAA outlines new financial targets that Mr Hollyman says could only be met by the rapid introduction of jet aircraft to Wanaka airport.
"The 2016 SAA set a $75 million revenue target (35 million after tax and costs) for the Queenstown Airport Corporation, to be delivered by June 2021. However, at that stage the June 2016 revenue numbers were only in the range of $8 million to $14 million. Jet capability at Wanaka was the only way to get to the new, stretch targets."
The court was also told that Mayor Jim Boult had been given the right by QLDC to negotiate the terms of the Wanaka airport lease, albeit alongside the QLDC CEO Mike Theelen and two selected councillors.
Much of the WSG evidence during the first two days of the judicial review has centred on what they claim are unusual features of the lease which they claim make it more of a sale and transfer of control document than an actual lease.
WSG also claim that community consultation by QLDC deliberately hid plans to introduce narrow body jet aircraft to Wanaka as well as understating the extent of planned Wanaka airport expansion.
QLDC and QAC Submissions.

Nick Whittington, acting for QLDC, agreed with WSG that there would be a problem if the Wanaka airport lease did in fact transfer ownership and control. He argued that was not the case.
Mr Whittington asked the judge to disallow or disregard some of the WSG affidavits which he said represented opinion rather than evidence. He also argued that much of the WSG case was political and should be "argued in a different forum – not this court."
He also said that former QLDC councillor Ella Lawton was not qualified to give opinions on matters relating to the 100-year lease.
The judge interrupted at one stage and told the QLDC's barrister of his main concern.
"What concerns me is a significant change of expectation" referring to apparent differences between what QLDC consulted the community on and what QAC and QLDC appeared to be actually planning. "There was not much evidence of what was going on" Justice Bohemen told Mr Whittington.
Mr Whittington also accused the WSG of attaching too much weight to the words and actions of Mayor Jim Boult. "Mayors are not Prime Ministers" he told the court. "Mr Boult is really just one of eleven councillors and can express his own personal opinions without necessarily reflecting council policy."
Later this week the Queenstown Airport Corporation will argue that they remain a Council Controlled Trading Organisation and can only do what the QLDC allows them to do via the annual Statement of Intent.
They will also argue that they have been transparent thought the process and that no decisions have actually been made regarding the future of Wanaka airport.
All of the conversations, consultants' reports and planning documents that refer to either narrow or wide body jets are characterised by QAC as preliminary planning steps that have no direct relationship to what may actually happen at Wanaka airport.
Both QLDC and QAC also argue that Covid 19 has effectively knocked any serious expansion plans out of play.
However the court heard that when WSG wrote to Mayor Jim Boult earlier this year suggesting that Covid 19 offered an opportunity for a "complete reset" of the lease and Wanaka airport expansion plans, Mayor Boult replied saying that "unwinding the lease will not be considered." He did however offer further community consultation, a remedy rejected by the Wanaka Stakeholders Group.
The question of the QAC Board was also raised in court today with claims that the Board should reflect the shareholding of the airport – 75% QLDC and 25% Auckland Airport.
Most of the current Board members appear to live in Auckland or be connected to Auckland. On checking with QAC and QLDC Crux received the following statements:
From QAC:
The board of directors is appointed by the shareholders to govern and direct QAC's activities. QLDC is the majority shareholder. Five directors, including the Chair are appointed by QLDC. Auckland International Airport Limited (AIAL) is the minority shareholder. One director is appointed by AIAL.
From QLDC:
The QLDC advertisement (for two new QAC directors) ran in the Wanaka Sun, Mountain Scene, Otago Daily Times, New Zealand Herald and Sunday Star Times in late August and early September. The cost for placing the advertisement amounted to $3,172.90.

The advertisement sought expressions of interest by 11 September. Applicants were shortlisted and interviewed by QLDC's Governance Subcommittee; a recommendation will be made at a public excluded session of QLDC's full Council meeting in late October. If the Subcommittee's recommendation is accepted, a stakeholder resolution will be signed by QLDC and Auckland International Airport and presented at Queenstown Airport Corporation (QAC)'s Annual General Meeting on 30 October.
The Current Queenstown Airport Corporation Board (with two vacancies being advertised) is:
Adrienne Young-Cooper – Auckland
Simon Flood – Queenstown
Norm Thompson – Auckland
Michael Stiassny – Auckland
Mark Thomson – Auckland
It is expected that the final outcome of the judicial review may not be delivered for some months given that there are over 10,000 pages of evidence being considered. The Queenstown High Court Hearing is expected to conclude on Friday this week.
Read: The submissions made by the Wanaka Stakeholders Group.

Read: The submissions made by the Queenstown Lakes District Council.
Read: The submissions made by the Queenstown Airport Corporation.
Read: Mayor and QLDC "evasive and misleading" over Wanaka airport expansion.


---