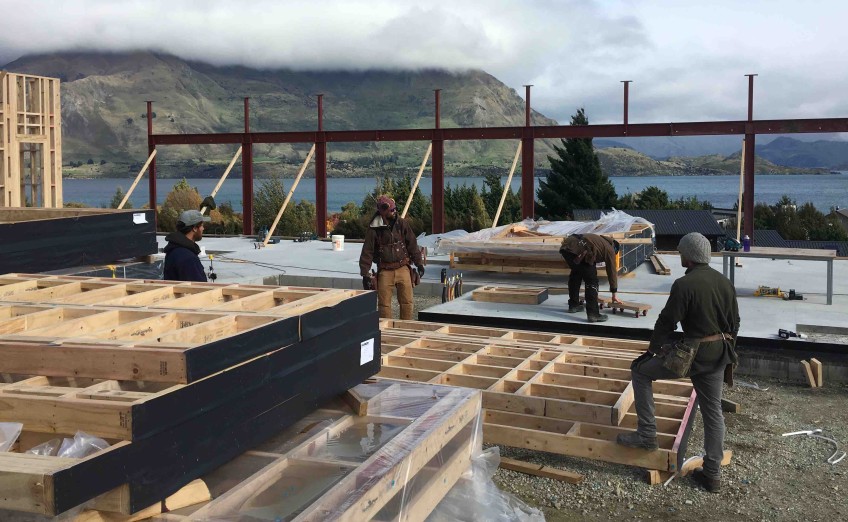 Building boom: why aren't women getting amongst it?
---
A Wanaka building firm is trying to attract female apprentices, saying they're needed to help ease the industry's labour shortage.
It's believed the construction industry will need another 60,000 workers nationwide over the next five years, half of whom need to be qualified, says Dunlop Builders operations manager Donnelle Dunlop.
The company has been trying to attract female apprentices for two years. A Dunedin woman was interested but was put off by the cost of accommodation in Wanaka.
Dunlop thinks there are two main barriers to attracting women to the company – Wanaka's cost of living is one, she says, but the main problem is that trades still aren't being presented to high school-aged girls as a career option.
"The focus is still towards uni and IT, not toward trades."
Asked if there's a career path for women in construction, Dunlop says: "I feel there's real scope for women in this industry. Ideally you'd start as a hands-on builder and see where you want to progress to from there."
Women offer different attributes, she says, including attention to detail and leadership skills, which could lead to significant roles such a project management.
"The diversity, team environment and sense of accomplishment at the end of the build are only some of the highlights," she says.
In addition to the "conversation not happening with young girls that they can do this", Dunlop conceded the industry was still seen by some as a "man's domain" where "strength and muscle" was needed.
But she says that's not the case anymore – health and safety regulations mean tools and equipment are used much more for heavy lifting.
The other issue, she says, is the high cost of accommodation in Wanaka. Ideally, any apprentice would be local so they could live with their parents until they earned enough to be more self-sufficient.
The company had already lost one male apprentice who was from outside of Wanaka, due to the cost of living, she says.
Apprentices who are straight out of school and "green" were paid about $17 per hour. Those who had had some training received around $18. They usually worked 42-hour weeks. But their hourly rate rose quickly, Dunlop says, to $19/20 an hour.
The company also paid for their training – averaging $1800 per apprentice per year – and helped them buy tools, for example through a loan.
There are four apprentices in Dunlop Builders' team of 21, which also includes three women in management roles.
The company's search to date for female apprentices has involved contacting polytechnics in Otago and Southland and apprentice' representatives; Facebook advertising; and a "Girls' Construction Tour" in 2017 for year 11 and 12 students at Mount Aspiring College, where they heard about career paths in the industry, visited building sites and learned about women who worked in the sector.
The firm is now planning to talk to local high schools again about trades as an option for girls, including encouraging female students to do work experience with the company.
Main image: a Dunlop Builders' construction site


---