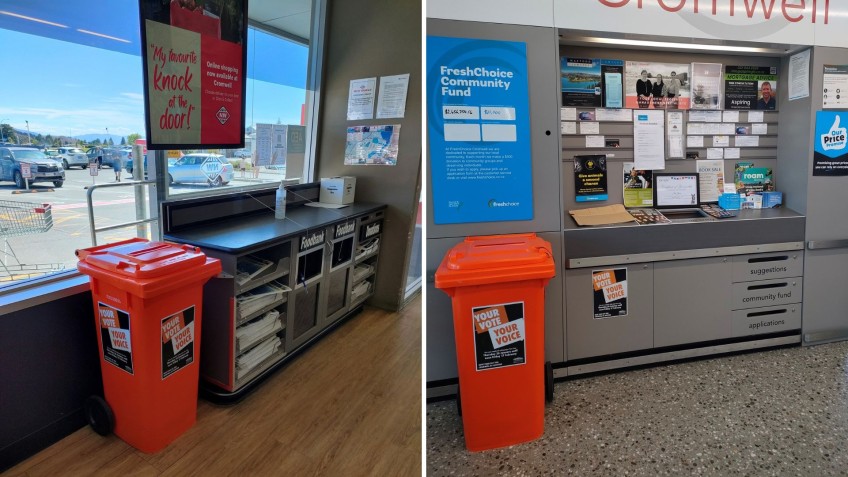 Bread, milk, vote: Is it time for voting to adapt at QLDC?
---
While New Plymouth voters in October's local elections could pop completed ballot papers in a drop box at McDonalds, and voters in Cromwell in February had the option of voting while they shopped, a little more effort is required of voters in the Arrowtown-Kawarau Ward by-election.
Voting papers will arrive from today in letterboxes across Arrowtown, Arthurs Point, Crown Terrace, Dalefield, Gibbston, Lake Hayes and Shotover Country, with two candidates throwing their hats in the ring for the vacant position on the Queenstown Lakes District Council created by the resignation of councillor Neeta Shetty earlier this year.
The Queenstown Lakes District Council is opting to play it safe with drop-off points for voter's completed papers. They can only be delivered via snail mail or at drop-off boxes in one of two locations – the Arrowtown Library or the council's main offices on Gorge Road, in town.
"For obvious reasons ballot boxes can only be located where the votes placed in them are secure…where relevant personnel are available to supervise them," a spokesperson for the council says.
"In the specific instance of this by-election there are actually no large supermarkets or other suitable retail outlets in the ward area."
Meanwhile, through the Kawarau Gorge in Cromwell, the Central Otago District Council gave supermarket voting a try during a by-election in its district earlier this year.
Voters choosing between seven candidates for one spare seat on the Cromwell Community Board in February could drop voting papers into locked orange wheelie bins close to the check outs at both the New World and Fresh Choice supermarkets in the town.
It was a first for the district and, while voter turn out was low in general (voter turn out was just shy of 30 percent), more than 10 percent of voters took the opportunity to vote while they shopped.
Some 223 voting papers were delivered via the two supermarkets – approximately 12 percent of the total 1,890 votes cast.
The district's deputy electoral officer Deborah Beange told Crux at the time supermarkets are a community hub and a natural choice for placing ballot boxes to make voting easier and more accessible for everyone.
"While there is hand-wringing nationwide about the low engagement in the 2022 local elections, Central Otago District Council is making changes to do something about it," she said.
"People's lives are busy, and our voting process needs to adapt."
Arrowtown-Kawarau Ward by-election candidate Melissa White says on the back of a flyer she has printed for would-be voters she has included information on where to find postal boxes.
There are only a handful of them in the ward to begin with (although voting papers can, of course, be placed in any post box) and, as they become increasingly redundant for many people, locating them is not always obvious.
She says she wants to make it as easy as possible for people to vote.
"We all know what it's like, they arrive, they sit on the bench, you might move them to the computer table, you might vote, you might put it in the envelope, and then it stays in your car."
It is her view people should take every opportunity to vote that they are given.
"I've always been of the belief, if you don't vote, you can't complain."
QLDC electoral officer Jane Robertson – a member of the Electoral Reference Group – says trials of ballot boxes in retail spaces across the country have shown, in bigger cities in particular, more votes are returned because of them.
"This is certainly something QLDC will consider for the next triennial local election."
In New Plymouth in October, in addition to McDonalds, voters had the option to return voting papers via a drive-through vote station at the council's HQ. In Auckland, ballot boxes were located at 65 Countdown supermarkets, an initiative mirrored in locations across the country.
Rose Leonard, Auckland Council's governance services boss, said in a media statement at the time: "Just as it is essential to grab your groceries, it is also essential for Aucklanders to easily have their say on who leads our region."
The council said security remained a priority, and the boxes were specially designed, locked, and in view of staff and CCTV. They were emptied daily by electoral officials.
For now, voters in the Kawarau-Arrowtown Ward will need to go the extra mile over the next three weeks, hunting out a mail box to return completed voting papers via snail mail, or adding a trip to the Arrowtown Library or the council's main offices in Queenstown to their schedules, in order to have their say.
They have two candidates to choose from - Kinloch Lodge owner and Shaping Our Future coordinator John Glover, and cake baker and decorator Melissa White.
Voting closes at midday on Friday, May 5.
A spokesperson for NZ Post says there are three street side post boxes for posting letters in the ward:
3 Hope Avenue, Lake Hayes Estate
32 Adamson Drive, Arrowtown
52 Buckingham Street, Lakes District Museum, Arrowtown
Then there's the post office in Arrowtown, plus anyone in the ward that lives on a rural delivery route is able to post from their own letterbox by raising the collection flag, the spokesperson says.
Read more: Would-be councillors let loose as voting begins in by-election - Crux chats with John Glover and Melissa White

---