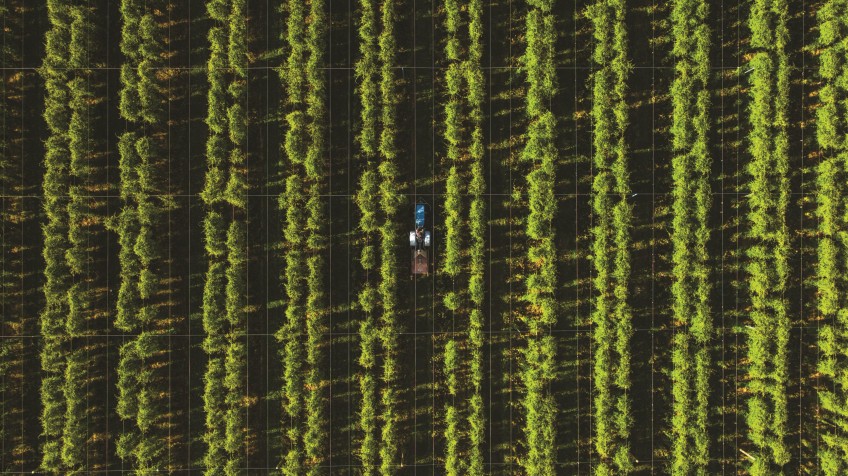 Beer farming: Is Garston posed to become a hops hub?
---
An hour's drive south of Queenstown, 12 minutes or so beyond Kingston, a new industry is brewing and a $2.5 million Government loan has just provided potential for an additional boost.
Garston Hops has been offered the commercial rates loan from the Government's Regional Strategic Partnership Fund, administered by Kānoa, to build a processing plant facility onsite.
The plan is to use it to increase their capacity and efficiency as well as process hops from other farmers, creating a southern hops hub.
The McNamees are fifth generation farmers on the land, and a few years back a new idea came to them, over a beer, as chance would have it, after a day of work.
Lizette McNamee, married to James, a co-owner of Garston Hops, says they "were just drinking a beer and talking about the challenges we face being a sheep farm, how hard it is and how we would really like to keep the farm in the family for our children".
"And then we looked at a world map and thought, 'well, let's see what they do in the Northern hemisphere at this latitude'. And we found that it is a very good latitude to grow hops."
The story does not sound too dissimilar to the beginnings of the Central Otago viticultural industry, and Mrs McNamee is hopeful a local industry may grow around hops in the same way it did for grapes.
Like grapes, hops are influenced by terroir, so the McNamee's hops have a distinctive flavour produced by the environment they are grown in.
"The soil and climate where you grow definitely influences the characteristics, their aroma and flavour...The hops we grow are very different to anything else you can find."
James McNamee says after planting their first crop during a snowstorm in 2016, the hops were brewed by Altitude Brewing, who discovered they had a unique flavour profile, described as "punchier" and "citrusier".
"This means we can build a Southland story around our hops. Other farmers can grow hops, and local craft brewers can make distinctive Southland beer."
Mrs McNamee says while there may be a few keen home brewers with a plant or two growing in their backyards as far down as Invercargill, at Garston they are the most southern commercial grower in the country, and potentially the world.
"Because nobody can prove us wrong."
Driving along State Highway Six, the farm is a distinctive sight among otherwise flat pasture.
"Hops grow up to four-and-a-half metres to five metres tall, so we need to have a big trellis system which can hold them up in the growing season. Depending on what time of year you drive past, you'll either see lots of greenery growing up or, right now, you'll just see a lot of poles sticking up out of the ground."
Garston Hops opened their operation in January to farmers in the region for a nosy. Mrs McNamee says she hopes some are tempted to diversify their own set-ups and give hops a try.
The Government grant would enable the ramping up of local processing facilities.
Garston Hops can already do some processing themselves, but the final stages for now rely on their product being shipped to Nelson, which adds additional cost to the final product.
"We are doing the picking and...basically separating the hop from the stalk and leaves...but we have a very small machine, so it is very labour intensive and the bigger we grow, if we want to make it more and more commercial then we need a bigger machine," Mrs McNamee says.
Garston Hops business case development and fund application was supported by Southland regional development agency Great South.
Great South chief executive Chami Abeysinghe says hops are an ideal new industry for Southland.
"We're very focussed on supporting sustainable industries and hops fit well with that, being a high-value, low-weight, export product and being right next to the Around the Mountains Cycle Trail, there will also be great spin-off tourism opportunities."
One of the other main ingredients in beer is barley, a crop that is commonly grown in Southland, creating further crop opportunities for the region.
New Zealand is the 10th largest producer of hops globally, accounting for 0.61 percent of the world's hop production.
Main image: Hops are grown in rows supported by trellising at Garston Hops, adjacent to State Highway Six, an hour south of Queenstown.


---