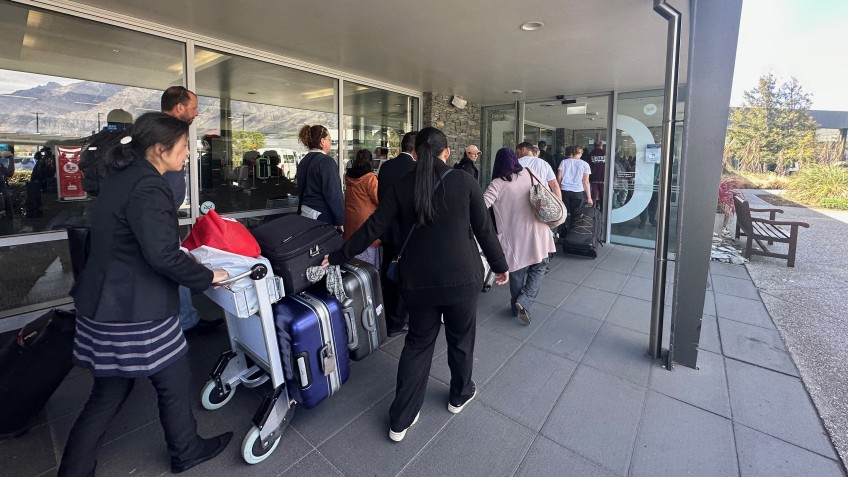 Baggage X-ray screening source of bomb alert as Queenstown Airport reopens
---
Queenstown Airport has been given the all-clear to reopen after a potential explosives device spotted during routine security X-ray screening forced the evacuation of the airport this morning.
Airport chief executive Glen Sowry confirms the suspicious items were detected by Aviation Security, and the airport was closed between 8.40am and 3pm while the risk was eliminated.
Members of the Defence Force's explosive ordnance disposal squad flew by helicopter to the airport, eventually declaring the suspect items "posed no threat".
The discovery of the items however led to the evacuation of passengers, staff and visitors from the terminal building, while 25 flights in and out of the airport were disrupted or cancelled.
Just before 3pm passengers were queuing to re-enter the airport and resume their travels.
"I'd like to thank the entire team who responded here at ZQN for their professionalism and collaboration," Mr Sowry says.
"I'd also like to thank the many passengers today whose travel was disrupted for their patience and cooperation."
Earlier, hundreds of passengers were accommodated at the neighbouring Queenstown's Events Centre after being told to leave the airport.
Anyone with a confirmed flight reservation is being advised to come to the airport, while those impacted and without a confirmed booking should their airline.
A police cordon has been lifted, and passengers needing to collect baggage or vehicles can do so.
The barrier arm for the terminal carpark will be open until 7pm, so anyone returning to collect vehicles before then will not be charged for parking.
Today's disruption follows the cancellation of dozens of flights on Monday as a result of strong winds and heavy rain, leaving thousands of school holiday travellers scrambling to reschedule.
Main mage: Passengers flock to resume travel plans after Queenstown Airport reopens this afternoon (Friday, October 6).


---