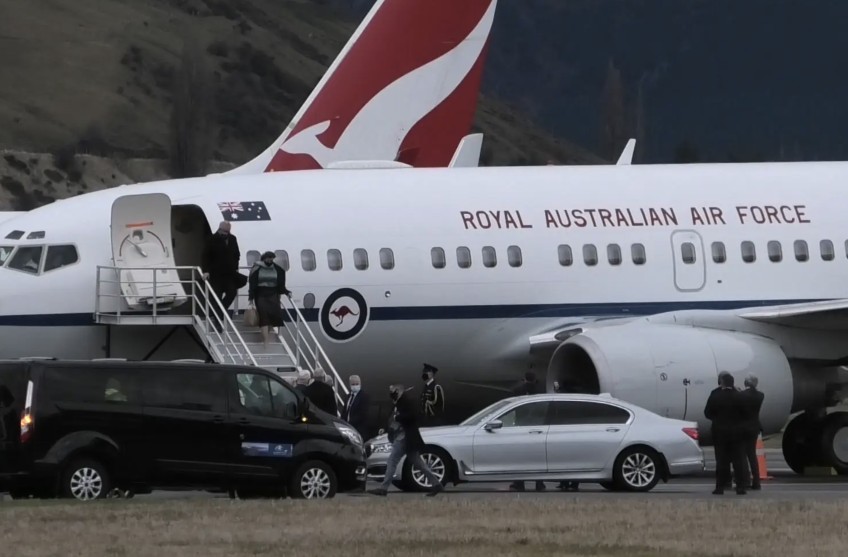 Aussie PM arrives in Qtown to meet with Jacinda Ardern
by Additional reporting from RNZ and
Isobel Ewing
- May 30, 2021
---
Prime Minister Scott Morrison has touched down in Queenstown ahead of a meeting with Jacinda Ardern - one of her first with another leader since Covid-19.
With the trans-Tasman bubble underway, Australians have been able to holiday here for several weeks now, but the latest Melbourne lockdown and Morrison's presence there recently meant his visit was almost derailed.
However, the decision was made to proceed, with both countries hoping the leaders' visit will give New Zealand's hard-hit tourism mecca some much-needed exposure.
The visit is also designed to play up the success of the two countries' response to Covid-19 – Morrison and Ardern will meet without masks or social distancing – a message to the world of how well New Zealand and Australia have handled the pandemic.
On the agenda will be the tricky issues – Australia's deportation policy, growing tensions with China and New Zealander's pathway to citizenship.
Morrison will also face lobbying from former All Black Sonny Bill Williams and ex-Socceroo Craig Foster on Monday to accept an offer by the New Zealand government to resettle 150 refugees trapped in Papua New Guinea and Nauru each year.
Australia has not taken up the offer, extended by New Zealand in 2013, arguing that refugees could use New Zealand as a back door to get into Australia.
The leaders will also discuss Pacific issues, including assisting countries there with their Covid response, as well as the Biden administration and climate change.
On arrival to Queenstown airport Ardern told RNZ she was "looking forward to welcoming Prime Minister Morrison back to New Zealand following a difficult year for both our countries through the pandemic.
"Our relationship with Australia is our closest and most important and this has never been more evident than in these trying times for the world," she said.
"Discussions will centre on how Australia and New Zealand will meet the shared challenges we face," said Ardern.
"The key focus of the meeting will of course be our Covid-19 recovery as well as how we continue working together on key regional and security issues."
Morrison reiterated that message: "Quarantine-free travel not only means the Prime Minister and I can hold our annual talks in person, it highlights that our travel bubble is seeing friends and family reunite across the ditch".
Covid-19 outbreaks around the world and in the region "are a reminder the virus still rages outside our borders", he said.
This evening the leaders will address the region's tourism and business leaders at a function at Skyline, which will be followed by a dinner.

---