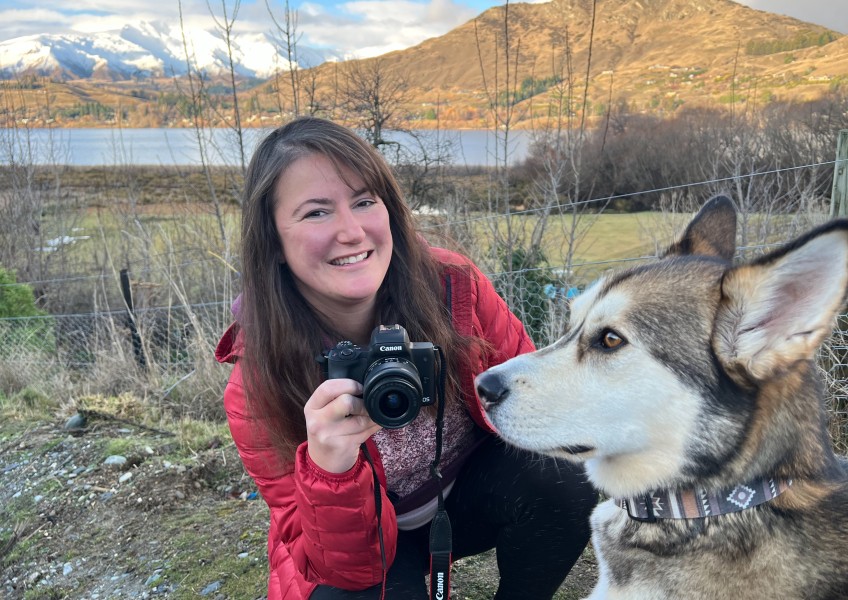 Andrea Kozena (and Floki) take Photo of the Day grand prize
Jul 15, 2022
---
It was a tough fight, with hundreds of truly great images, but Queenstown resident Andrea Kozena was the final winner with her sunrise shot of her Husky/German Shepherd dog Floki by Lake Hayes.
Andrea has won the Photo of the Day grand prize from Canon, which includes the new mirrorless Canon EOS M50 Mk 2, with two Canon zoom lenses and a Canon camera case.
"I've never owned a proper camera," Ms Kozena told Crux on receiving the prize. "Its perfect."
More than 600 votes were cast online during the past week with the lead changing a few times between Ms Kozena and the two other finalists - Tracey Morrow and Wenn-Sze Koh.
Ms Kozena's sharing the Canon prize with her friend Hanka Vojtechovska, who took the photo. Both are from the Czech Republic. Ms Kozena has lived in Queenstown for 13 years and works as a painter/decorator with her husband who is a builder.
The Crux team has been bowled over by the quality and volume of the Photo of the Day entries.
"We'll definitely be doing this again" says Peter Newport, the managing editor of Crux. "It's not just the competition that has worked so well but the fact that the images have helped us all realise what a special part of the world we live in. Sharing these photos on Crux has been amazing and we will of course keep all of the entries."
"Maybe there's room for an exhibition where many of the images could be mounted and exhibited. We'll be looking into that."
Main image: Andrea with her new Canon EOS M50 by Lake Hayes - with Floki.


---