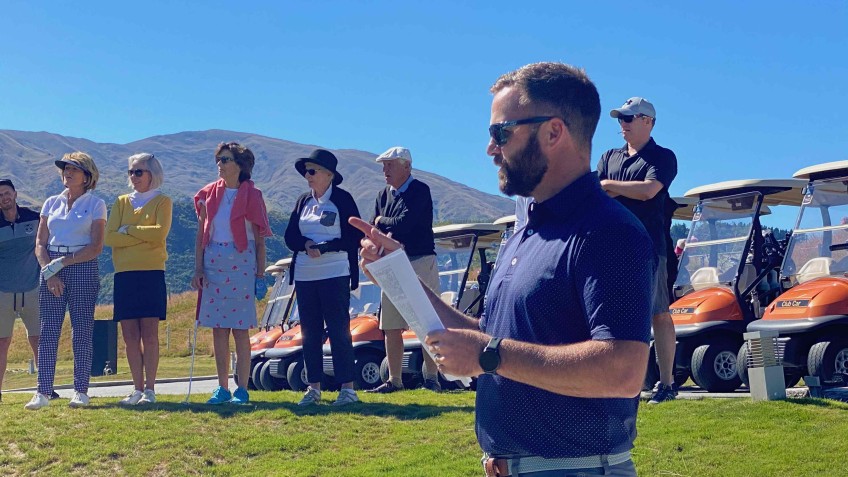 $96,450. A stunning record for Crux/The Hills charity golf day.
---
As the sun beamed down and invited public golfers rubbed shoulders with members, The Hills golf course was today the setting for a record charity event. $96,450 was raised for three community selected Wakatipu charities, thanks in large part to a $60,000 donation from global investment bank Goldman Sachs.
The Lakes District Air Rescue Trust, Happiness House and Baskets of Blessing will each get a third of the total raised - around $32,000.
Queenstown locals voted for their favourite charity last year in our Crux poll, prior to the event being postponed due to the Covid 19 pandemic and lockdown.
$18,000 was raised from entrance fees for the event, $60,000 from the Goldman Sachs donation and the remainder from an auction of gifts and vouchers donated by the three charities.
Here is our interview with The Hill's Craig Palmer just after this morning's announcement of the surprise $60,000 donation.
You can watch Crux Southern Lens documentaries on each of the charity vote winners using the links below. We've provided links to the charity websites as well in case you want to add your support to today's charity event.
Lakes District Air Rescue Trust. Watch on Southern Lens. Visit website
Happiness House. Watch on Southern Lens. Visit website
Baskets of Blessing. Watch on Southern Lens. Visit website

---