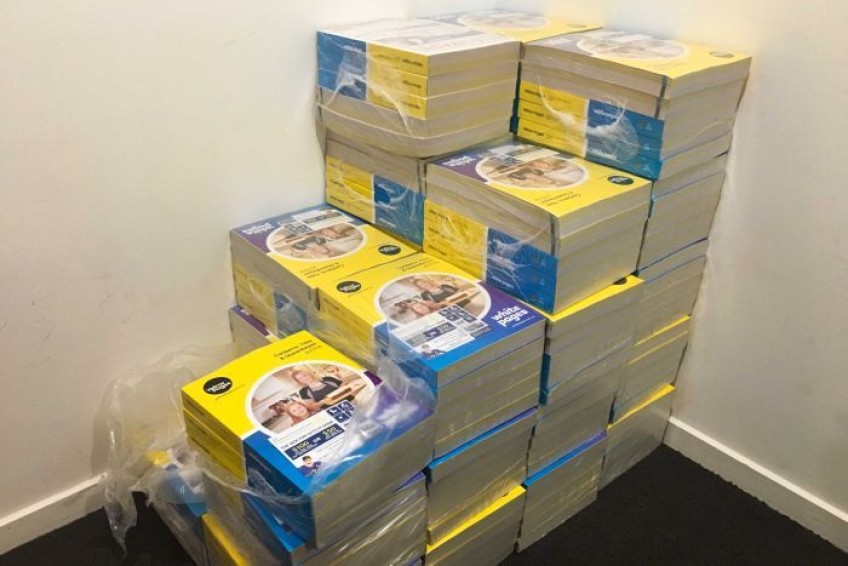 34,400 Yellow Pages books on their way. Unstoppable?
---
The Southern Lakes district is due to be hit by a tsunami of Yellow Pages in August this year, but Crux readers are wondering if anything can be done to stop unwanted directories from being delivered.
Yellow, the company that owns Yellow Pages, has told Crux that the Southern Lakes District print run will be 34,400 this year - not allowing for people who have opted out.
Yellow says the current Southern Lakes opt out percentage is just 2.5%.
On social media yesterday a significant number of Crux readers indicated that they had opted out of Yellow Pages in the past, sometimes multiple times, but still received copies delivered to their homes.
Yellow's Head of Marketing, Chantelle Harper, told Crux:
"They (Yellow's in house distributors) do their best to accurately manage the opt-out process, but they are only human and sometimes make mistakes. We have a process in place whereby our distributor will uplift the book if someone has opted out by the Opt Out deadline. We just need to be advised. We provide Opt Out as an extra initiative. Other similar print media in the market (weekly/fortnightly catalogues, mailers, 'junk mail') do not have 'Opt Out' options in place."
Ms Harper also made the point that Yellow Pages deliveries are often carried out by Primary Schools, sports clubs and local charities.
Crux also asked Yellow about residents who could not fund their street listed in the opt-out system. "We source our geo-services mapping from NZ Post which is updated every 3 months when they make their updates. NZ Post also only feeds addresses that are NZ Post Verified (and not addresses that are undeliverable). However, if anyone is unable to process/auto populate address on our Opt Out page, we have a message that says to call or email Customer Care ([email protected]). We will then help add your address in."
The Yellow website claims that the books are delivered to 96% of New Zealand homes and businesses, resulting in 9 million look ups each month, 78% of which lead to follow up phone calls. Ms Harper's response to Crux refers to 65% of look ups producing phone calls.
Businesses are not allowed to opt out of Yellow Pages, getting five books each unless they tell a distributor during a delivery visit that they don't want any.
This picture painted by Yellow picture seems to be at odds with social media responses on the Crux Facebook page, suggesting that a large number of our readers object to the mass delivery of Yellow Pages on the grounds of waste and the directory not being relevant in 2019.
In Britain the Yellow Pages finally stopped being printed in January this year after a 51 year run. Last year over 14,000 people in Auckland opted out of Yellow Pages delivery out of concerns for paper wastage and the directory being outdated, unnecessary and old fashioned.
Residents in the Southern Lakes have until June this year to opt out.


---