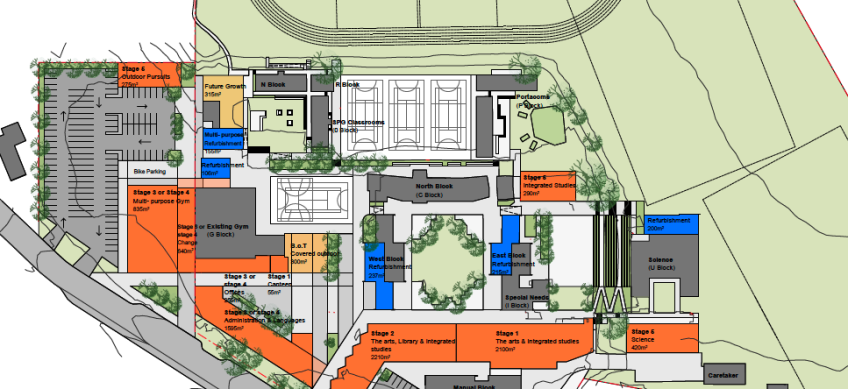 $33 million to redevelop Mount Aspiring College
Jul 03, 2020
---
From Mount Aspiring College.
"Mount Aspiring College principal Wayne Bosley says the school is 'absolutely delighted' with the funding announcement made by Minister of Education Chris Hipkins today.
The Government has confirmed that $33.5 million will be awarded to finance the redevelopment of the school, recently named the largest in Otago with a growing roll of 1139 students.
Bosley said the news is the culmination of a lengthy campaign. "As a college we are thrilled. We have been working closely with the Ministry of Education to come up with a sustainable long-term plan to meet the needs of our rapidly growing community and it is wonderful to receive such positive validation," he said.
"MAC is the only high school in Wanaka and the Upper Clutha basin and has seen exponential growth over the last five years. We are an intrinsic part of the community and we now have the means to develop a campus that truly serves our staff and students," he added.
The new investment is in addition to the $13 million already pledged - bringing the total to $46.5 million. This will allow stages one and two of the MAC Masterplan to be completed in tandem.
The project - which is set to take three years to complete - has been designed by Christchurch-based Athfield Architects and will include a whare, two multi-story classroom blocks and an administration building. It will be built on the existing site, and has been designed to cater for 1600 students.
Ed Nepia, chairman for the Board of Trustees believes the value of the new build extends far beyond the physical campus. "This is a very significant milestone not only for us as a school, but for us as a community. It has been a long road to reach this point and I could not be more proud of those behind-the-scenes who have worked tirelessly to get us here," he said. "In a post-Covid climate the contract for this development will add much needed jobs and stability to our community, with significant flow-on effects throughout the region," he added.
The Ministry of Education will go to tender for a construction company in mid-July, with ground being broken towards the end of the year. Bosley, who steps down as principal next week, is relieved to have fiscal support from cabinet before he leaves. "This has been a very personal project into which I have invested significant time, so I am thrilled to have it finally come into fruition. Our school community deserves to have a campus that meets growing need, and I am excited to watch the redevelopment as it gets underway," he said."


---