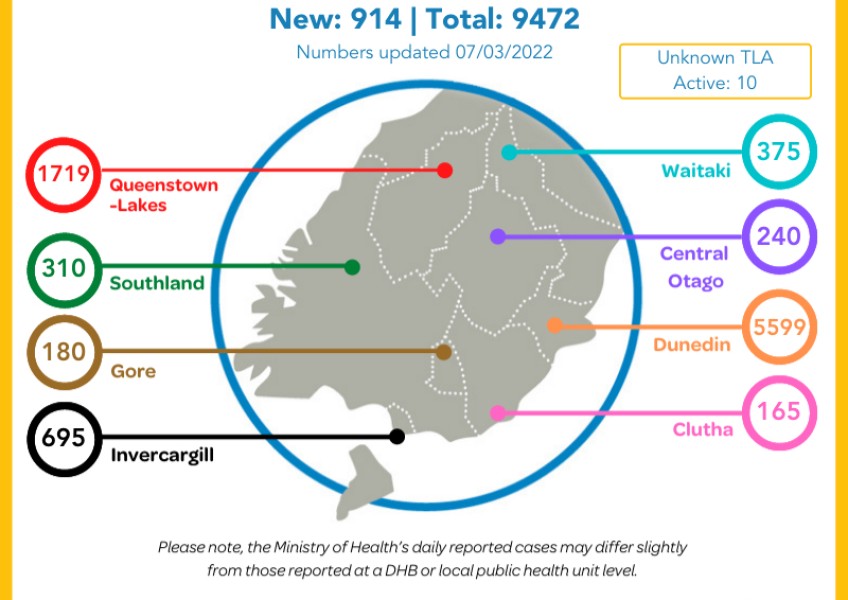 183 new cases in Q'town, 30 in Central
---
Health officials are reporting 914 new cases of Covid-19 in the Southern region today, with 183 of them in the Queenstown-Lakes area and 30 in Central Otago.
It brings the total number of active cases in the South to 9,478.
In Queenstown-Lakes there's a total 1,719 active cases; in Central Otago, 240.
In the South, there are eight people in hospital with the virus.
Meanwhile, an independent investigator will be appointed to determine how more than 1,500 people were given Covid-19 vaccinations from a Queenstown provider that may not have provided any protection against the virus.
Last night, Engage Safety revealed itself as the vaccination provider that administered vaccinations that had not been stored at cool enough temperatures.
Director Debbie Swain-Rewi says the issue was identified in an audit by the Southern District Health Board last week.
The potentially faulty vaccines were administered at various locations in Queenstown-Lakes and Central Otago between December 1 and January 28.
The district health board's vaccination team continues to contact those affected, reassuring people they're only affected if they received a vaccine during the time period administered by Engage Safety.
People who have been identified as being affected by this incident who wish to book a replacement vaccination should call 0800 28 29 26 (seven days a week, 8am to 8pm) for more information.


---