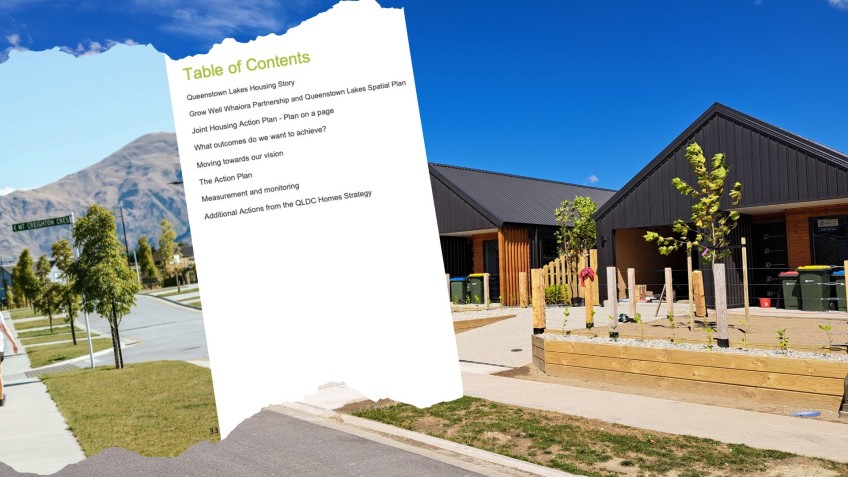 $100,000 for QLDC housing plan, plus full-time salary
---
There's $100,000 plus the salary for a new staffer put aside from ratepayer funds to help the Queenstown Lakes District Council begin to implement its housing action plan.
After that, future funding will need to be allocated in upcoming budgets, weighed up against an ever tightening council belt and a growing list of deferred capital works projects.
The council has long flagged housing affordability as a pressing issue for the district, and now a full-time job focused on tackling it has been created and will be filled before the end of the month.
A spokesperson for the council says the role is already budgeted for, alongside $100,000 this financial year for the implementation of the Joint Housing Action Plan, signed off by councillors at last Thursday's full council meeting.
How much public money is put towards the problem of affordable housing provision in future years will be set through Long Term and Annual Plan processes, where ratepayer spend is divvied up across council projects, staff, and infrastructure.
"The 2024 to 2034 Long Term Plan process is underway and the councillors are actively involved in developing and steering that plan," the council spokesperson says.
But for now, the job of the new 'housing strategic planner' will be focused on delivering "most of the outcomes of the plan with help and input from our partners", with the resources currently available to them.
The 20-page plan outlines nine housing affordability fixes, each with their own set of measurable actions, ranging from purchasing and developing land, to influencing and incentivising developers, to developing public/private partnerships.
However $100,000 won't go far, and the new council officer will also be tasked with growing the kitty.
"One of their key roles will be to pursue opportunities for additional funding, not only to support the objectives of the plan but also to benefit the Queenstown Lakes Community Housing Trust," the council spokesperson says.
The council's relationship with the housing trust will be managed by the new officer, and the relationship has been given priority in the housing action plan.
Last week, in response to news the council had endorsed its housing action plan, housing trust chief executive Julie Scott said demand for its housing services had amplified over winter with more than 1,000 eligible households now on the its waiting list.
"We've witnessed a growing need for both affordable rentals and entry-level housing to purchase, so we welcome the key actions within the Joint Housing Action Plan, which will assist in delivering a range of housing options for low-moderate income households living and working in our district."
The housing officer will also be responsible for working with other organisations and government agencies keen to deliver affordable homes – Kāi Tahu, the ministry of Housing and Urban Development and Kāinga Ora among them.
"That collaboration will provide a host of benefits such as access to information and data that is currently not easily available to the council, the ability to advocate for change to national legislation and regulation that impacts on our community, and a shared understanding of, and commitment to improving, the current housing issues facing our district," the council spokesperson says.
"It also strengthens our ability to access other funding streams, for example from central government, community funding organisations and the private sector."
In an editorial last week, Crux managing editor Peter Newport suggests the action plan may prove pointless with no cash from a debt-ridden council to press play on initiatives outlined in it.
However the council has pushed back, suggesting strategies can be ramped up or dialled back depending on available funds, and this was done purposefully.
"We recognise the need to be adaptable and resourceful when it comes to securing funding. The Joint Action Housing Plan has been purposely designed so each action can be delivered to a sliding scale of funding depending on what's available to meet their specific criteria.
"With the future uncertain, especially given the upcoming general election, delivery pathways and funding models can change quickly. This is why it's so important to have clear objectives in this space. The Joint Housing Action Plan adopted by Council last week provides these."
Previously, district mayor Glyn Lewers has told Crux there's no silver bullet to the district's housing crisis, but "at some point the actions got to happen".
Although the problem is decades in the making, it has reached crisis point for many this winter, with workers unable to secure longer-term rentals resorting to living in vehicles and between couches as an estimated 27 percent of the district's homes sit empty and the team issuing consents for new builds is busier than almost any other in the country.
But exactly how much the council and the ratepayer will be willing to pay for affordable housing beyond the $100,000 allocated for the year ahead, and at the expense of which other priorities, remains to be decided.
When approving the housing action plan last week, councillors requested staff regularly update them on the success, or not, of strategies outlined in it, with some expressing surprise at the imminent arrival of a new staff member dedicated to the cause.
Read more:
QLDC adopts housing action plan, without ongoing funding in place
QLDC's housing plan revealed - but will it make a difference?
Are QLDC ratepayers prepared to pay for housing action?
Australian adopt a worker scheme delivers 12 rooms for workers
Main image: Queenstown Lakes Housing Trust (back) and Queenstown Lake's District Council's Joint Housing Action Plan (front).


---