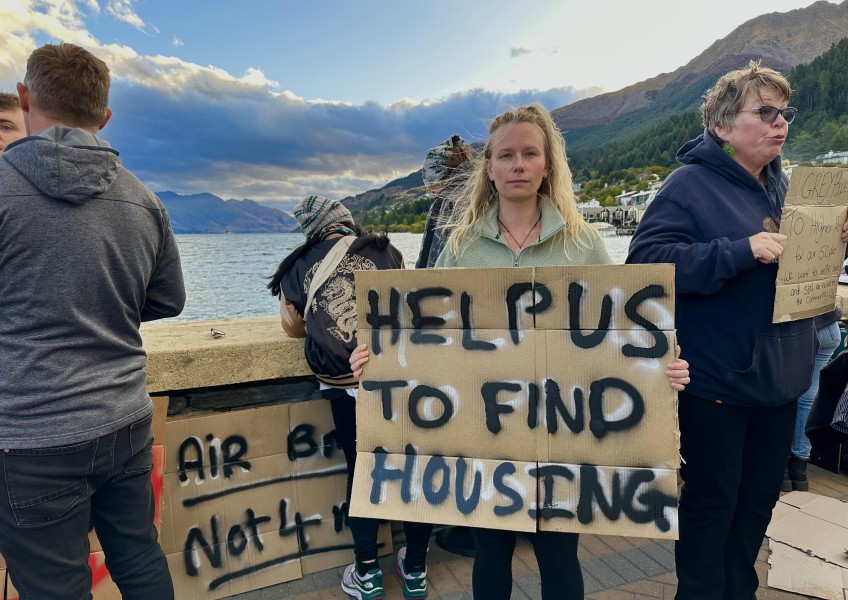 Homeless in paradise: 'We're here, we exist'
---
A crowd of approximately fifty protestors came together on Marine Parade last night with a clear message for decision makers: we're here, we exist.
Many of them are living in different forms of unstable housing, while others turned up to show support for those impacted by the town's current rental crisis.
The two organisers - currently without-a-home Hannah Sullivan and her friend Lindsay Waterfield - say Monday's protest is just the beginning.
"We all know what's going on in town right now, there's nowhere to live, we're all working really hard. Everybody deserves to have somewhere warm, safe to live, with hot water and just to feel like they are worthy of being here and living in this community," Ms Sullivan said, addressing the crowd during the protest.
"Tonight is really about meeting the people who are in your situation, realising that you are not on your own, we have your back. We are here for hugs, we are here for chats. We are here for support."
It's been a busy few weeks for the pair, organising the event, responding to members of the community reaching out to them, and creating a survey to provide data to present to parliament. Today, they went around local businesses, inviting workers along to the protest.
The event's also gained national media attention, with Ms Sullivan being interviewed on RNZ and breakfast TV.
The protest was peaceful, with members of the community gathering at the lake, sharing stories and talking with one another, many using words like "lucky" or "fortunate" to describe subpar living conditions.
Like Alex, who's been living on a friend's couch for three months, but he's grateful for it.
Organiser Ms Waterfield says she was "overwhelmed" by the number of people who showed up, but the size of the crowd wasn't a surprise to Alex.
"It can be an invisible problem because everyone makes it work."
When you spend time trying to find houses, having them snapped up underneath you all the time, you realise how difficult it is, he says.
Another couple guessed that the turnout "wasn't even a quarter" of Queenstowners living rough.
Marketa and her partner, who prefer to remain anonymous, have been living in a van for five months, and wherever they park up for the night, there's always at least one other car with a homeless person there too.
Their house became an Airbnb last year, potentially collecting revenue almost three times what their weekly rent was.
They'd been in that same place for three years, at a cost of $540 a week, and they've since seen it listed on the accommodation site for $200 a night, or $1,400 a week.
Since taking to their van, they've copped one $200 freedom camping.
Matthew says their landlord often threatens to turn his studio over into an Airbnb and he's "got no negotiating power".
The price of his rental has doubled in the past few years, now costing half his salary. He's sold a lot of his sports equipment recently, for the money, but he also can't afford to maintain these hobbies anymore.
"I can't buy a ski pass this year, it's out of my price range."
Matthew came along with two mates, Sam and Finn, and all of them have lived in Queenstown most of their lives.
"All three of us are working full-time, and we're not exactly living large," Finn says.
Currently, Finn and his partner Sam are living with family but say the situation isn't ideal. With a dog in tow, it's been two years of searching for a pet-friendly rental.
In his job making deliveries, Sam notices there are so many empty homes in the area.
Ms Sullivan says an Airbnb search reveals 50 properties available for rent from March until the end of April.
"That's fifty homes sitting empty for the next month with no one in them."
At the last census, 27% of Queenstown homes were vacant, Ms Waterfield says. She's hoping after the protest, there can be some momentum to fix the inequities in the area.
She heard discussions tonight of people wanting to start a think-tank and come up with potential solutions.
Previously, the pair also met with Southland MP Joseph Mooney, and he'd queried whether there were homeless people in Queenstown.
"Now he can see that we're here, that we exist," Ms Waterfield says.
Joseph Mooney came along to the protest and chatted with attendees.
He's cautious using the term homeless to describe people's situations - it depends on the definition, he says - but he had talked with one person without somewhere to stay, providing them with support, and others who were living on couches, He also heard tales of people who'd left the town because of being unable to find a home.
Mr Mooney himself says the issue of housing in Queenstown needs both short and long-term solutions, but unfortunately he "couldn't magic up housing".
The lack of housing in Queenstown is a historical issue that's not received adequate attention for a long time.
Mr Mooney himself says when he first came to Queenstown quite a few years ago he struggled to find a rental, and settled in a Hāwea home instead - it's all he could find - commuting for work.
For a few weeks during the year, Mr Mooney had to vacate the home so the owners could use it as a holiday home.
It's a tenancy agreement no longer allowed under the amended legislation to the Residential Tenancies Act, introduced in 2020 by Labour.
He says the new legislation "made things more challenging" and renters became collateral damage. He's currently looking into what can be done.
He presented a petition to parliament a few weeks ago regarding the Accommodation Subsidy and its outdated zoning of Queenstown, which used maps from 1992.
Housing areas in Queenstown built after 1992, like Shotover Country and Lake Hayes Estate are considered "rural properties" and people living in them receive $185 less in accommodation subsidy payments.
He was part of his own protest, jumping out of a plane with the former mayor and Andrew Wilson of the Salvation Army, to get Wellington's attention.
When this didn't work, he opted for the petition, collecting 582 signatures. This is now sitting with the select committee.
For Mr Mooney, it's a frustrating process.
"I don't think Wellington thinks we have problems, we are seen as a wealthy town – that's not the place for a lot of people."
From today's protest, he hasn't heard a lot of solutions – apart from one protestor asking for more tiny homes.
One worker, Laurie Charvolin, shared a suggestion involving Destination Queenstown and its marketing campaigns.
Destination Queenstown should be promoting hotels to travellers, and warning them of the problems of peer-to-peer accommodation for the community and locals.
She prompted people to think of their own travel habits: when you visit somewhere new, you don't want to buy a souvenir that was made somewhere else. In the same way, she hopes visitors will consider locals when picking somewhere to stay.
Ms Charvolin has narrowly escaped being homeless herself, finding a rental just in time, but had born the brunt of the rental crisis at her workplace.
Formerly a restaurant manager, she says her job involved constantly training new people each week, only for them to move away because they couldn't find housing.
It's left her severely burntout, she says, and she's since left that job.
Ms Sullivan also spoke on RNZ, interviewed by Wallace Chapman, Cass Carter, and Mark Brosney, as part of The Panel show, and she also has a breakfast TV appearance today (March 28).
"I don't know how all these people are getting my number."
On the panel, she spoke of the aims of the protest, hoping for everyone to come together, feel less alone, and make some noise.
"We are really hoping this is going to grab the attention of the central government because this really needs to get into Wellington as soon as possible."
The Panel chimed in with their perspectives on Queenstown.
Cass Carter said she felt like Queenstown had created its own destiny, building itself up as a resort town, but not planning properly for its growth, saying this issue has spent "years in the headlines".
"It's time for Queenstown to do something about it. I mean, there's cool housing iniaitives around the country, there's tiny homes, all sorts of things. Look to Europe and some of the ways they're solving housing problems, look to different parts of the country."
Wrapping up the show, Panel Host Mr Chapman said there was a lot of response from listeners regarding Queenstown, and he spoke from his knowledge of the housing problem.
"It's indefensible that there are massive holiday homes barely occupied, and there are homeless working people in Queenstown.
"I know how few houses are occupied because I'm closely associated with the builders who build them, in these disgusting gated mansion enclaves."
In light of the national media coverage, Ms Waterfield spoke to mayor Glyn Lewers' no-show, saying it was "disheartening" he didn't come.
Since national media had heard about the protest and reached out to Hannah, Ms Waterfield wondered why the mayor couldn't do the same.
Who else came to the event?
There's Michael Thompson, who needs to vacate his room as his landlord – also a Queenstown business owner – is converting the property into a staff house.
Despite his unstable housing situation, he says his main reason for coming along was to support people taking action and organising something locally. He says Queenstowners often "whinge about things" instead of fixing problems, so he wanted to support the organisers efforts.
Mr Thompson says his flat knew their lease wouldn't be renewed and were given the proper notice.
Their flat of five has gotten lucky with finding new homes - one was a local business owner, another a musician, and both posted on their social media platforms asking for housing opportunities – they were sorted out this way.
Léna Boss and her partner Alex Vannier are facing housing insecurity at the moment – their rental for the past three and a half year's just sold, and they're worried the 1950s/60s house, will be renovated by the new owners, meaning they'll have to move out.
Ms Boss joked that their car isn't big enough for them both to sleep in. The pair has discussed moving out of Queenstown rather than joining the hunt for a rental, but Queenstown is their home.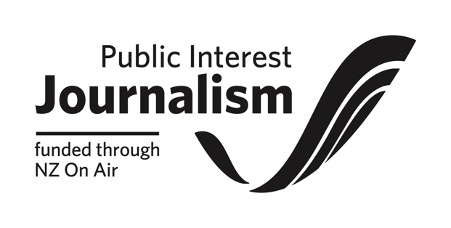 ---