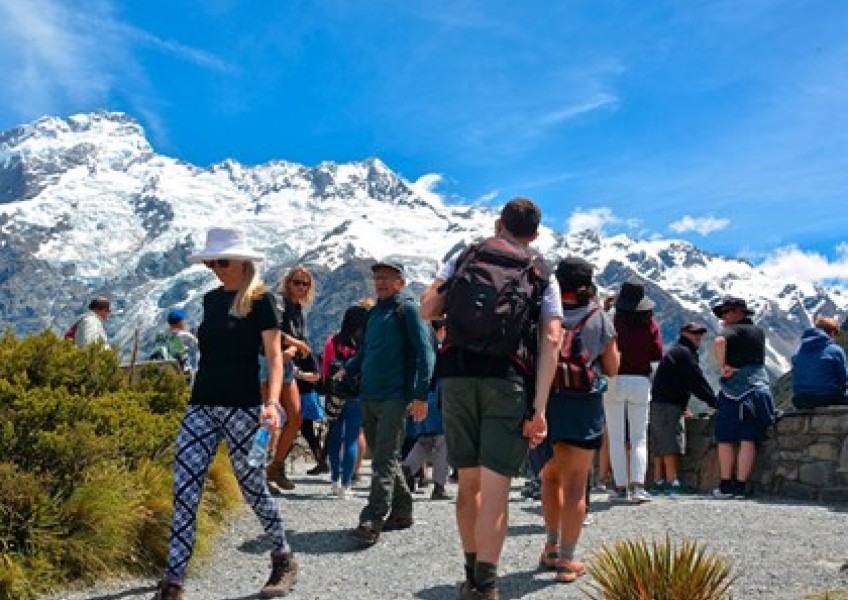 Sustainable tourism - trick or treat?
---
This story is published through a partnership between Crux and the NBR.
There comes a time when even the fanciest of notions become a harsh reality. It's that way now with tourism and sustainable growth.
For years the industry and the nation have been targeting both massive financial growth and lofty social values. The famous Social Licence. Even the darkest corners of our tourism industry agreed that without the enthusiastic buy-in of the Kiwi people, tourism was effectively dead.
But now pockets of resistance and complaining about over-tourism are turning into no-go areas where tourism industry players have had to, for the time being at least, put their rose-coloured forecasts on hold.
Queenstown is one example, where community pressure has frozen airport expansion, just a couple of weeks ago. Wanaka seems likely to follow, which will effectively block the Queenstown Airport Corporation's Plan B, which was to shift the load to a newly-expanded Wanaka airport. Auckland International Airport owns 25% of the Queenstown Airport Corporation, the remaining 75% being local council owned.
Tekapo is another hot spot where tourism has drifted a long way from the 100% Pure campaign that some in Tourism NZ might now be silently regretting.
Jim Boult is the Mayor of Queenstown Lakes District and he somehow manages to represent both sides of this argument. On the one hand, he declared after the airport expansion freeze that "tourism is no longer a numbers game." He described a challenging reality that local tourism giants would have to come to terms with. Less growth.
But on Monday this week Mr Boult was at Queenstown airport collecting his bags from a quick, ratepayer subsidised trip to China. The purpose of the trip? Well tourism promotion did come into it, along with softer issues like a twin-city relationship with Guilin as well as educational and cultural benefits.
Air New Zealand and Auckland International Airport were also involved with the trip, along with Queenstown's tourism marketing agency, Destination Queenstown.
The truth is that there is no evidence of any downgrading of our national tourism forecasts, in spite of widespread acknowledgement that we must avoid over-tourism.
MBIE forecasts that we'll go from around 4 million visitors this year to over 5 million by 2024 – that's growth approaching 5% each year. Air New Zealand told its recent AGM in Christchurch that they are focussed on flying an extra million passengers a year.
So growth is not off the menu, but how can continued growth be achieved if places like Wanaka and Queenstown have said "enough." It's hard to imagine the lakes and mountains being somehow removed from the international tourism posters.
Stephen England-Hall is CEO of Tourism NZ and he explains that the answer lies in the difference between numbers and value.
"We have no growth targets. We have absolutely no interest in having a volumetric view of tourism - that doesn't create the benefit that they're looking for. What we are looking for is higher contribution and that can be economic, social, environmental and so forth."
England-Hall says that Tourism New Zealand has a clear understanding that they ultimately serve the Kiwi population, not the tourists.
"It's more important to us to look after the overall needs and desires of New Zealanders than our visitors. We need to look at the risk of over tourism which is where visitor numbers can be overwhelming and that starts to create challenges for local residents or even problems for other visitors and tourism businesses. It's complicated, but what's pretty powerful is that there's been a recognition by local government, central government and the tourism industry that we can learn and take a lot away from what's happening in other countries who have failed to take a proactive stance on this."
"This is where we need to be a little bit more interventionist throughout the entire tourism ecosystem. This is so that we can provide better experiences, better design at key choke points, better facilities that need to support higher numbers of visitors and also higher population growth. After all the local population has been growing as well."
And of course, that's the conundrum. As New Zealand itself gets more actual residents, there's less room for visitors and more sensitivity around ratepayers subsidising tourism.
Queenstown, and to a lesser extent, Wanaka, used to be tourism towns, even resorts, but now they have become home to new residents from all sorts of different backgrounds. Backgrounds that don't automatically welcome hordes of tourists or to be specific, three million visitors to the Southern Lakes every year.
The revenue from those visitors largely goes to Wellington, but that same capital city has been slow to return the favour with cash for infrastructure. Even Shane Jones' Provincial Growth Fund has largely snubbed the Deep South.
It makes Mayor Jim Boult more than a little annoyed. He's frustrated that Government still sees the district as occupied by the idle rich, when the reality is that increasing numbers of teachers, doctors, panel beaters and cleaners are all struggling to make ends meet where the cost of living is much higher than the rest of the country and the average wage is much lower. The cost of buying or renting a house here is more than Auckland and has been for some time.
Many people now are leaving permanently or commuting big distances from places like Cromwell, Kingston and Glenorchy.
All of which starts to challenge the social licence that tourism needs. The prospect of Queenstown without a truly local population starts to become a stark reality, as happened in Aspen Colorado where, famously, even the millionaires were driven out of town by the billionaires.
Aspen is now spending many millions trying to get the residents back into town. In Aspen tourism was replaced as the number one industry by property speculation from the US, Brazil and Australia.
Mark Quickfall is Chairman of Skyline Enterprises one of Queenstown's tourism giants. The company hit a billion dollar market capitalisation earlier this year and has cleverly diversified not just to Rotorua but many off shore locations including South Korea. The gondola, luge and restaurant formula is such a winner that in Queenstown the company is investing $100 million bigger version of what they currently offer. Fifty per cent of Queenstown visitors head up the Skyline gondola for that famous view.
So what was Mark Quickfall's reaction when Queenstown Airport announced in early October that their expansion plans were on hold, with over 90% of submissions from residents being against more flights and more tourists.
"Good on the airport for putting it out there, but I think it's important if there's not a conversation only with the airport but with all the agencies involved and with the community. Obviously, what they've done is thrown a bit of a hand grenade and motivated a lot of people to have their say. So no, not surprised at all."
Quickfall argues that his business is ready for the long term and can weather any ups and downs in tourism numbers.
But many in the tourism game do not have the cash or the backing enjoyed by Skyline Enterprises. They are, whether they like it or not, in the numbers game. Bums on seats. Profit or loss.
Chris Roberts of Tourism Industry Aotearoa sounds very much like Tourism NZ's Stephen England-Hall on the subject of tourism growth figures for the future.
"Well, we don't actually look at arrivals forecasts. We are entirely focused on value. We look at where tourism value is increasing. That can happen with fewer visitors, the same number of visitors or more visitors. So it's not a numbers game, it's about the value we get from the visitor economy. "
But try telling that to the motel owner that's borrowed heavily and needs to maintain a high occupancy level, or the jet boat operator that needs to keep every trip up the river to be 70% full to break even and pay off debt.
Roberts though is resolute. "There's been a significant change in the last couple of years. We've promoted since November last year the NZ tourism sustainability commitment where we believe New Zealand can lead the world in sustainable tourism. Our challenge to individual businesses is for sustainability to become a concept and a set of actions that's part of every tourism business in New Zealand.
"The introduction of this commitment has been a very successful with 565 tourism businesses across New Zealand signed up to the commitment which does require them to operate their business in a sustainable way, to take specific actions, to look after the environment, to look after their local communities to act responsibly in an economic way, and to deliver great services to the visitor. Our tourism businesses are embracing this challenge. They are wanting to operate in a sustainable way. I think we've hit a tipping point here where there's, in our industry, an absolute commitment to operate in a sustainable way. And that includes meeting the needs and wishes of the host communities."
It's hard to connect all of this high-level sustainability with sustainable growth, sustainable profits and a sustainable social licence from the community.
Stephen England-Hall says that at international meetings and conferences the rest of the world believes New Zealand can somehow pull this off.
"Other countries believe that New Zealand is going to solve the over tourism challenge. I hear my colleagues from other overseas tourism agencies saying that we are probably the most likely country to come up with an answer. New Zealand has a reputation for getting things fixed. So that's what we're going to do. We should fix it."


---