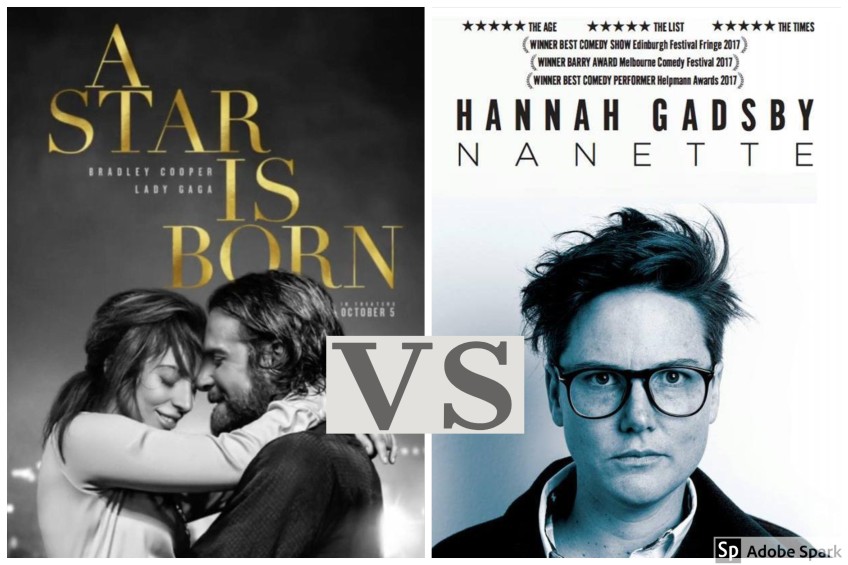 Review: 'A Star is Born' vs 'Nanette'
by S M Hahn - Oct 31, 2018
---
There's a moment in "A Star is Born" that encapsulates the entire movie. Famous rocker Jackson Maine (Bradley Cooper) peels away a false eyebrow from the heavily made-up face of Ally (Lady Gaga), an unknown waitress who has just sung "La Vie En Rose" in a drag club cabaret show. The message is obvious: The real woman is underneath the makeup. And any man who makes the effort to look must truly care. If this exchange resonates for you emotionally, you'll probably love the movie.

With this scene, the movie preaches that to be authentic, one must be unmasked. By extension, to make great art, one must reveal one's true self. Alas, the price to do so, the movie implies, is painfully high. Jackson Maine has to snort pain-killers and souse himself in liquor to make it onstage to perform, because not only is he rich and famous, he's also haunted by demons from the past.
These are the kind of clichés about art and artists that Australian stand-up comic Hannah Gadsby quietly turns inside out in her justly acclaimed Netflix show, "Nanette," which caused an international frenzy a month ago. Like the much-hyped "A Star is Born," "Nanette" also takes on the subject of art and mental illness, while sprinkling in unexpected jokes about Van Gogh, Tasmanian potatoes, and mother-daughter relationships.
The differences between these two much-hyped productions could not be more stark: The first is a remake of a remake of a remake, with a multi-million dollar budget and two photogenic marquee stars pretending for two-and-a-half hours to be something they are not. The second is an ordinary-looking woman alone on stage at the Sydney Opera House, who over the course of an hour transforms a witty stand-up routine into social commentary so stinging that it will take your breath away. When Gadsby unmasks herself, there is a not a dry eye in the house.
A dozen couples were in the movie theatre watching "A Star is Born" alongside me. About an hour and half into the movie, just as I was glancing at my phone to see what time it was, a young man and woman made their way to the exit, with an hour still left on the clock. I wished I could leave with them so I could rewatch "Nanette," because it actually portrays what the movie could only pretend to: The birth of a female star.

S.M. Hahn lives with her family and a menagerie in Otago. She has written for the Times Picayune in New Orleans and the Seattle Times.


---