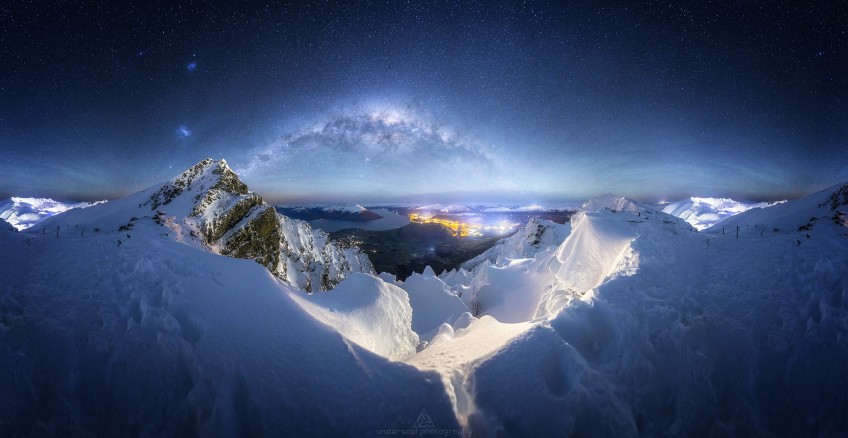 Local photographers host rally
---
A few days ago a post surfaced on social media, offering a few photography pointers for those who may be interested. Within a day more than 80 people had signed up. The men behind the photography rally are renowned artists, Jordan McInally and Alessandro Erbetta, who specialise in capturing spectacular and unique artistic images. The duo are photographers who share a passion for their art. They will often spend hours getting into position to capture one instant, one moment of perfection through the viewfinder. Coming together to plan a photography rally is the result of that shared passion and their desire to facilitate a way for local enthusiasts to get together and share ideas.
Erbetta is a professional photographer in Italy, he met McInally at a BBQ a few weeks ago and instantly connected with him through their shared career. The idea for a photographer's rally grew organically from that first conversation.
"Our idea was to create something that could have gathered people having the same passion, to discuss and share ideas about photography. We basically made this happen (sic) because we thought it could have been a good opportunity to meet up with new people, amateurs and pros, sharing personal thoughts and experiences."
Jordan McInally is a local lad through and through, Queenstown born and bred. He first picked up a camera when he got a job working for AJ Hackett's photo and video department. When he made the commitment and bought himself a camera to play with outside of work his adventures became centred around photography.
'There's something extremely satisfying about looking through a cameras viewfinder and creating art work through that medium.'
McInally's work is well known and his brand Undersoul Photography has become synonymous with stunning astrophotography. He often shares images locally that showcase the spectacle of the Southern Lakes skies. He was surprised that so many people were interested in getting together. If asked to predict a number he would have guessed somewhere around 20 people. More than four times that number have already signed up.
"That was certainly unexpected! I knew we would have a bit of interest but thats a huge amount of people to get together all at once, so hopefully we can cope with the numbers! And I think people connect with passion, we both truly love taking photos and that shows in our work, so people want to learn about it and be part of it too."
McInally is modest. He's created a successful career in a notoriously difficult industry and has crafted a niche for himself in the astro-photography arena. His images are awe-inspiring. They bring the cosmos to life, there's no way to look at them and not wonder 'what if'. In capturing the heavens he allows us to see more than the eye can grasp. The effort that goes into creating each and every image, from spending hours in the cold preparing to hours processing become invisible. Like all great artists he makes it seem effortless. When he speaks of his passion his enthusiasm is obvious.
"[Photography] transforms the world around you into something magical.. It completely shifts your perspective on the world to see beauty in the most simple of things, be it a pencil on a table or the way the sunlight hits a building in a city to an epic sunrise in the mountains, it teaches you to make the most of everything and see it all in a beautiful way."
Even among the thousands of images he has taken and edited there is one that stands out in his memory. McInally considers each image a journey, an adventure where luck sometimes plays a part.
"One thats certainly special for me is a 360º astro panorama selfie I shot a few years ago up Coronet Peak just before sunrise. I found the perfect pointy rock that had me standing in the centre of the frame in front of the Milky Way, with the Zodiacal Light illuminating the sky just before the sun started to come up, giving some awesome colour to the sky. As I was standing still for my 25 second exposure, a HUGE meteor exploded right in front of my eyes and I couldn't help but yell in joy as I knew it was in my photo! The perfect moment for any astrophotographer! It also meant a lot as one of my inspirations Mark Gee commented on that image once I posted it saying it was one of the best astro images to come out of New Zealand, so I really appreciated that."
Erbetta has been a photographer since his late teen years. He realised the power of a viewfinder and started exploring the limits of what he could communicate.
"I started loving the way how you could evoke feelings with a simple camera and also how you could express yourself through photography, and this is reason why I felt in love with it. Because I simply loved the idea of how you can tell so many stories, with a single image."
He focusses more on people than McInally, with a different style. The language of photography is one that transcends borders though and the two have learned from each other. McInally's passion for continual learning comes through when he speaks of his friend's work.
"I love Alessandro's use of human elements in landscapes, he has a different eye and often completely different ideas on how to capture a scene and use that human element. I also love how he uses close, out of focus foreground elements close to the camera, something I rarely think of doing but quite like, so I'll have to try this more in future!"
Erbetta is passionate about photography and considers it very special for a reason.
"The concept of catching memories whenever you want with a plain click, with this I mean.. whatever you catch with your camera, will last forever, and it will remember you all those small things, long after you have forgotten everything."
Erbetta and McInally are successful photographers who have forged a career doing something they love. Their photography rally is about sharing that passion and inspiring others to follow their dreams. McInally's advice is simple, a philosophy that should resonate with all those who consider themselves artists.
"Simply follow your passion. Don't get caught up in social media and other people's expectations or what they like, do things on a daily basis that bring you joy and make you happy. Then your work will truly shine and people can't help but notice and hire you and buy your work."
This is a unique opportunity to get along to hear some passionate and engaging photographers talk about their craft and facilitate a discussion about art. There are a few places remaining but it promises to fill up swiftly. Check out their event page on facebook here or try your luck at the event itself.
Event details: Friday 18th January, 6pm, Novotel.


---