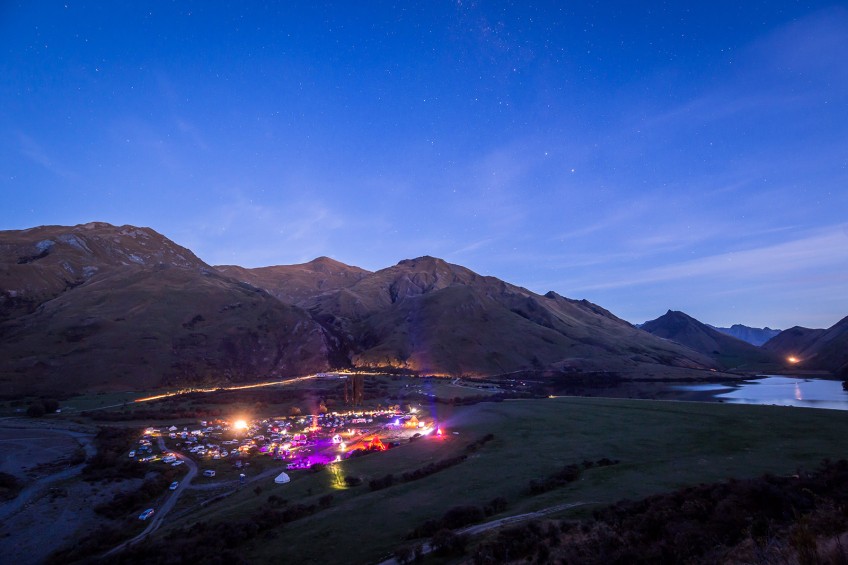 Time for al fresco fun
by Laura Williamson - Dec 21, 2018
---
Welcome to summer festival central.
The festive season is upon us, which means summer festival season is about to be upon us, and our hills and valleys will be alive with the sound of music, the sight of body glitter and the mingling of food truck smells (Hungarian fried bread mixed with churros mixed with dumplings – yum).
According to the slightly fusty NZ history government website, early music festivals came about "in the troubled emergence of teenagers as a distinctive group and economic force in the second half of the 20th century." Think Woodstock and the Isle of Wight Festival.
These days, al fresco festivals still tend to revolve around music, but there's a lot more to them than just watching a bunch of concerts back to back under a progressively-hotter sun while drinking too many wine coolers.
Common non-musical activities now include, but are not limited to, interactive art installations, adult-sized water play parks, yoga, workshops on kombucha and upcycling, silent dancing, contact dancing, ecstatic dancing, and Qigong.
There are also a lot more festivals on our home patch than there used to be. We've come a long way since the now-stuff-of-legends Rippon festival launched at Wanaka's Rippon Vineyard in 1998 – the organisers wanted to offer something here, in part because at the time, touring acts were skipping our region in favour of places like Auckland and, for some reason, Takaka.
This summer, no fewer than six significant festivals will happen within an hour's drive of Queenstown; there will be mud, noisy camping, chilly bins stuffed to their chilly lids, mosh pits, carloads of raucous fans and rowdy crowds - if that's what you want, but if you prefer a quieter experience, that's on offer too. Either way, there will be memories, and memories are what festivals are all about. Here's a round-up of our locals:
The mothership of summer festies in the Southern Lakes is Rhythm & Alps. The junior sibling to the Gisborne's Rhythm & Vines, R&A is held annually on New Year's Eve in the Cardrona Valley, where up to 10,000 campers and day trippers rock out to an international menu of live music and DJ sets ( emanating in past years from a giant Buddha head). The 2018 R&A includes American TV star and rapper Action Bronson, electronic duo Bicep, the UK's Nightmares on Wax, as well as Aotearoa's The Black Seeds, Julia Deans and The Butlers. If you are over 30, expect to feel, well, over 30 in the youth-heavy crowd.
Also on New Year's Eve, Top Paddock at Lake Hawea is the country's largest contemporary country, rock and pop music and camping festival. Nine acts will take to two stages over 10 hours on December 31, including the modern country of Hurricane Fall, three-piece indie/pop/rock sister act Germein, X-Factor New Zealand finalist Abby Christo and (highlight alert) New Zealand's 'Queen of Country' and Southern Lakes local Jody Direen. Dress code: "rural hard-working".
Relive the days of classic rock at the 2019 Summer Concert at Gibbston Valley Winery on January 19. Representing the seventies will be Supertramp's Roger Hodgson ('Give a Little Bit'!, 'The Logical Song'!, 'Dreamer'!), while the decade of The Breakfast Club 
and the Black Monday share market crash will be back in the guise of eighties stars Toni Childs, and James Reyne and Mark Seymour of Australian Crawl.
Up the valley, the lovely little River Range Music Festival at the Cromwell Racecourse kicks off at 1pm on February 16. It's a relaxed affair, though it has grown since its locally-focussed inception in 2014 - the sixth edition of River Range has an exceptional roster, including the downright iconic Salmonella Dub and the downright loud Beastwars.
After something a little more radical? BIOPHILIA (February 22-24) markets itself as "a three-day gathering bringing us together to explore our human potential', which, it turns out, involves having a super good time. Have a crack at acroyoga, parkour or an Andian cocoa ceremony, attend a workshop on "reclaiming sexy", catch some great music in the sunshine, including Mad Hallelujah Tribe (folk fusion), DJ Lazy Suzan (chill out) and Deep Fried Dub (electronic/dub).
And Easter Saturday sees the launch of the new Through the Valley Festival at Cargo Brewery in Gibbston. The Kiwi-philiac line-up features Dave Dobbyn, Fly My Pretties, Rhythmonyx, The Butlers and DJ FOZ, plus it takes place at a brewery, so there will be craft beer. Win win.


---