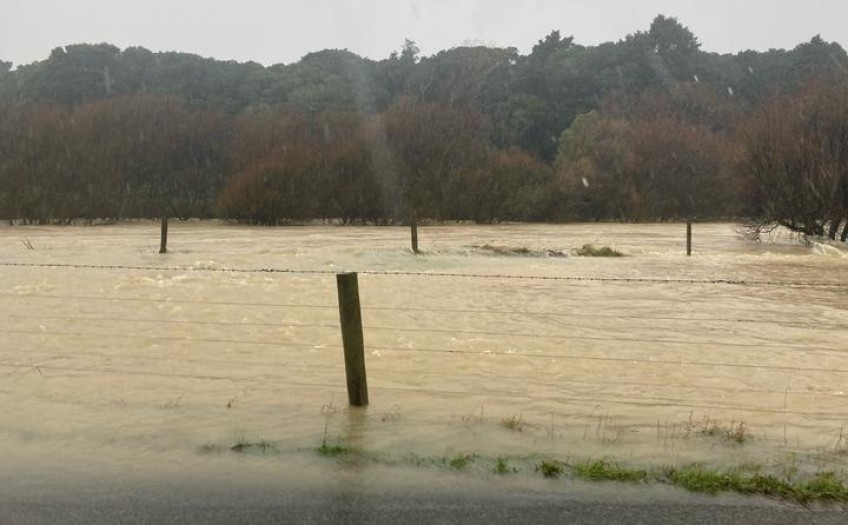 Wild weather: Homes evacuated, roads closed across top of South Island
Jul 17, 2021
---
Westport and Nelson have been left isolated, while Marlborough has declared a local state of emergency, as high river levels, flooding, fallen trees and slips close state highways across the top of the South Island.
The Marlborough District has declared a local state of emergency this afternoon.
Residents in part of the Lower Wairau have been advised to evacuate due to a stop bank breach near Ferry Road bridge.
Another 200 properties at Lower Terrace in Renwick have also been told to evacuate. Residents have been asked to stay with family or friends for the next 24 hours as the water is breaking the stop bank at Conders Bend.
The streets affected include Alma Street North, Gee Street, Blicks Road, Brook Street North, Inkerman Street North, Oudenarde Street and Terrace Road. An emergency mobile alert has been sent to cell phones in the affected area.
Twenty five rural properties further north have also been cut off when the Bartlett's Creek bridge washed out.
About 20 roads in the district are also closed because of flooding, slips and downed trees.
Buller Emergency Management is also evacuating several more streets in Westport as the Buller River rises.
Zone 10, under an evacuation order, includes Brougham Street and Eastons Road.
Police and emergency teams are door-knocking in the affected areas to speed evacuations.
Residents are being told to take their emergency supplies and flee to friends or family on higher ground.
Nelson, Westport, Murchison, Hanmer Springs and Golden Bay are currently isolated due to the weather. Transport Agency spokesperson Tresca Forrester says people should avoid driving in those areas today.
She said more rain is falling in Nelson and Marlborough and there could be further road closures as river levels and rain peak.
The Buller River has inundated the main road in to Westport through the Buller Gorge and the road connecting the town to Greymouth is also closed due to slips. The Buller Bridge was closed this afternoon.
It's hoped the road in to Hanmer can reopen soon, but the highway between Hanmer and Springs Junction remains closed, also due to slips.
Further south road crews are working hard to clear a slip which has closed the road connecting Greymouth and Christchurch over Arthur's Pass.
Waka Kotahi said the Tasman District, the West Coast, including Buller District, Marlborough and Canterbury all have state highway closures, with SH6, SH60, SH7, SH65, SH63 and SH73 all closed at various points.
See the Waka Kotahi site for further details.
Fire and Emergency have rescued three different groups of motorists who've been trapped by floodwaters in the Nelson Tasman region.
One crew in Murchison was able to get a person off the roof of their car via a front end loader. Another motorist in Hamner also needed assistance, while near Mokueka a helicopter was used to collect a driver who was unable to be reached by ground crews because of the water.
Emergency teams are also on the ground in Buller assessing the damage after last nights heavy rainfall and flooding.
The region is in a state of emergency and more than 800 people in Westport were forced to evacuate.
Region emergency controller Bob Dixon said plans were in the works for evacuees to return home.
"Presently monitoring river levels - they are still extremely high. We're just waiting to see what homes may have water in them. We certainly know there are properties that have water around them.
"Our plan presently is that we are looking at homes that have escaped any water entering the properties and we'll start to progressively get those folk to return home."
Civil Defence has issued a water conservation notice for the townships of Westport and Carters Beach.
A homeowner living next to the Orowaiti River just north of Westport faces a nervous wait to see if her house has been flooded.
Ruth Vaega and her husband fled their home this morning when they saw the river was getting close to breaching.
Their house has been raised off the ground after being flooded in 2018, and they are hoping this prevents the water coming inside this time.
She was feeling dejected and tired after a sleepless night worrying about whether their home would flood.
She was staying with friends north of Westport and did not know when they will be able to return home.
People in Westport are being asked not to go out driving around looking at damage because they could send water into homes.
Niwa said 733mm of rain was recorded at Tuke Hut in the West Coast - 119 percent of Christchurch's annual average rainfall.
The red warning for heavy rainfall in Buller has been extended until 3am Sunday.
The Buller District is in a state of emergency as rain hammers the region, pushing the river to near-bursting point running at 11m high.
Forecasts say there is still up to 150 millimetres in the ranges, and 70 to 100 millimetres closer to the coast, is yet to fall during this event.
One school hall in Westport is full of evacuees, and civil defence and army staff have been directing people to other shelters as required.
Buller Mayor Jamie Cleine said four of the seven shelters were full and there was currently no way out of the township by road.
"The Buller Gorge is closed now with river over the road in various places. The coast road south to Greymouth is closed with slips. So we're locked in."
Cleine said it had been a long night for officials monitoring the West Coast floods.
Buller Emergency Management, in a social media post said: "The decision to evacuate was made because the Buller River received an extreme amount of rainfall over the last 24 hours and is still extremely high.
There is still a large amount of water in the ranges to make its way down the Buller River.
"We ask people to stay away from their homes while the risk remains. We will let you know when it is safe to return home."
'Persistent, extremely heavy rainfall'
A climate station in the Hokitika catchment has recorded 622 millimetres of rain, in the 42 hours to 10pm last night.
Niwa says the reading at Cropp Waterfall is equivalent to 51 percent of Auckland's normal annual rainfall.
MetService duty forecaster Karl Loots said it was a significant downpour.
He said it was a strong front lying across northern Westland and Buller.
"That is very exceptional, what we have see over the last 60 hours across much of the West Coast and Buller. It's been really persistent, extremely heavy rainfall. Just in the last 24 hours, we've seen numerous stations through these regions reporting upwards of 250-300mm of rain."
Last night a slip at Meybille Bay closed State Highway 6 between Westport and Punakaiki until further notice.
SH6 is also closed from Westport to Inangahua due to flooding of the Buller River, and east of Inangahua, where a detour is in place via Browns Creek Road.
Several other roads are down to one lane due to minor slips or surface flooding.
The Transport Agency is urging people to stay off the road unless absolutely necessary.
In Canterbury
Environment Canterbury has issued a flood warning, with rivers in the region running high.
It said heavy rain had fallen along the main divide overnight, flowing into the Ashburton, Selwyn and Ashley catchments.
The Orari River is rising and engineering staff will monitor it during the day to make sure areas where repair work was carried out after the flood in May, have stood up to the increased flow.
The Rangitata River is expected to keep rising during the day and the Ashburton River is running high and has overflowed in the North Branch into areas affected by the recent flood.
Landowners adjacent to Canterbury rivers are being advised to monitor the situation for flooding and take action sooner rather than later.
In Wellington
High winds and heavy rain are causing problems in the capital.
SH2 northbound between Wellington and Petone was this afternoon down to one lane in parts due to surface flooding.
Wellington City Council has received more than 20 calls about flooding on roads and at private properties today.
Trees have fallen onto roads, including Lambton Quay in the central city as winds reached 130 kilometres an hour overnight.
Several flights have been cancelled or delayed at Wellington Airport. (delete this line, included in flights info below)
Six people were evacuated from flats in Newtown overnight after a large section of roofing came off in high winds
Wastewater overflow could cause issues at the Moa Point Wastewater Treatment Plant with people told they should stay out of the sea for the next two days.
Drivers heading north from the capital, could encounter surface flooding with big swells around Paekakariki.
In Wairarapa, a conservatory was damaged by high winds and a tree fell over a driveway.
Firefighters and councils have also been responding to sparking powerlines and uprooted trees.
Greytown and Featherston residents are being asked to limit their water use, as heavy rainfall has caused the supply to go cloudy.
In Marlborough
Marlborough residents are being asked to stay home and avoid travel as more than 20 roads in the region are closed with flooding, slips and downed trees.
The council is also advising people in Wairau Valley township to boil their water.
State Highway 63 from west of Renwick and Queen Charlotte Drive are among the roads closed.
Further north
A heavy rain warning has been issued for Bay of Plenty and Gisborne.
Between 70 and 100 millimetres of rain are expected this afternoon and evening.
North to northwest winds may approach severe gale in exposed places.
Metservice says streams and rivers could rise rapidly, driving could be hazardous and surface flooding and slips are possible.
Downed powerlines and a fallen tree are blocking State highway 43 in Taranaki.
The road is closed near the intersection with Crown Road, emergency services and Powerco are at the scene.
Flight disruptions
The turbulent weather is causing significant flight disruptions across Air New Zealand's domestic network.
The national carrier says Wellington, New Plymouth and Nelson are the worst affected.
Multiple regional flights using turbo-prop aircraft have been cancelled or significantly delayed, which will impact the schedule until tomorrow.
Disrupted customers are being offered road transportation where possible and Air New Zealand is adding additional services to its schedule tomorrow.
Jet Star services are operating largely as normal but with some delays in and out of Auckland.


---