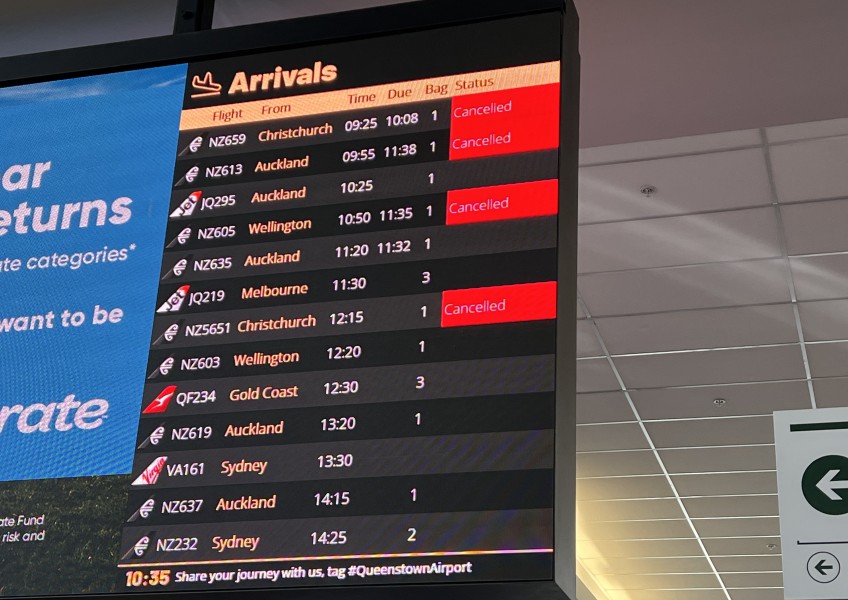 Wild weather: Backlog from flight cancellations, ferry services cancelled
Oct 03, 2023
---
Air New Zealand expects it will take about a day or two to clear a backlog of customers from 93 flights cancelled because of strong winds on Monday.
Gale-force winds blasted the country reaching over 120 km/h across both Otago and Canterbury. South-westerly gales hit 140 km/h in Dunedin, while the biggest gust of 172 km/h was recorded at Cape Turnagain.
Air New Zealand chief operations officer Alex Marren told Morning Report about 12,000 customers were caught up in the cancellations and the three international flight diversions.
Marren said flights were already full over the next few days because of the school holidays.
"We are doing everything we can, repositioning aircraft and crew. We had a couple of extra recovery flights last night to Christchurch and Wellington.
"The majority we will be able to re-accommodate on other flights, but there may be some that it could take a day or two to fully re-accommodate.
"If they can't find a flight that works for them, they will be able to hold their fares in credit."
There could be more disruption to Wellington flights with 40-knot winds forecast, Marren said.
Cook Strait ferry crossings have been cancelled through to mid-afternoon due to strong southerlies and heavy seas.
One Interislander ferry left early to avoid the weather and the Bluebridge overnight trips were reduced to freight only.
MetService said southwest gales over the South Island and lower North Island had eased, all watches and warnings were lifted.
Power was cut to more than 2000 homes in Canterbury and Otago on Monday night, with most restored overnight.
By early Tuesday, 232 homes were still without power in the Okuti Valley and parts of Diamond Harbour, electricity provider Orion said.
Fire and Emergency received 70 weather-related calls in the South Island, most of them in Christchurch.
An Oamaru resident told Morning Report that an enormous tree had fallen into her backyard late last night.
Jenny Sims said she had never seen anything like it in the three years she had lived in Oamaru.
She was fastening a window that had flung open when her door slammed shut and locked her out.
"I had to call the locksmith, he was the one who noticed the tree about to fall," she said.
"Lo and behold there's this massive Douglas fir in the middle of my backyard where it's not supposed to be."
Main image: Arrivals and departures board at Queenstown Airport showing a number of cancelled flights on October 2, 2023.


---