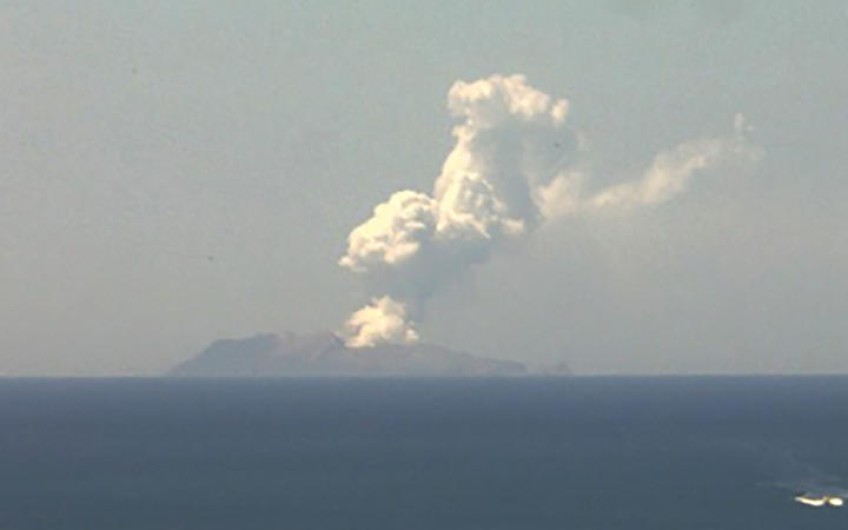 Whakaari / White Island eruption, day 2: What you need to know
Dec 10, 2019
---
Aerial reconnaissance flights over Whakaari / White Island show there's no signs of any survivors, police said. The death toll remains at five, and 31 people are in hospital and eight missing.
Prime Minister Jacinda Ardern said there were a number of tourists on or around the island at the time of the explosion including New Zealanders and people from overseas.
While initial reports were that about 100 people were in or around the vicinity of the island, Ardern said it can now be confirmed there were fewer than 50.
She said there were two groups on the island - those who were able to be evacuated and those who were close to the eruption.
This morning authorities confirmed that 47 people went on to the island yesterday, five of which are dead, 31 are in hospital, three were discharged overnight from hospital, and a further eight are missing.
Among those listed as missing or injured were New Zealanders part of a tour operation, as well as people from the US, UK, China, Malaysia and Australia.
Ardern is in regular communication with the Australian Prime Minister, Scott Morrison, and the Australian Federal Police will be sending liaison officers to assist NZ Police.
A pilot who surveyed the island for about 45 minutes reported back to police that there doesn't appear to be any survivors, and police said it was not believed that any survivors could have taken shelter.
The five deceased are from a range of nationalities, but police can't confirm if they died on the island or on their way back to safety.
Whakatāne's former mayor Tony Bonne told RNZ that a local man, Hayden Marshall-Inman, was among the dead.
He was part of a well-known family in the town and was a very experienced tour guide on the island, Bonne said.
The injured have been taken to various hospitals across the country, including Middlemore in Auckland, Wellington, Tauranga, Whakatāne, Waikato and Christchurch. No further updates on the status on the injured has been provided since last night when it was reported that the patients were in critical condition with burns.
But Waikato Police Superintendent Bruce Bird said no people has died since being in hospital.
Stay up to date with RNZ's liveblog coverage here.
Rescue mission
One Westpac helicopter landed on the island and two private helicopters and a volcanic air on - which were able to rescue the survivors on the island.
Police said the focus now would be on working with experts to determine when they could return to the island and recover the missing people, but reiterated they would only do so when it was safe.
In a statement overnight, police said: "Based on the information we have, we do not believe there are any survivors on the island."
Police said as part of the recovery a NZDF ship would approach the island at first light to deploy drones and observational equipment to further assess the environment.
The Police Disaster Identification (DVI) team are assembling in Whakatāne to await deployment.
Deputy Commissioner John Tims yesterday said police were taking expert advice on how to get a search and rescue team onto the island as soon as possible because it was too dangerous.
The Red Cross activated its Family Links site last night as a way for people to get in touch with family or friends who they're worried may have been caught up in the eruption.
The eruption
This morning at a press conference, Ardern said Whakaari / White Island had two explosions in quick succession at 2.11pm yesterday.
GNS said the eruption was a short-lived event that generated an ash plume around about 3.66km above the vent.
The initial eruption lasted a few minutes, said GNS Science duty volcanologist Geoff Kilgour.
GNS Science's Dr Ken Gledhill said: "On the scheme of things for volcanic eruptions, it's not large, but if you are close to that it is not good".
Civil Defence warning
NZ Civil Defence has warned the immediate vicinity is dangerous.
Whakatāne Mayor Judy Turner said Volcanic Alert Level remains at level 3 - with unpredictable volcanic activity.
People living in or near the area have been warned to beware of ashfall, closing all windows and doors and wear a dust mask or handkerchief.
Civil Defence emergency management director Sarah Stuart-Black said: "We do not expect this event to have any significant impacts for people on the North Island at this time. If the situation changes we will communicate this.
"GNS science have advised that the ashfall appears to be confined to the island and they do not expect more than a minor amount of ash to reach East Cape in the coming hours."
A no-fly zone has been established.


---