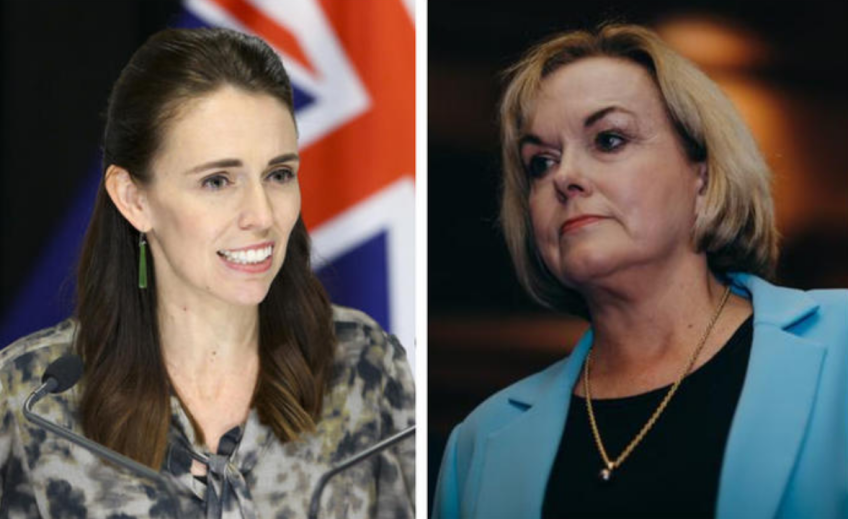 Week in Politics: Collins faces problem as Labour holds poll lead
Oct 09, 2020
---
By Peter Wilson*
Analysis: Judith Collins faces a problem created by one of her own MPs, Jacinda Ardern shows her strength in the third leaders' debate, and Labour holds its lead in the latest poll.
The last thing National needed this week was headlines saying "Collins denies caucus fractures after leak" (Stuff) and "Can Judith Collins keep a lid on it?" (RNZ).
That's what it got after one of its MPs, Denise Lee, took exception to the way her party leader had announced a National-led government would launch a review of Auckland Council's operations.
Lee, the party's local government spokesperson for Auckland, had been bypassed. She didn't know the announcement was going to be made and, miffed about that, sent an email to Collins and the entire National caucus.
In it, she said the proposed review was "a highly problematic idea" and described it as "a nightmare".
She didn't like Collins' style either. It was "incredibly poor form and displays a shockingly bad example of poor culture," said Lee.
The real damage was done when one of the MPs who received it leaked it to Newshub. That suggested dissent within the caucus, a serious voter turn-off in the run-up to the election.
One MP told RNZ there was a lack of internal communication and caucus had not been shown internal polling for months.
Collins quickly stamped on the story, and probably Lee as well.
"The issue has been dealt with," she said. "I have spoken to Denise Lee, she is very focused on getting the party vote and winning her seat."
Lee issued a statement saying her email was intended for internal purposes only.
"I completely disagree with the actions of the person who leaked the email," she said. "I accept the leadership's decision about the policy announcement."
The Herald's Audrey Young said Lee may have been entitled to feel annoyed about being left out of the loop.
"But the ill-discipline of Lee to put that sentiment into writing and send it to 50 of her closest colleagues in the heat of an election campaign is mind-boggling. Ill-discipline in a campaign is electoral death," Young said.
Susie Ferguson asked Collins on Morning Report about the claim she hadn't shown National's private polls to her MPs, and was told it was none of her business.
It wasn't the only issue Collins had to respond to this week. Photos of her praying in a church in Auckland raised questions about her motives.
She went to the church to cast her early vote and later explained that the minister invited her to pop in for a prayer service.
"I didn't ask the media in, but I turned around and there they were taking shots," she said. "I thought I'll just keep doing what I'm doing."
The Herald's Front Bench panel of commentators didn't buy that. They agreed it was "a play to win votes".
Stuff cartoonist Jim Hubbard didn't buy it either. He drew Collins praying, trying to stifle her laughter, and saying "please help me keep a straight and pious face at these political photo ops in church."
The third leaders' debate was arguably the best so far and, according to its organiser, Stuff, was the first won by Labour leader Jacinda Ardern.
"Third time lucky for Ardern," its headline the next day said.
"She seems to have cracked it. After two debates where Judith Collins managed to steer the discussion, Jacinda Ardern commanded the stage."
RNZ's Jane Patterson said there was a tense and almost angry edge to it.
She concluded: "Ardern had the edge in this debate but that was largely due to the audience which was clearly favourable to her."
The debate's format was less scripted than the previous two, there were no ad breaks, and it was the first held under Level 1, so there was a lively crowd in Christchurch Town Hall.
Climate change and agriculture, economic revival plans, and pandemic management provoked the most intense exchanges.
Advance voting got off to a cracking start at the beginning of the week, with Ardern and Collins among the first to cast their ballots.
They're encouraging others to do the same and the Electoral Commission wants to avoid a big rush on Election Day, because of social distancing restrictions.
Winston Peters doesn't want people to vote early. The New Zealand First leader said a "fear campaign" was being mounted to get people into the polling booths and the restrictions were "a senseless farce".
He thinks voters should be fully informed before they make up their minds. "I would advise everyone to vote on Election Day, because there are clangers being dropped every day," he said. "Only a fool tests the water with both feet."
The polls, which Peters said were rubbish, show his party is well below the 5 percent threshold for seats in Parliament.
According to Mike Hosking, writing in the Herald, Ardern's push for early voting indicates Labour is nervous about the outcome.
"Their push displays their fear," he said. "The more votes they can get in the bank the less chance there is that their vote continues to drift."
Peters needs time to lift his party's fortunes. This week he rolled out a degrees of murder policy, which would set life imprisonment with no parole as the minimum sentence for the highest degree. He also promised an extra 1000 frontline police and a "cowards punch" law.
Labour held onto its lead in the latest 1News Colmar Brunton poll, released on Thursday evening. The party's rating was unchanged at 47 percent. National was down one point at 32 percent and ACT was unchanged on 8 percent. The Greens were down one point to 6 percent, while NZ First gained a point to reach 2 percent.
On those figures, Labour would be just short of a majority and would need the Greens to form a government.
Another poll published this week previous surveys of attitudes to the cannabis referendum. It was conducted by UMR for the Helen Clark Foundation and the New Zealand Drug Foundation.
It found 49 percent of respondents supported the proposed Cannabis Legislation and Control Bill, while 45 percent opposed it.
Former prime minister Clark is a strong supporter of cannabis law reform.
"A poll like this reminds us what people are actually voting on," she said.
"They're not being asked 'should cannabis be available in New Zealand?' It is very widely available. The whole issue is the terms on which it is available."
A 1 News Colmar Brunton poll on 26 September showed 35 percent in support and 53 percent opposed to cannabis legalisation. A week later, a Newshub Reid Research poll put support at 37.9 percent, with 50.5 percent opposed.
The two main parties both came out with more promises this week. Collins said National would create 10,000 jobs a month and get unemployment heading down to 4 percent by 2025.
She also pledged a National-led government would pass emergency legislation to get more houses built and alleviate rising prices. The legislation would require councils to open up more land for housing.
Labour's climate change policy included requiring councils to purchase only zero emissions buses from 2025, in a bid to decarbonise the public transport bus fleet a decade later. The government would contribute $50 million over four years for buses powered by electricity, hydrogen or other sources that reduce greenhouse gas emissions.
The party also promised to ban conversion therapy, as part of its Rainbow policy. The therapy aims to change a person's sexual orientation or gender identity.
The policy was announced by MP Tamati Coffey.
"Conversion therapy is based on the misguided idea that people are wrong or broken because of their sexual orientation," Coffey said.
*Peter Wilson is a life member of Parliament's press gallery, 22 years as NZPA's political editor and seven as parliamentary bureau chief for NZ Newswire.


---