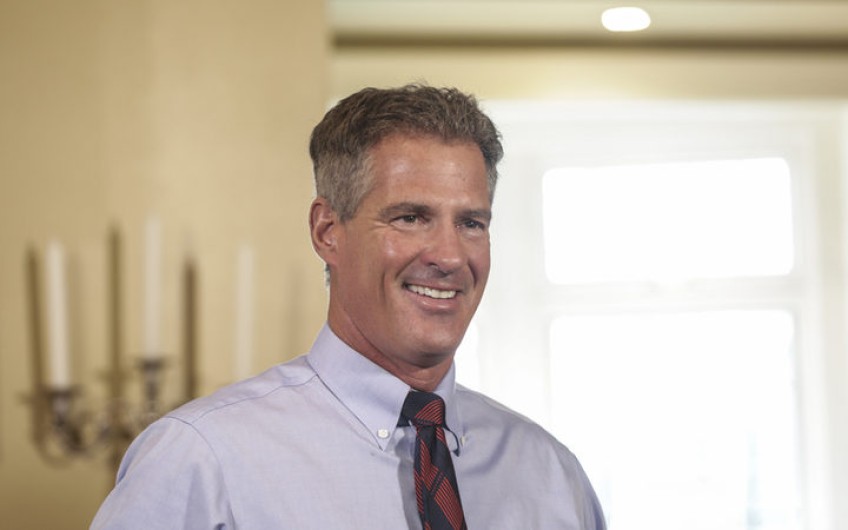 US ambassador Scott Brown dodges managed isolation in New Zealand after US trip
Aug 28, 2020
---
United States Ambassador Scott Brown dodged New Zealand's mandated isolation and quarantine facilities when returning from a visit to the US.
Brown, who boasts close ties to President Donald Trump, and his wife Gail chose instead to self-isolate at his Lower Hutt home.
The New Zealand government can't force diplomats into managed isolation, because of international immunity rules.
But they do advise diplomats to undergo the 14-day stint in managed isolation facilities, which is mandatory for most other travellers to protect New Zealanders from exposure to Covid-19.
The US has failed to get the outbreak under control. In Brown's home country, the disease continues to claim nearly 1000 lives each day. There are now more than 5.7 million confirmed infections and about 178,000 deaths as a result of Covid-19 in the country, one of the worst tolls in the developed world.
Brown recently made the trip from Wellington to Washington where he met Secretary of State Mike Pompeo, deputy Secretary Stephen Biegun, US Trade Representative Ambassador Robert Lighthizer, and New Zealand's Ambassador to the US Rosemary Banks.
Managed isolation rules came into force here in April.
Brown said he and his wife tested negative for the virus before leaving the US.
"We have been very careful about wearing masks and observing social distancing guidelines during transit. We were successfully screened by health authorities on arrival in Auckland and again in Wellington," he said in a written statement.
"Just like everyone else, we will be medically monitored while in isolation and tested again around Day 3 and Day 12. We will not leave isolation until those tests come back negative."
Brown said officials from both governments began planning for his return before he left New Zealand.
"Since the beginning of this crisis, the diplomatic corps here in New Zealand has been working with MFAT [Ministry of Foreign Affairs and Trade] and the Ministry of Health to refine Covid-related protocols.
"Frankly, New Zealand officials deserve huge kudos for how incredibly thorough they have been working with us to come up with processes that keep Kiwis safe," he said.
He had "repeatedly reminded" incoming staff that "we are guests in this country."
The US government provisioned, and paid for, testing and managed isolation facilities for diplomatic staff and their families coming into New Zealand.
He finished the statement with a te reo Māori phrase: "He waka eke noa. We're all in this together."
But Stuff understands his insistence on special treatment has upset both local staff at the Thorndon-based embassy, and raised eyebrows at the Ministry of Foreign Affairs (MFAT).
The Vienna Convention prevents MFAT or the Ministry of Health from enforcing managed isolation for diplomatic staff.
Sources told Stuff that most diplomats arriving in the country have chosen to follow the tough restrictions that see other travellers isolate in hotels for two weeks, and monitored by the Defence Force.
In a written statement, a spokesperson for the Ministry of Health confirmed foreign diplomats could go either into government-managed isolation or into self-isolation. They could not be forced into managed isolation but most did so voluntarily.
"Before arriving, diplomatic personnel must submit a self-isolation plan. Whilst self-isolating the diplomatic personnel are contacted daily by the Public Health Unit to ensure that they are well," the spokesperson said.
"If any symptoms are reported or diplomatic personnel receive a positive Covid test, the Ministry of Health will work with the Medical Officer of Health and MFAT to decide on the best course of action to ensure there is no risk to public health.
"At the end of his isolation period, the ambassador will be contacted to ensure he has received two negative test results and that he remains well, thus, completing the isolation period."
In July, there was a dispute between Beijing and Washington, when China refused to relax stringent health screening and self-isolating rules for US envoys and emissaries.
And earlier this month, Queensland overruled a national exemption to Covid-19 rules for diplomatic and consular staff arriving in Australia.
Brown was investigated by the State Department following complaints about his conduct at a Peace Corps event in Samoa in 2017.
It concluded with a warning that he should be more culturally aware.
Female guests at the party reported feeling uncomfortable by his behaviour, which was also described as rude and insensitive.
Brown claimed the complaints were politically motivated. A Republican, he was a former Senator for Massachusetts, before losing to one-time presidential hopeful Elizabeth Warren.
He was once touted as a potential running mate for Trump and it's been reported the US President offered him a pick of diplomatic posts.
The former male model, 61, is returning to the US for good in January, to take up a position at a Boston law school.
- This story was originally published by Stuff.


---