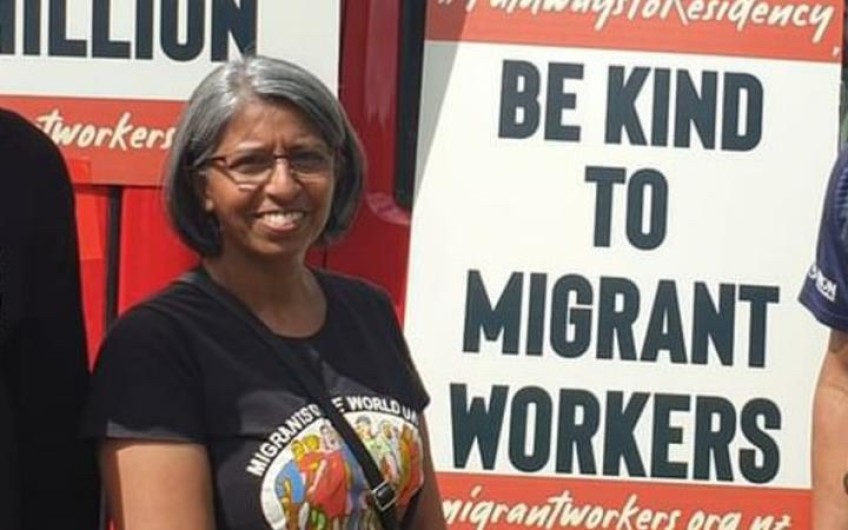 Two-tier visa system a 'kick in the guts'
May 12, 2022
---
An organisation fighting for migrant workers' rights against injustice and exploitation in the workplace, says new rules as part of upcoming border reopening are discriminatory.
Migrant Workers Association spokesperson Anu Kaloti said the new visa requirements were unlikely to solve severe skills gaps in the workforce.
With the green light for the border, announced by Prime Minister Jacinda Ardern yesterday, came a new Green List which is good news to high-skilled occupations on the fast-track to residence list.
But the Migrant Workers Association had raised concerns for those who do not qualify for the high-skilled Green List, and said visas would be harder to come by for migrants in other categories.
The Green List includes roles in sectors like construction, engineering, trades, health workers and tech.
"It kind of seems like the more you earn, the higher privileges you already have, the higher rights you will get," Kaloti told Morning Report.
"It should never be like that."
She said the rules disadvantaged people who were stranded off shore trying to get back into the country, who could have been given auto-extensions on their visas.
The Migrant Workers Association would have liked to see the government include these migrants in the 2021 one-off residence visa - but now they were at the back of the queue.
"That should have been extended to people who still remain stranded off shore and we would have had thousands more come in and fill those skill shortages and those jobs," she said.
"The government is going to just push them further down the chain and make it even difficult for them to be on the pathway to residence.
"Those so-called low-skill, low-wage workers have been essential and critical in the last two years.
"This is a kick in the guts."
She said there was more work to be done by policy makers around making visas equitable.
"The fundamental issues that are causing the skill shortages are not being addressed," she said.
"This seems like a very ill-thought-out plan."
New Zealand's borders will fully open to visitors, workers and students from the end of July - much earlier than expected.
The government is hoping to attract migrants in 85 hard-to-fill roles with the Green List, which includes high-skilled healthcare, engineers, trade and tech sector workers.
Eligible migrants can work here from July and apply for residency in October.
There is a second pathway requiring two years in the job before migrants become eligible for residency. This would also apply to specific roles in health, education, trades, teachers in particular specialisations like science and maths, early childhood teachers, and registered plumbers.
Meanwhile, Immigration NZ head Alison McDonald said the department was aiming to process the new visas in 20 working days. Ramping up the number of employees may be required to take on an expected influx of applications.
"While the borders have been closed we have still been recruiting," she told Morning Report.
"We've got 231 more staff on shore."
Visitor visas would be processed online to cut down on red tape, she said.
"Visitor visas will be on there, so they will be quicker, and the new accredited work employer visa will be on there too.
"There are no extra checks needs other than the usual health and character check, and we're aiming for 20 working days."
Main image (RNZ): Migrant Workers Association NZ spokesperson Anu Kaloti.


---