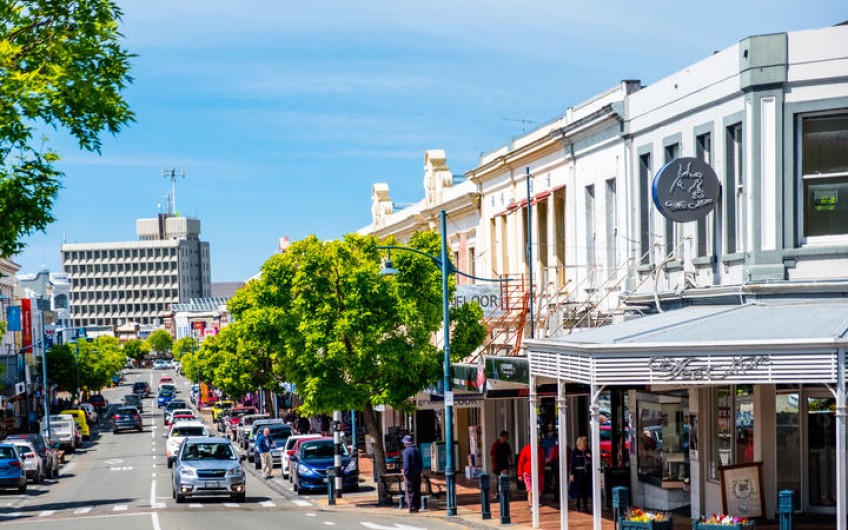 Two thirds of shops haven't paid rent
Apr 17, 2020
---
By Niki Mandow of Newsroom
Only about a third of retail tenants have paid their rent so far in April, and just over 50 percent of office rents have been paid, according to new figures.
New sobering statistics reflect the impact of Covid-19 on businesses and their landlords and the uncertainty faced by both.
Property management software company Re-Leased has put together the data from transactions of the 250 or so customers using its platform, and says from now it will release updated figures each week.
CEO and founder Tom Wallace says the impact on the commercial property sector has been shockingly fast. Receipts for the first two days of April were only slightly lower than normal, but by the end of the first week, they were down significantly.
By April 13, on average commercial landlords using Re-Leased software had received only 50.5 percent of the rent due, compared to 90 percent in an average month.
Retail tenants were the least likely to have paid (37 percent compared to 89 percent normally), industrial clients were most likely (70 percent versus 88 percent).
In the middle are office tenants, where 55 percent had paid by April 13, compared with 92 percent during an average month.
"A number of offices - lawyers, insurance companies, IT firms - can keep their businesses running working from home," Wallace says. "Same with industrial businesses that may be continuing because they are part of a supply chain involving essential supplies. Logistics companies are still operating and businesses involved in food production, for example.
So far, the amount of rent being contractually written off is still small, according to the Re-Leased figures - only 6.3 percent had been credited by April 13.
But Wallace says conversations with landlords and property managers indicate that could rise considerably through the rest of the month, as negotiations with tenants are finalised.
"It's fast-moving. Many landlords have reached out to tenants and have come up with deals as best they can. Some of that discussion will be ongoing and might not have come through yet in the figures."
He says it's difficult to predict what will happen over the rest of the month and into May
"I expect to continue to see lower rents, but I think it will stabilise as people get used to working from home and as restrictions are loosened from Level 4."
Most uncertain is what will happen in the retail sector once lockdown is lifted and shops open again, he says.
"Retail was under pressure already from online. There could be a bounce-back, as consumers go out and buy the things they haven't been able to buy. But they will also potentially be conservative with their cash."
Re-Leased's first block of data is national, but from next week the company will also have regional figures available.
"At the moment the impact is looking broadly similar across the country - everyone is being hit in the same way," Wallace says. But as the country moves into Level 3 and Level 2 responses, he'd expect regional differences to emerge in terms of how businesses are coping - and these should be reflected in the commercial rent data.
Re-Leased was founded in Napier in 2013 providing cloud-based software for property owners and managers wanting to streamline their accounts, banking leases, maintenance, inspections and communications with tenants.
It has 90 staff and six offices in New Zealand, London and Australia.
Wallace says they'd been working on launching commercial rental payments data for about six months as an add-on for clients wanting to benchmark themselves against other landlords.
But when Covid-19 struck, they realised aggregated information about companies paying their rent - and importantly, not paying - could give landlords and tenants useful market information as they were trying to make tough decisions about the future of their businesses.
It might even be a useful indicator about the health of different sectors and potentially the economy as a whole.
So Wallace decided to make the numbers public and free.
"It was an opportunity to help with the recovery. I think it's valuable information because virtually every business in the country has some sort of interaction with a commercial property. We hoped by giving people access to data we could help the market make better decisions."
Wallace says it's easy to think of landlords as large corporates sitting on a big pile of assets.
But many more are charities, family trusts, or small businesses with just one or two properties. These companies have mortgages to pay and payrolls to cover, just like their tenants. It's the same with small property management companies who employ people to look after commercial buildings, but miss out on fees income if tenants can't pay their rent.
These businesses are also doing it tough in the present environment.
"We are seeing huge reductions coming though without warning, and some are better placed than others to withstand."
Wallace says the Government's failure to help SMEs struggling to pay their rents was disappointing.
On Wednesday Ministers announced a business package, but there was no financial assistance with rents.
"There was nothing to help our landlords. Nothing to give them any optimism around rents being paid.
"We were hoping for support."
* This story first appeared on Newsroom and is republished with permission.


---