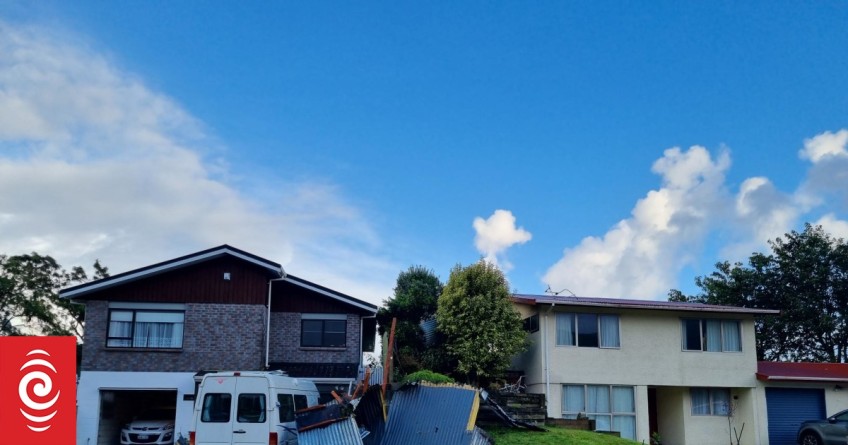 Tornado hits Kāpiti Coast, roofs damaged, trees downed
Apr 11, 2023
---
Several properties have been damaged by a tornado on the Kāpiti Coast this morning.
At least four properties had roofs blown off or lifted in the extreme wind while one house was lifted off its piles, Fire and Emergency said.
Power lines are also down, while several trees have been blown over and fences destroyed.
Tristan Deihl said he woke up to his daughter screaming as the tornado ripped through Aorangi Road, Paraparaumu, just after 5am.
He said it lasted about a minute and was a scary ordeal.
And a teenager is being assessed in hospital after the building he was sleeping in was destroyed by the tornado.
Fire and Emergency assistant commander Stephen Hudson told Morning Report a 16-year-old was asleep in a structure that was completely destroyed.
He has been taken to hospital for an assessment but is not believed to be seriously injured.
Fire and Emergency shift manager Belinda Beets said they received the first call just before 5.30am.
Crews were at Aorangi Road, and at the Metlifecare facility where there was suspected roof damage.
More than 650 properties were without power early on Tuesday but had been restored to houses on Aorangi Street by 8am.
Beets said it was too early to say how many properties have been damaged, but no one had been reported injured.
The tornado was reported to have first hit in Nikau Valley, before making its way out to sea.
On Monday, about 50 properties were damaged after a tornado tore through the Tasman district near Nelson, a day after another tornado caused hit East Auckland, toppling trees and damaging at least 51 homes.
MetService meteorologist Alec Holden told First Up the West Coast, and parts of the North Island from Taranaki through Taupō, Waikato and further north, remained at risk from thunderstorms.
NIWA scientist Chris Brandolino told Morning Report low pressure over the Tasman was creating the ideal conditions for thunderstorms and heavy showers.
"Air flow spins clockwise around low pressure so that means we're getting a lot of warm humid air.
"So the atmosphere is primed for what we all convection, and that's basically heat-driven thunderstorms, heavy showers."
There could be more showers and thunderstorms over Northland and Auckland, Coromandel, and perhaps Bay of Plenty, Gisborne, Taranaki, Manawatū, and towards Wellington.
"There's so much wind energy in the atmosphere, thunderstorms can tend to focus that wind in a small area and create damage, heavy rain and hail."
On average New Zealand had seven to 10 moderate tornadoes a year, he said.
Main image (RNZ/Kirsty Frame): Debris piled outside a house on Aorangi Road, Paraparaumu, after a tornado on Tuesday morning.

---