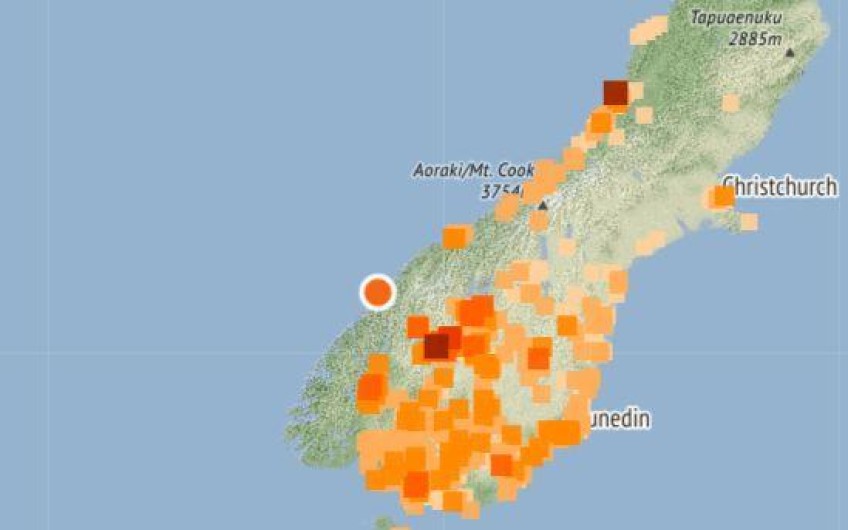 Strong earthquake shakes part of South Island, no tsunami warning
Aug 13, 2019
---
A strong earthquake has shaken the lower parts of the South Island.
GeoNet said the quake about 15km north of Milford Sound measured 5.5 on the Richter scale and was just at 12km deep. It struck at 10.35pm.
There are no reports of damage to infrastructure in Milford Sound and there is no tsunami warning.
Nearly 7000 people across Otago, Southland, West Coast, and Canterbury reported feeling the initial quake.
Milford Sound Infrastructure's Philip King said he could hear small debris falling off the mountains, but nothing as big as to make them worry about a tsunami.
He said they were all pretty shaken up, but the earthquake was reasonably moderate compared to what it could have been.
Mr King said the whole community was on lookout, with everybody monitoring one radio station and working as a team, and they were now on watch for aftershocks.
A Te Anau resident said the quake moved his house on top of a hill around a bit, but nothing fell down.
He said he could hear the quake before he felt it, and that it was nothing like the big, damage-causing ones in the past.
People on the West Coast and inland in Wanaka also reported feeling the shake.
In Wanaka, one said it caused minor shaking, lasting about 10 seconds, sending lights swinging.
In Glenorchy, which is about 50km away from the quake's epicentre, residents said first there was a rumble, then everything started to shake when tonight's quake hit.
One resident said although it was quite a strong quake she hadn't seen any damage so far. She said the quake was not big enough to set her china cabinet rattling.
Motelier Simon Cruickshank said he was woken by a distinct rumble, before enduring 15 or 20 seconds of shaking.
"I just heard a big rumble and then after the rumble, we woke up ... a bit of rocking, a bit of rolling, all the lights moving ... definitely felt like a big quake."
He said nothing fell off his shelves and he was yet to go outside and check for damage.
All ok around Queenstown Te Anau Milford? #eqnz @geonet says severe!
— Clare Curran (@clarecurranmp) August 12, 2019
#UPDATE 11:38pm: South Island #NewZealand quake *Revised Down*:The @geonet team has just completed their closer analysis and revised down the quake. A M5.5 earthquake has occurred 15 km north of Milford Sound at 12km deep. You can read more in the link below:#eqnz https://t.co/iJkRfbVsdT
— WeatherWatch.co.nz (@WeatherWatchNZ) August 12, 2019
Just felt an #eqnz in Dunedin.. quite decent shaking from the 8th floor of the Richardson Building @otago
— Logan (@LoganStadnyk) August 12, 2019
That M6.3 near Fiordland showing up on the @geonet network tonight @gnsscience pic.twitter.com/KDauwMBVVl
— Richard Woods (@RichardWoodsNZ) August 12, 2019
Wobbling in Dunedin - where did it start? #eqnz
— Louise Upston (@LouiseUpston) August 12, 2019
Emergency Management Southland has not had any reports of any damage.

---