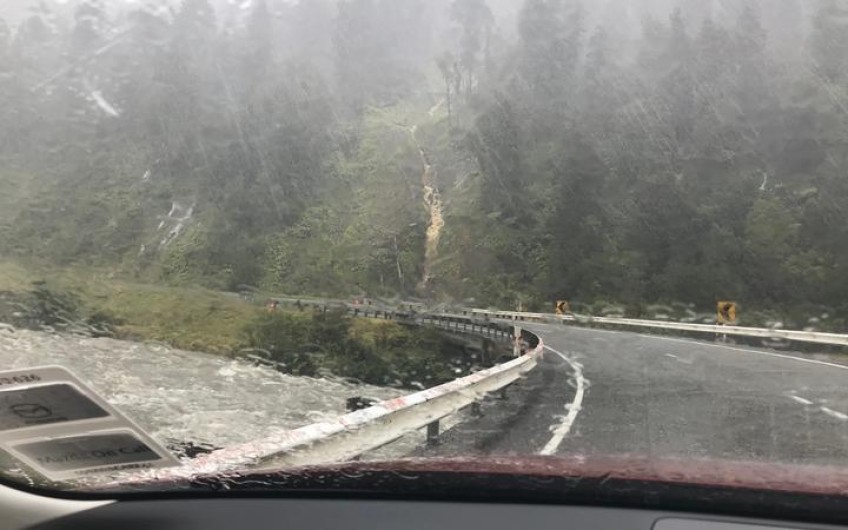 State of emergency declared as heavy rain moves up West Coast
Feb 02, 2022
---
A state of emergency has been declared in the Buller District, with heavy rain set to continue in the region for the next few days.
Heavy rain is drenching Buller and Westland, where the MetService has issued a red weather warning, the most severe weather warning available.
About 600 homes and businesses are without power in the towns of Franz Josef and Fox Glacier.
The Buller District Council said the state of emergency that was declared around 2.30pm is to allow Civil Defence controllers to direct and coordinate personnel, material and other resources made available to it, and to give them access to extraordinary powers to respond to an emergency.
Buller mayor Jamie Cleine said it was likely there will need to be evacuations in Westport in the coming days if the rain continued.
The biggest issues were expected to arise on Friday and Saturday after the rain had been falling for days, he said.
"The current weather event has the potential to cause serious flooding to parts of the Buller District," Cleine said in a statement.
He reminded residents to prepare getaway bags in preparation for potential evacuations tomorrow.
"If anyone is feeling unsafe, please self-evacuate to friends or family on higher ground."
The O'Conor Rest Home in Westport was already being evacuated, with 68 residents moved out.
Some will go to Christchurch, and a ward within Buller health has also been closed.
Ten Defence Force personnel, along with four trucks and a support vehicle have headed to Greymouth to help with any evacuations in coming days.
The Defence Force said other capabilities were on standby to deploy as they were requested, and a RNZAF NH90 helicopter would also fly to the coast to assist.
Westpower said it was hoping to have the power back on shortly for those in Franz Josef and Fox Glacier.
The power cut was caused by a tree coming down on power lines at Lake Mapourika late this morning.
MetService meteorologist Lewis Ferris told Midday Report that Westland had heavy rain since the early hours of this morning and it had moved towards Buller.
By noon tomorrow the Westland ranges were expected to have had up to 700 millimetres of rain, Ferris said.
Earlier today the West Coast Regional Council ruled out the use of a cut in the Orowaiti River, to alleviate flooding during the current adverse weather.
There have been suggestions that constructing a cut, either prior to this event, or over the next day or so, would help to prevent the town of Westport, which is sandwiched between the Buller and Orowaiti rivers, from flooding.
West Coast Regional Council director of operations Randal Beal said a cut could provide benefit in some flood risk scenarios, but not in this situation.
Last July, after a similar red warning to that issued for the region this week almost half of Westport's residents were evacuated after major flooding inundated much of the town, causing millions of dollars in damage, and damaging hundreds of homes.

---