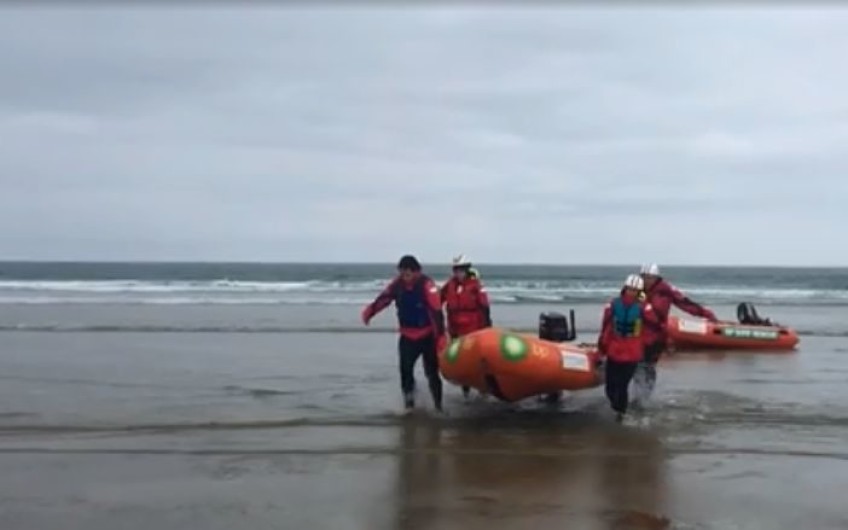 Search resumes for missing paua divers
Oct 29, 2018
---
The search has resumed this morning for two missing divers off the South Otago coast.
Police and land and water Search and Rescue teams launched a major search operation after the pair - friends from Balclutha - were reported overdue about 7.30pm Saturday from a trip to the Catlins.
The men, who were snorkelling for paua on shallow reefs to the south of Purakaunui Bay, about 17km from Owaka, are aged 23 and 51 and are not related.
The police dive squad is to take part in today's search and a helicopter and plane are being used.
The father and two sisters of one of the men, who did not wish to be named yesterday, waited patiently in the rain at the bay for news at lunchtime yesterday.
In breezeless, cool conditions, interspersed with heavy showers, they watched as Otago Surf Life Saving SAR crews scoured the rocky coastline.
The father said he had not lost hope for his son's return.
"It's a pretty bad situation, but we're just hoping for some good news from the police.''
He said the family had begun to become concerned when the divers failed to return at their allotted time of 5pm the previous day.
The pair had been diving using snorkels, not far offshore and at a familiar spot, he said.
"We can't understand what's happened.''
Search co-ordinator Senior Constable Murray Hewitson told RNZ's Morning Report he was hoping they would be found quickly.
"We would like to think that we will find them alive but obviously as time goes on that becomes less likely."
Mr Hewitson said yesterday that what made disappearance "unusual'' were otherwise "ideal'' weather and sea conditions during the time the men had been in the water.
"Visibility has been good, and the coastal waters relatively calm.''
MetService showed air temperatures varying between 8C and 13C, and seas temperatures steady at 12C.
Otago Surf Life Saving SAR teams who returned to Purakaunui Bay yesterday afternoon also reported "good'' search conditions, with little swell.
Similar conditions were forecast for today.
Mr Hewitson said the search had continued until midnight on Saturday and resumed at 6am yesterday, involving five boats, six IRBs, a helicopter and a fixed-wing aircraft.
"Unfortunately, we've come up with no clues whatsoever.''
This article appeared online on the Otago Daily Times. Additional reporting from RNZ.
Main Image: Members of the Otago Surf Life Saving SAR team, of Dunedin, ending their day's search yesterday. Photo: Otago Daily Times


---