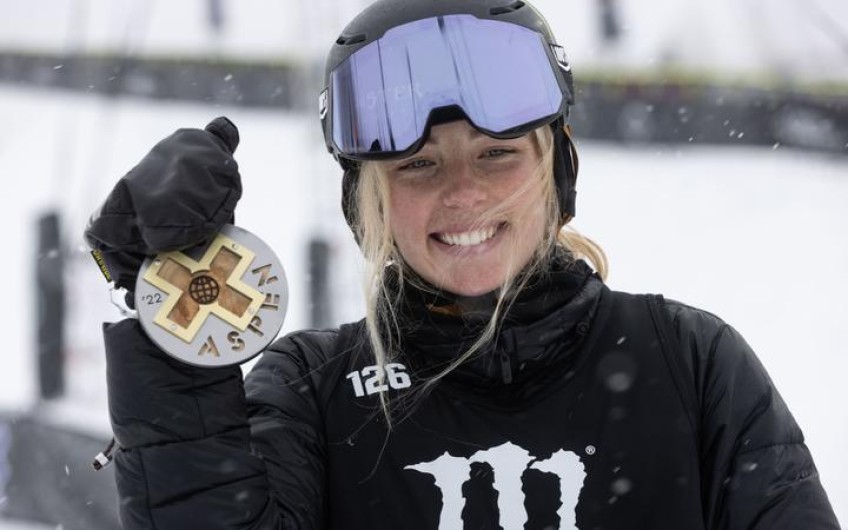 Sadowski-Synnott chasing history
Feb 02, 2022
---
Stand-out medal contender Zoi Sadowski-Synnott has her sights on Olympic victory in Beijing, a milestone New Zealand has never achieved.
Sadowski-Synnott is chasing history for New Zealand's first Winter Olympic gold medal, but the 20-year-old Wanaka prodigy is taking the pressure in her stride.
As a bronze medalist in the big air at the Pyeongchang Games, she's been unbeatable in recent competitions, and many Kiwis are hoping bronze might turn to gold.
In the four years since she climbed onto the Olympic podium as a rookie 16-year-old, Sadowski-Synonott has increased the difficulty of her skills by competing ground-breaking combinations in the air.
She won the slopestyle and big air titles at the X-Games in Aspen last month. On the way she defeated her main rival, the two-time Winter Olympic slopepstyle gold medalist Jamie Anderson from the United States.
"It's a pretty special sport to be a part of, because of how fast it's progressing," Sadowski-Synnott said.
"I have a good idea of what I want to do at the Winter Olympics and I've been working towards it for the last while."
"It all depends, once I get there and ride the course. I've got a pretty good idea and I just hope it all works out."
Sadowski-Synnott competes some of the most technical runs seen on a woman's snowboard course. She has a knack of combining high difficulty with secure landings. Earlier this month she was the first woman to land a pair of 1080 double corks (frontside to backside) in competition.
"You go upside down twice and you do two full rotations at the same time," she said.
"To be able to throw yourself off the jump and commit to being able to do that and knowing that you're going to land takes a lot of practice."
"Then going the opposite way doing the same thing... It felt pretty special to be able to land that."
Meanwhile Sadowski-Synnott's team-mate and fellow Wanaka rider Nico Porteous says it takes commitment and talent to reach such a high level.
"The general public don't realise how much of a weapon she actually is. She is so dominant," Porteous said
"She is really becoming one of the greatest snowboarders of all time."
With more than 79,000 people following her on Instagram, Sadowski-Synnott's reach on social media is also significant.
New Zealand's first winter Olympic medal was awarded to alpine skiier Annelise Coberger in 1992 when she won silver in the slalom at Albertville in France. Sadowski-Synnott in the big air, and Nico Porteous in the men's halfpipe, won bronze medals at Pyeongchang in 2018, both as teenagers.
Fifteen athletes make up the New Zealand team in Beijing. Alongside Sadowski-Synnott, Porteous and alpine skiier Alice Robinson are considered our best hopes for a medal given their outstanding results in overseas competitions.
Sadowski-Synnott's Olympic campaign will begin in the women's slopestyle qualifying on Saturday.
The snowboard big air is her second event, starting on Monday 14th.

---